TV
So Soo-jin, "I get upset when Baek Jong-won gets angry. Do I have to listen to people like this?"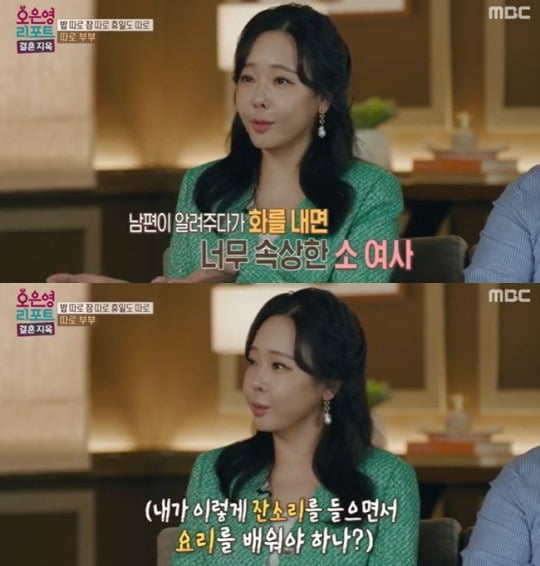 Actress So Yoo-jin expressed her frustration over her husband Baek Jong-won's nagging.
On MBC's entertainment show 'Oh Eun-young Report - Marriage Hell' (hereinafter referred to as 'Marriage Hell'), which aired on the 23rd, a 'separate couple' who runs a gym together appeared.
On this day, the trainer husband stayed by his exercising wife and continued to nag her. My husband even pointed out, "You and I are together 24 hours a day, but I've never seen you doing bodyweight exercises."
So Soo-jin said, "I was surprised to hear that the wife was preparing a trainer to help her husband. Are you also helping your wife exercise?" The husband said, "I taught him, but we fought too much. Even when we were dating, I almost broke up while teaching him exercise."
After hearing this, So Yoo-jin said, "I empathize so much," and confessed, "I get upset when my husband (Baek Jong-won) gets angry when I teach him how to cook. Sometimes, I wonder, 'Should I learn to cook while listening to him nagging me like this?'"
He said, "These days, I watch Baek Jong-won's channel. They teach there with a smile. "If I do it that way, my husband will eat it because it's delicious," she said, making people laugh.
Taeyuna, Ten Asia Reporter youyou@tenasia.co.kr