TV
Cha Eun-woo and Park Gyu-young, exciting chemistry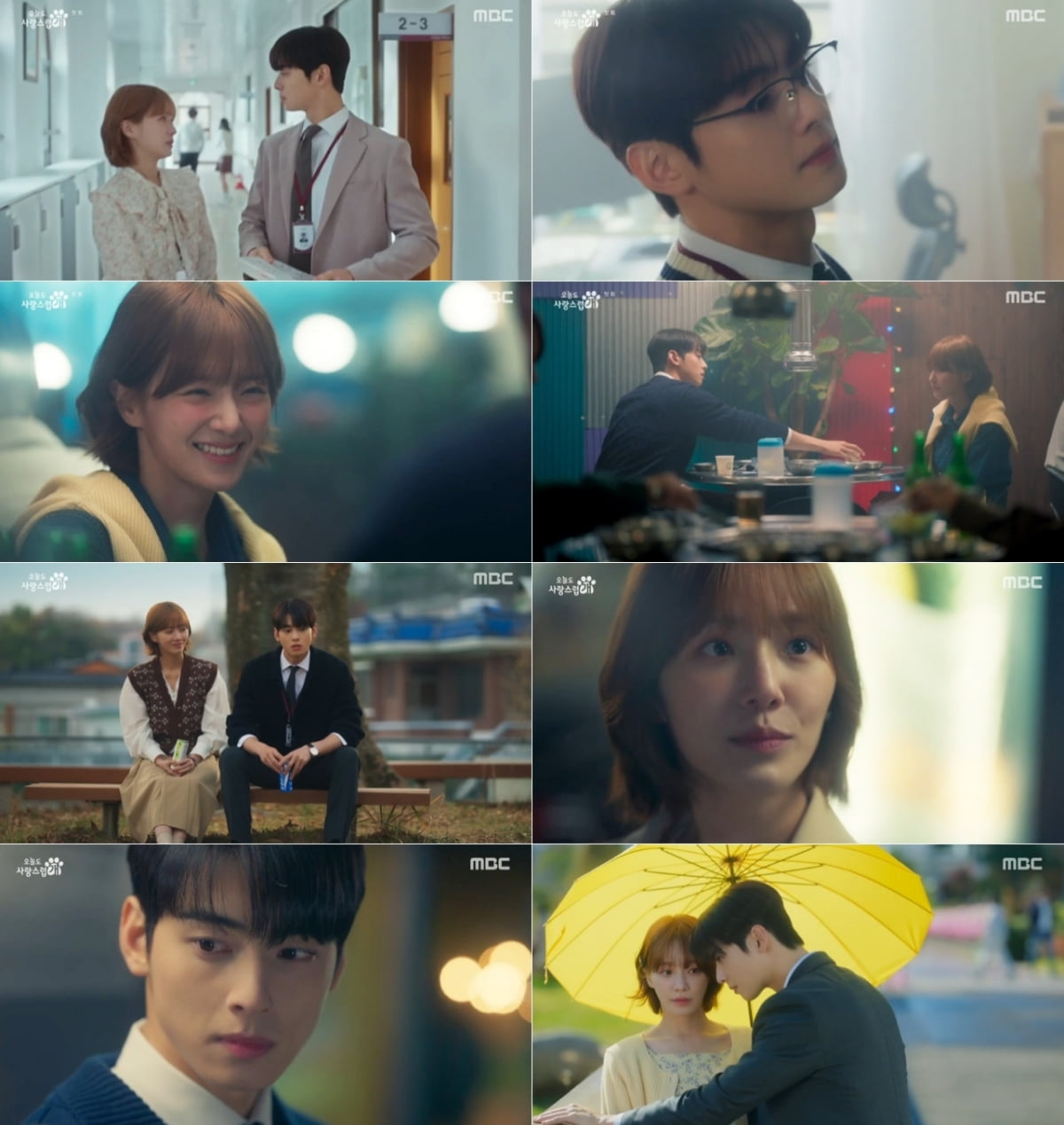 Actors Cha Eun-woo and Park Gyu-young are stimulating people's hearts with their ability to portray characters through MBC's Wednesday drama 'Lovely Dog Today'.
'Lovely Dog Today', which first aired on October 11, has been receiving positive reviews as word of mouth spreads that it is fun, including the fresh concept of turning into a dog when you kiss the opposite sex, the speedy plot, and the feast of characters that go beyond the original.
At the center of it all is the performance of Cha Eun-woo (played by Jin Seo-won) and Park Gyu-young (played by Han Hae-na), who are 200% assimilated into the characters. Cha Eun-woo is playing the role of Jin Seo-won, a high school math teacher who is afraid of dogs due to a childhood trauma, and Park Gyu-young is playing the role of Han Hae-na, a Korean language teacher who has a special curse that turns her into a dog when she kisses a member of the opposite sex.
Cha Eun-woo showed off a unique charm that had never been seen before as Jin Seo-won itself, including neat clothes and glasses. In the play, Jin Seo-won did not understand Han Hae-na, who suddenly approached him after kissing him, but they resolved their misunderstanding by talking to Hae-na, who was usually uncomfortable. In this process, Seo-won suffered while recalling the dog trauma from her childhood, and Cha Eun-woo stirred the emotions of those watching Seo-won's complicated mind with his unique tone of dialogue and deep facial expressions.
At the end of the first episode, Cha Eun-woo's acting showed its true value in the confrontation scene between Seo-won, who is afraid of dogs, and the dog (dog + Hae-na). Seowon, who had not thought that Gaena was Hae Na, was embarrassed when Gaena approached her without even knowing what was happening, and hesitated backwards. In the end, she climbed into the trash can and did not even think about coming down. In this scene, Cha Eun-woo captured the sympathy of viewers by portraying each element of Seowon's character, who is afraid of dogs, including his eyes and gestures.
Meanwhile, Park Gyu-young, who tried out brown hair for the first time through this work, stuck to Han Hae-na, who turns into a dog when she kisses the opposite sex, and captivatingly portrayed the character narrative surrounding a special curse. Hae-na was cursed to become a dog every night after unintentionally kissing Seo-won, and while struggling to break the curse, she learned that Seo-won had a dog trauma.
He reassured Seowon, who wanted to hide the dog's trauma, that there was no need to tell him first, and showed actions to protect him knowingly or unknowingly when he was cornered. Here, Park Gyu-young maximizes the charm of the lovely and affectionate character by carefully portraying Hae-na, who does not lose sight of her bright personality and calmly comforts Seo-won even though she is going through the biggest crisis of her life.
At the end of episode 3, Seo-won and Hae-na, who met for a fellow teacher's wedding, hid behind an umbrella to avoid the eyes of Yoon Chae-ah (played by Lee Seo-el). At this time, the heart-pounding ending of the two people unintentionally becoming very close made everyone's hearts tickle, and Cha Eun-woo and Park Gyu-young created a famous scene where the screen seemed to have stopped for a moment and attention was focused only on the two people. We are looking forward to the turbulent story of these people who will fill the small screen with excitement in the future, including their sweet and past narratives.
Kang Min-kyung, Ten Asia reporter kkk39@tenasia.co.kr