TV
Heo Hoon, 'exited from basketball', did he block his father Heo Jae?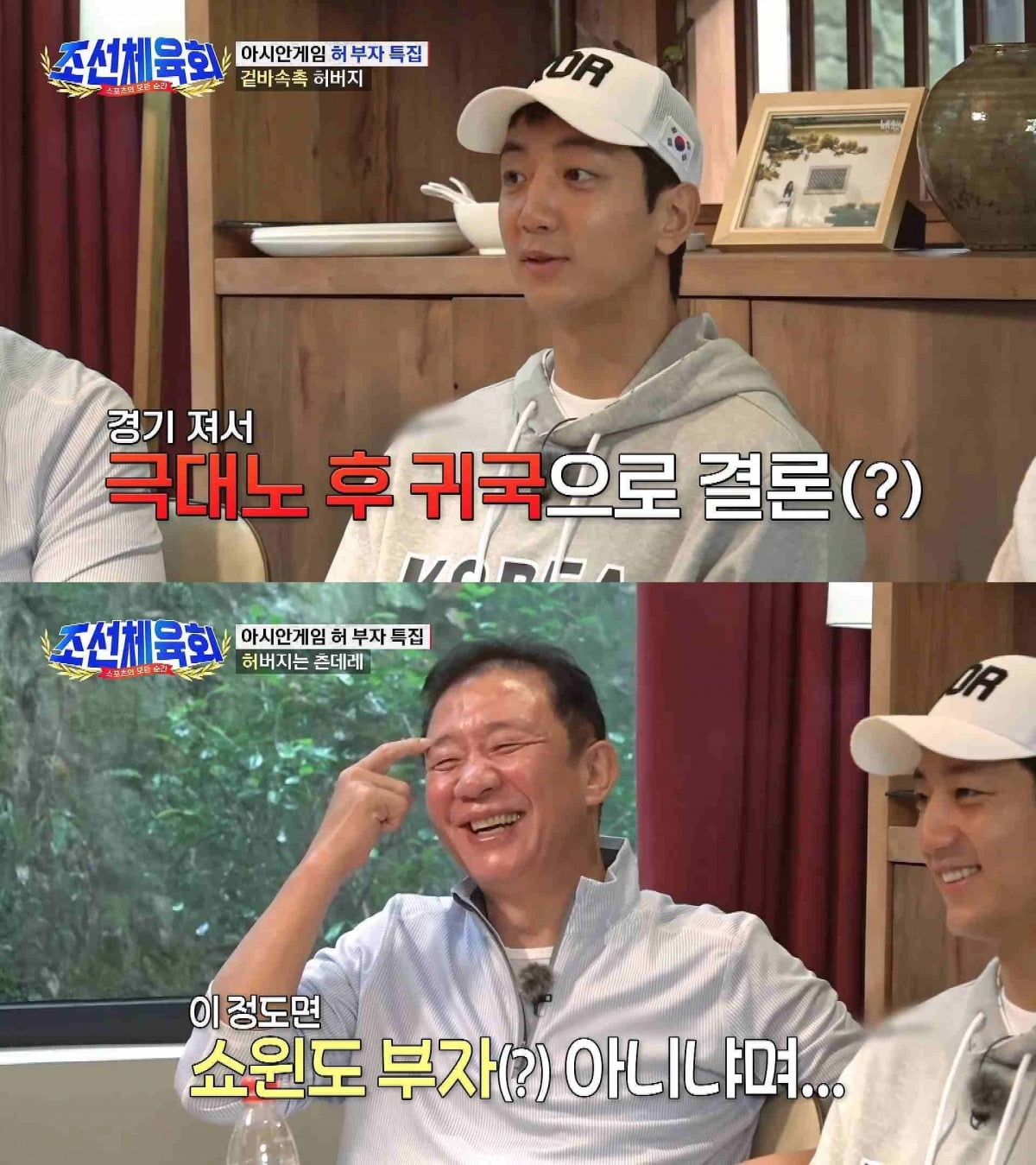 Heo Jae's son and national basketball player Heo Hoon came to the 'Chosun Sports Council'.
In the 10th episode of TV Chosun's 'Chosun Sports Council', which aired on the 20th, members went to the stadium to cheer on the historic moment of the leading women's weightlifters at the 2022 Hangzhou Asian Games, Park Hye-jung, Kim Soo-hyun, Son Young-hee, Yoon Ha-je, and Jung A-ram. The members' loud voices made the Korean weightlifting national team sitting in the athletes' waiting area startle and even exchanged greetings from afar. When weightlifting star Park Hye-jung, known as 'Post Jang Mi-ran', easily lifted 125 kg, Lee Cheon-soo was impressed and said, "It's like throwing two Lee Cheon-su to go home." The members did not spare a round of applause, along with a sigh of disappointment, at the challenges and failures of athletes from other countries. Park Hye-jung easily succeeded in the 160kg challenge, but the members were worried as sports stars of the past were when she was seen touching her back as if it was in pain. On this day, Park Hye-jung won the gold medal amidst the support and concerns of the members.
The members then met with Park Hye-jung in the mixed zone where reporters waited for interviews. When Park Hye-jeong said, "I'm craving Korean food," Jo Jeong-sik immediately responded, "Our Director Mu-guk will shoot the beef!" and the 'Weightlifting Club Beef Dinner' was a success. The five 'Weightlifting Fairies' who soon arrived stole everyone's attention with their deadly cuteness. Jeon Hyun-moo looked back on the loud cheering with a joke, saying, "We were scolded for cheering too loudly," and Jo Jeong-sik also added, "If you do it one more time, they told you to leave," impressing the weightlifting fairies.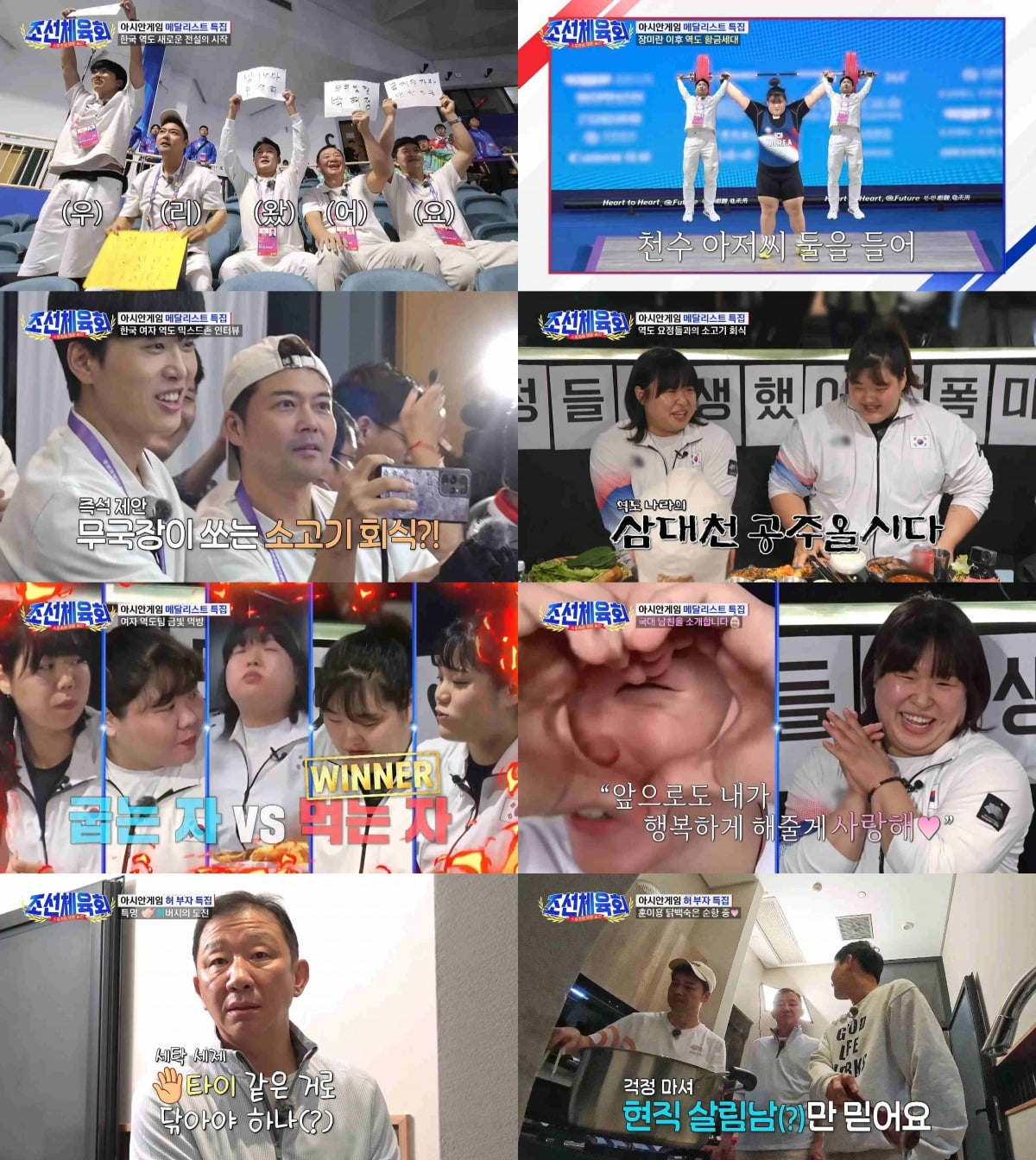 As the members continued to deliver hand-grilled meat to the weightlifters, the athletes poured out various behind-the-scenes stories in a more mature atmosphere. Among them, the love story of 'Jincheon Couple' Kim Soo-hyun, who is dating national karate representative Pi Jae-yoon, was highlighted. Pi Jae-yoon even revealed a surprise video letter that even Kim Soo-hyun didn't know about through 'Chosun Sports Council', making everyone envious. The members, including Jeon Hyun-moo, assured that they would mobilize all of their entertainment industry connections and help weightlifting fairies meet their favorite celebrities.
And the scene of Heo Hoon's game, the son of 'Basketball President' Heo Jae, was revealed. At the last men's basketball stadium, all members gathered to cheer. Heo Jae, who was saddened by his disappointing performance at the Asian Games, set out to prepare a special breakfast for his son. However, he made an odd remark, "I see blood on the chicken bones. Should I clean it with detergent?" and ended up asking for an SOS from the members. Lee Cheon-soo, a talented cook, masterfully led the kitchen and boiled boiled rice, and Jeon Hyeon-moo, who has great taste, completed Korean food using locally sourced ingredients and completed a delectable feast for Heo Hoon. When Heo Hoon finally arrived, Heo Jae lamented the sight of his son who had lost weight, saying, "Why has he become so gaunt?"
Heo Hoon, who was giving an update on his current situation, said, "I didn't even know my father was here. "I found out about it after reading the article," he said, adding, "I thought he left because he was angry after watching the game," making him laugh as an 'ordinary rich person.' In addition, it was revealed that even the message of consolation that Heo Jae had sent to Heo Hoon after the game did not arrive due to 'transmission failure'. In response, Heo Hoon tried to lighten the mood by saying, "My father sometimes sends me a text message when I lose a game." However, when it was revealed that the text message sent before enlisting in the military was the last, the members burst into laughter, saying that he was a 'show window rich guy'. Heo Hoon added, "I contact my mother every day."
Meanwhile, Heo Jae faced an unprecedented ban from the league by the Korea Basketball League (KBL) last June. Dayone, who took over the Orion club in August of last year, founded the club with Heo Jae at the head, but suffered from financial difficulties such as non-payment of the KBL membership fee, non-payment of the Goyang Orion acquisition fee, and lack of funds to operate the club.
Even though Heo Jae was the face of Day One, whenever money-related problems arose, he dismissed them by saying, 'Please wait' or 'There is no problem.' Accordingly, the KBL and the 10 clubs agreed to disallow Heo Jae from all future activities, including as representative, general manager, and leader of the KBL club.
Taeyuna, Ten Asia Reporter youyou@tenasia.co.kr