TV
Kian84, there was a reason he couldn't sign autographs at the marathon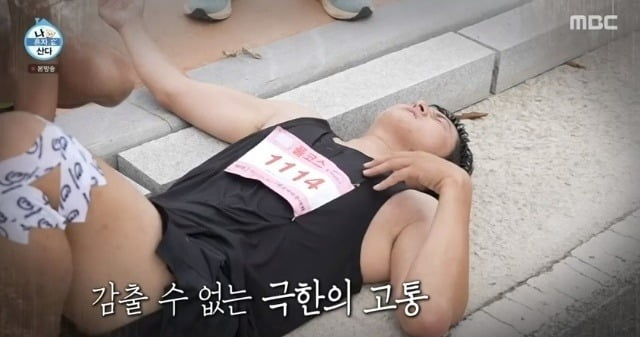 Kian84, who lost 6 kg for the marathon, collapsed on the street due to stomach pain while running.
In the 517th episode of MBC's entertainment show 'I Live Alone' (hereinafter referred to as 'I Live Alone'), which aired on the 20th, Kian 84 was seen attempting a full course marathon for the first time.
Kian84, who woke up early this morning at a motel in Cheongju, got ready early and left the hotel. In particular, Kian84 looked like he had lost a lot of weight while changing clothes. The floating room was also gone. Kian84 said, "I lost about 6kg," and "I lost about 6kg of body fat because I ran." He expressed his determination by saying that he prepared for the marathon by running three days a week.
The marathon in which Kian84 participated had 6,000 participants. Kian84 prepared by taping his knees and applying powder to the soles of his feet amidst the cheers of people. I also decided to run while playing 'Taejo Wang Geon' on my phone. This is because 'Taejo Wang Geon' is Kian84's favorite drama that he always plays even when the webtoon deadline is urgent. Kian 84, whose goal was to complete the race, started with a trembling heart.
However, Kian84 was embarrassed by the speed of the runners from the beginning. Gian84 was momentarily embarrassed, but said, "These are people like the 'Silmi University' crew," and pledged, "I will run at my own pace, at the right pace." However, as the climb continued, Gian84 cursed, saying, "It's so long, it's so long." He also spit out. Kian84 regretted, "If I wanted to run the full course, I should have lost more than my current weight."

A crisis has come to Kian84. He immediately had a stomachache. Kian84 said, "I sweat a lot, so I thought, 'I need to drink a lot of water.' The problem is that if I drink a lot, I get a stomachache while running. When I feel better, I get thirsty again. Because I sweat too much."
In the end, Kian84 fell to the floor due to continued stomach pain. Park Na-rae, who watched the emergency situation, was worried and asked, "What's going on?", and Kian 74 complained of extreme pain before he was even halfway through. He said, "I felt like my stamina was gone and I couldn't go," drawing attention to how he was able to complete the race.
Meanwhile, Kian84 was embroiled in a fan service controversy due to the marathon competition. The reason is that he refused to sign an autograph requested by a fan after completing the marathon. A post was posted on a mom cafe saying that a request for an autograph from Kian84 was rejected by the security staff. The author expressed his dissatisfaction with Kian84's attitude, saying, "He didn't take pictures or sign autographs with any fan and just rode around in a black festival car." In response, some netizens criticized Kian84's attitude, asking why he couldn't even give an autograph. However, the majority of netizens defended him, saying that it was an unreasonable request to ask Kian84, who was in a physically difficult state, for his autograph.
Taeyuna, Ten Asia Reporter youyou@tenasia.co.kr