TV
'I'm Solo' 17th class twisted self-introduction, 'S Electronics' Yeongsu and 'Canadian' Yeongsik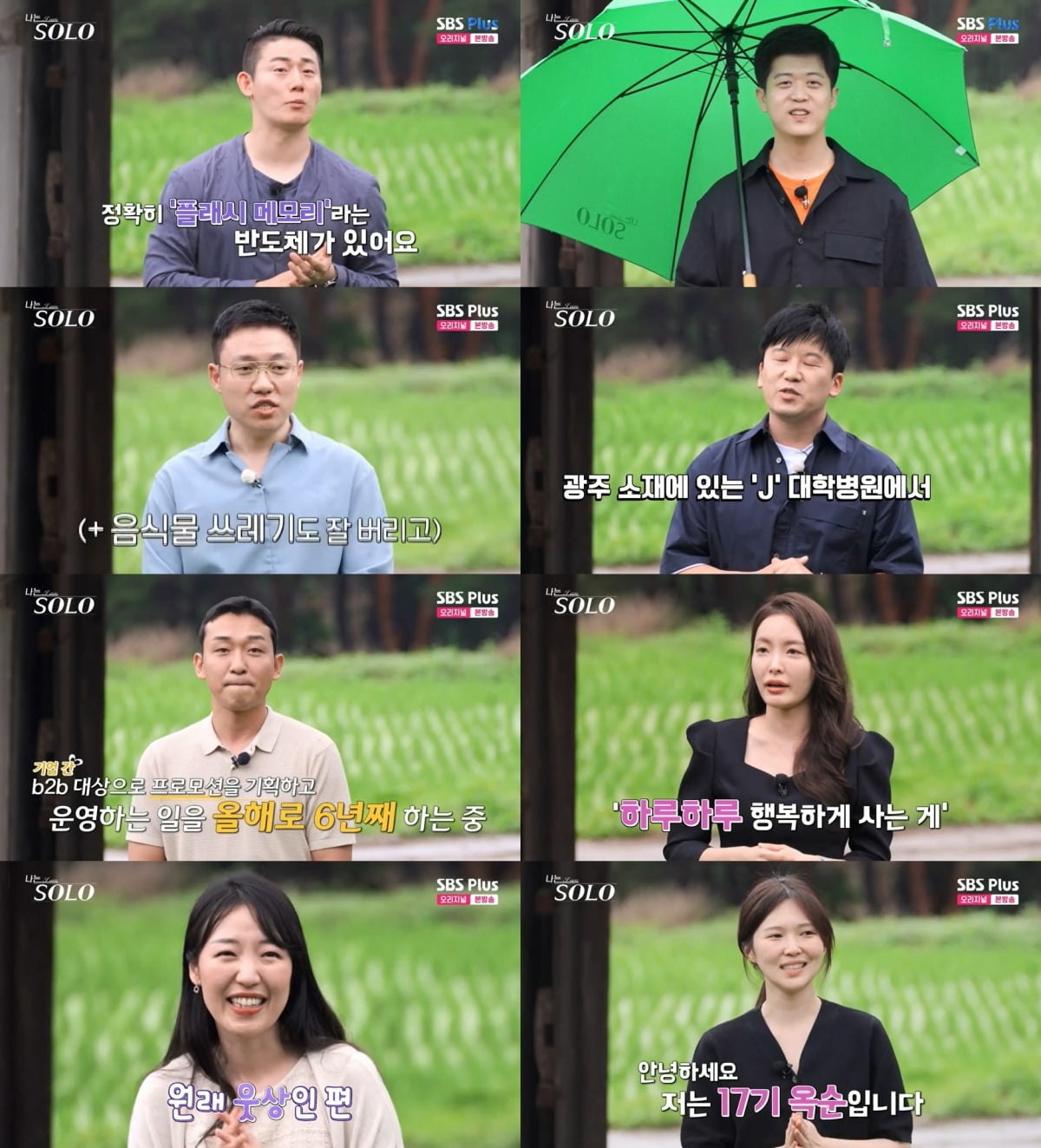 The occupations and ages of the 17th cast of 'I'm Solo' have been revealed.
In the ENA and SBS Plus entertainment show 'I am SOLO' broadcast on the 18th, the self-introduction time of the 17th generation of solo men and women was revealed.
Defcon said, "Previous Oksuns received 0 votes in first impressions. This Oksoon also received 0 votes." Lee Yi-kyung explained, "If you are superior, you cannot approach." Defcon asked, "Please look forward to why the production team gave the name Oksoon."
On this day, the 17th cast waited for Yeongcheol near their accommodation to avoid the rain. Yeongsik said, "I brought 2kg of meat," and "I also brought stir-fried kimchi." Accordingly, the cast guessed Yeong-sik's occupation as a chef. Youngsu looked at Oksoon and explained, "She feels like the Virgin Mary," and "she looks good." At the same time, he asked Oksoon, "Can you swear?"
When Ok-soon looked dumbfounded and said, "I'm good at swearing," Young-su said, "Please curse at me," and added, "It's attractive when a good-looking person swears." Oksoon said, "You have unique tastes."
Youngcheol suffered a car accident on the way to his dorm. Fortunately, there were no casualties. Youngcheol expressed regret, saying, "I think I'll have to leave the repairs to the property. It's a shame. The date can only take place under my leadership if I drive around in my car."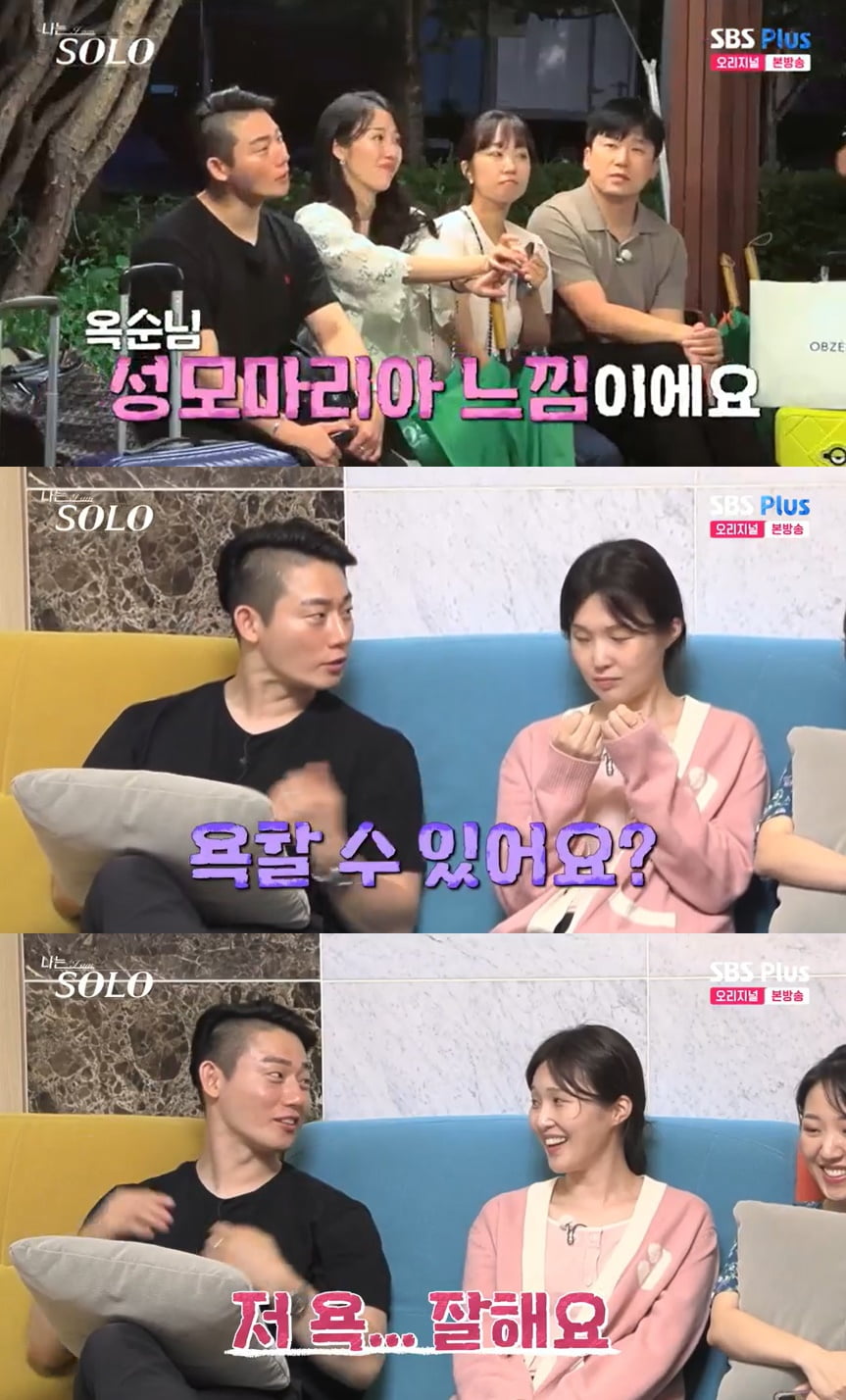 Afterwards, the cast enjoyed dinner while eating meat. Youngsu was the only one sitting between the woman. Afterwards, Ok-soon and Yeong-sik switched places and sat next to Yeong-cheol. Youngcheol glanced at Oksoon sitting next to him. He was satisfied and said, "It seems like this rider has joined well."
Youngcheol said, "I was happy that Oksoon changed places. I actually wanted to talk to Oksun because we have similar feelings, and I got excited because Oksoon thought the same thing. I thought this person would be okay."
Yeongsik also showed delicacy in preparing a bandage for the injured Sunja. Yeongsik showed interest in Oksun. Gwangsu's second pick was also Oksun.
The morning of the second day dawned, and Youngsook was the first to wake up and make coffee. Among solo men, Yeongsu was the first to wake up. In the living room of the dorm, there was an apple that was the result of the first impression selection the day before. Youngsu confirmed that he received 2 votes in the first impression selection. After seeing that Gwangsu had also received one vote, he ate the remaining half of the apple.
It was Ok-sun who chose Gwang-soo. Gwangsoo ate an apple that he didn't know who gave it to him and said, "I was relieved to get at least one vote. If you choose this look (pink hair), your understanding can be wide." Sangcheol was the protagonist of the three apples. Sangcheol was surprised but couldn't hide his laughter.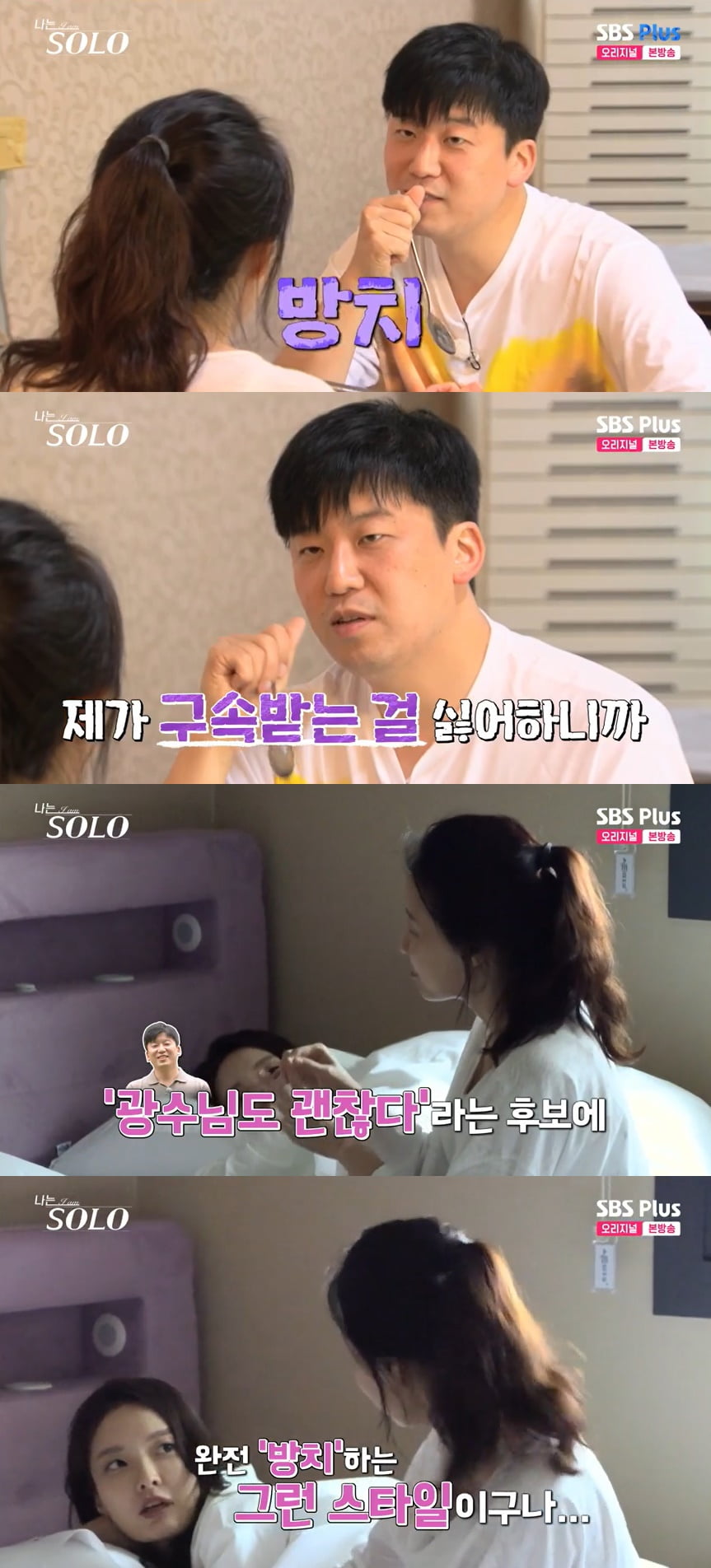 A 'noble date' was held this morning. The main characters were Hyunsuk and Gwangsu. Hyun-sook asked Gwang-soo about his dating style, saying, "I liked the comfortable feeling. It was leisurely." In response, Gwang-soo said, "It's neglect," and explained, "I asked to meet up, but if I had work or was tired, I said I knew and saw it later. If it was a company dinner and I thought I should go, I said so. I don't like being restrained, so I feel like you shouldn't restrain me, either."
He continued, "We were supposed to meet at 3 o'clock, but she called me around 12 o'clock and asked if I could meet her at 5 o'clock because she decided to play soccer with her friends at 2 o'clock. Still, she is my girlfriend, so I hope she understands me." Song Hae-na shook her head and said, "It's not easy to understand."
Hyun-suk, who returned to the dorm, said to the single women sharing the same room, "Yesterday, while talking and playing, I thought Gwang-soo was okay. He was high up, but he was erased. He's a good person, but it feels too extreme. I heard that he has a neglectful style, and I couldn't handle it. "I didn't think I could do it," he said.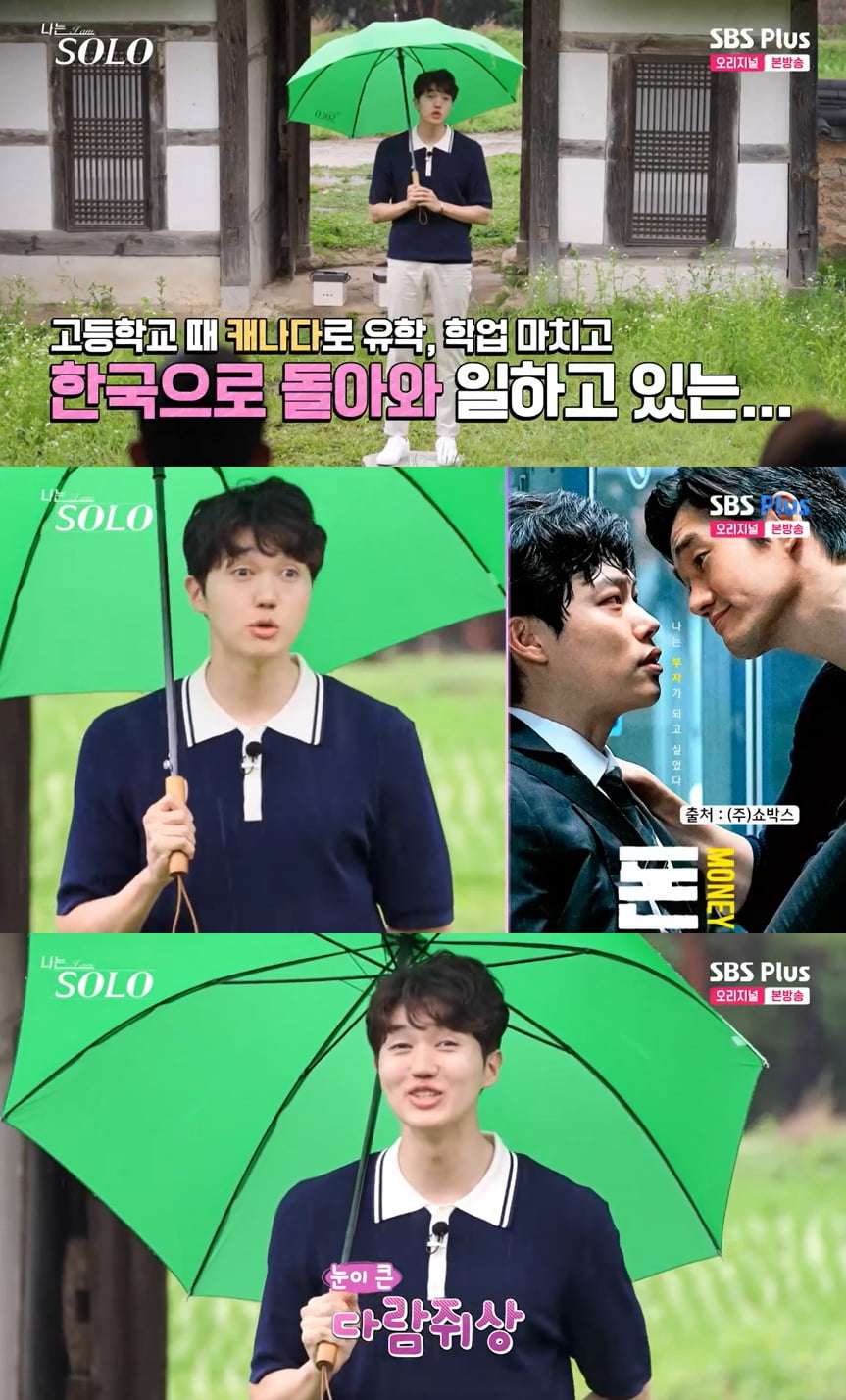 The self-introduction session took place. First, Youngsu came forward. Youngsu said, "If I were to describe myself in one word, I would be a person who feels happiness every day and makes dreams come true in the process. I am the oldest. I was born in 1985 and am 38 years old."
He then revealed that he was a researcher at S Company and added, "I am a researcher studying semiconductors at a global semiconductor company. I am developing memory semiconductors." He lives in Dongtan and boasted, "I have high self-esteem and am confident. If you are with me, you will never be bored. I also have good physical strength."
Youngho, born in 1991, said, "I have had a lot of curiosity since I was young," and added, "I obtained my medical license and completed my internship in 2019. I am currently studying to become a psychiatry resident."
When asked about his strengths, Youngho replied, "I think his personality is calm and kind." When Hyunsook asked if being older was okay, Youngho was embarrassed and said, "I prefer younger people, but if there isn't much of a difference in age, I think I'll think about it." For the talent show, we prepared dancing.
The third was Yeongsik. Youngsik said, "I am 33 years old, born in 1990. What makes me a little unique is that my nationality is Canadian." He said, "I am currently working in Korea, and my job is as a foreign exchange broker in the financial sector. Ryu Jun-yeol's job in the movie 'Money' is my job."
He continued, "I'm a Power J, so when I go on a date, all I have to do is show up." He continued, "When looking at the opposite sex, personality is the most important. On the outside, I like the squirrel figure. I have big eyes. I've heard a lot of people say they like people who look like me." added.
Youngsik also prepared a 'hand blower' gift for the women. The name was also engraved on the hand fan. Song Hae-na, who saw this, exclaimed, "It's so good," and Defconn also praised him, saying, "Meet a man like that," and "It drove a wedge into women's hearts."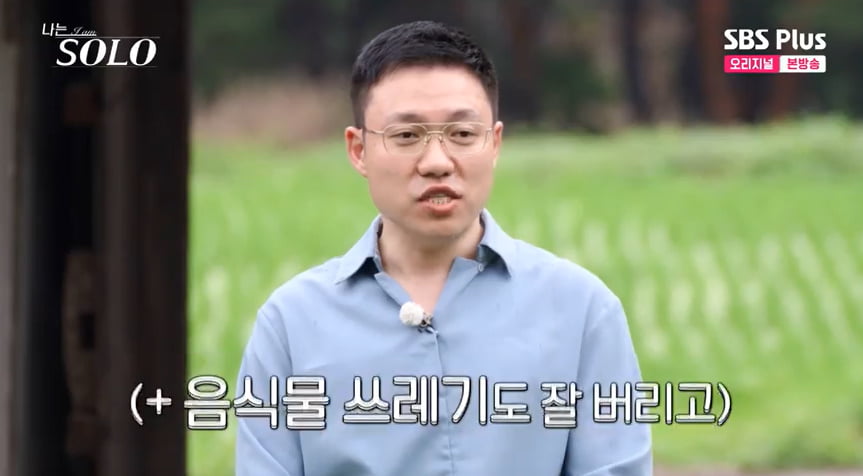 Youngcheol said, "I am 36 years old, born in 1987. The work I am doing may be unfamiliar, but I am working in over-the-counter derivatives, foreign exchange FX, and bond trading," and revealed that he is a graduate of Yonsei University.
He continued, "I live in Seongbuk-gu, Seoul, and own an apartment. All I have to do is bring a dishwasher. I cook, clean, and wash dishes. If I have to, I don't have to bring a dishwasher." He added, "I usually joke without being pretentious or pretentious. "I like it," he said.
Gwangsu said, "I think I'm the oldest. I'm 40 years old, born in 1983. I'm working as a contract surgeon at a university hospital in Gwangju. I'll only work until August, and after that, I have plans to travel. Next year, I'll go to another region. "I am considering changing jobs," he said.
He continued, "I was born in Jeju Island. When dating, I think I prefer unstable relationships rather than static ones. I think that's why I'm still not able to date." When asked if his heart would cool down once he became in a stable relationship, he said, "You won't let it slow down," which drew the ire of the female cast members. He said the longest he had been in a relationship was 3-4 years and emphasized, "It's good to be younger. It's better to be younger."
In response, Defcon pointed out, "Gwangsoo is in crisis. He must not be unstable. He will definitely gain enlightenment here."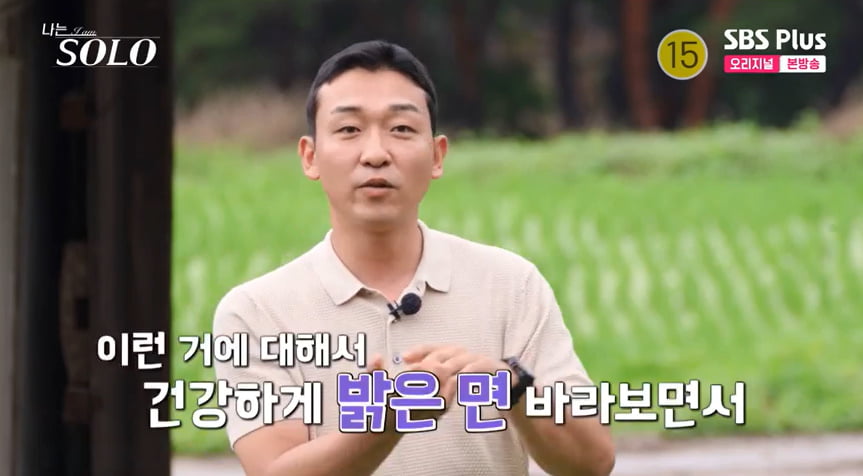 Sang-cheol said, "I was born in 1988 and am 35 years old. I work at an advertising company. I have been planning and operating promotions for B2B for 6 years."
As for his ideal type, he said, "I like someone who is wise. I like someone who looks on the bright side of life in a healthy way. On the outside, someone who smiles comfortably comes across as very attractive."
Youngsook said, "I am 31 years old, born in 1992. I graduated from Korea University's Department of Science and Engineering with a bachelor's degree to a doctoral degree. I am a doctoral researcher. I am working as a research professor."
He continued, "My research field is developing methods to treat people with cancer. My main job is to conduct experiments, conduct research, and write papers. There are some new things I am working on. I am interested in human psychology. "Because there are so many, I transferred to a cyber university and am taking classes. I take them as a hobby," he said, drawing admiration.
He also said, "I have been learning art since the end of last year. I go to the art studio every weekend. If I become obsessed with one thing, I become overly absorbed in it. While living in graduate school, I worked as a Pilates instructor until last year. When I like someone, I tend to only look at one person. Obsession is "No," he said.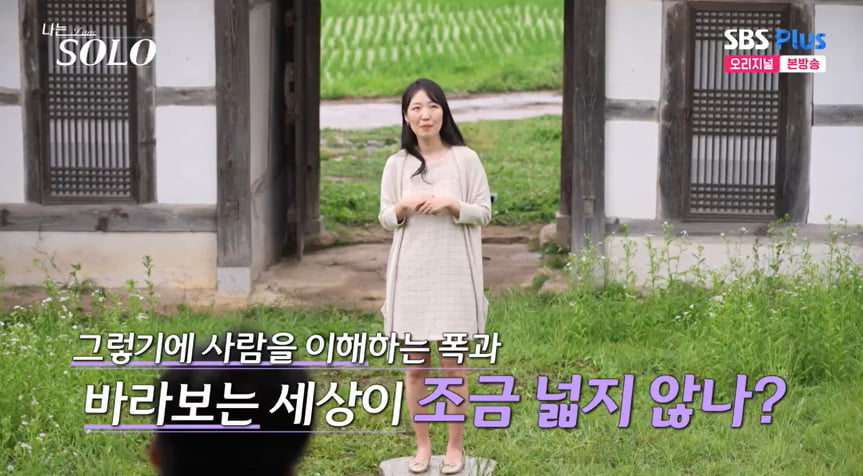 Jeongsook said, "I am 33 years old, born in 1990. I work in the product planning team of L Electronics. I attended the Royal International School, so I was exposed to various races and cultures. I have a wide understanding of people. I am independent and self-reliant. I lived in Thailand for a long time, so I know a lot. "There aren't many people," he said.
Youngja said, "I am a 29-year-old nurse, born in 1994. I have been working as a nurse at S Hospital for 5 years. I am currently working as a research nurse at A Hospital. I do not work shifts now. I work 9 to 6."
Oksun surprised everyone by saying, "I was born in 1990 and am now 33 years old. My job is to run 00 in a village in Sejong City." Youngsu was surprised and said, "It was such a twist."
Taeyuna, Ten Asia Reporter youyou@tenasia.co.kr