TV
Rowoon, a man for whom conditions are more important than love.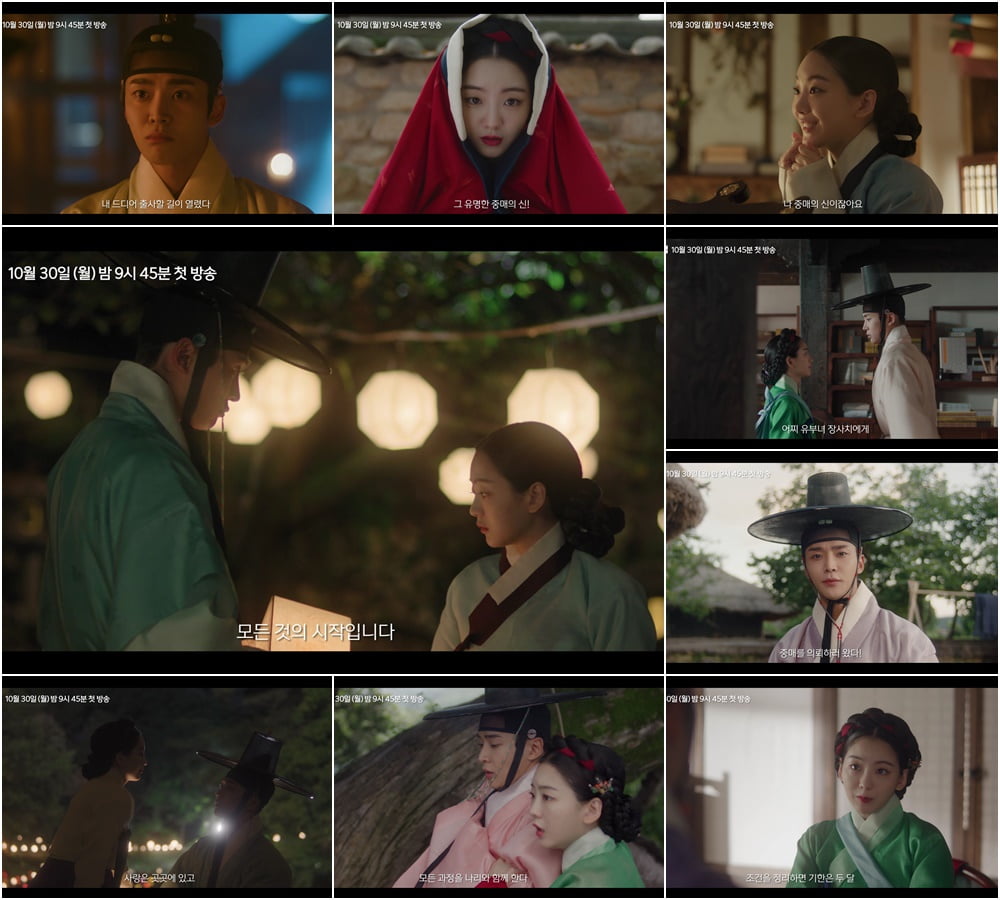 "Love is everywhere and it is the beginning of everything"
KBS' new Monday-Tuesday drama 'Wedding Battle' Rowoon and Jo Yi-hyun have released a 'comprehensive preview' that announces the perfect mix of comedy and romance.
KBS 2TV's new Monday-Tuesday drama 'Wedding Battle' (written by Ha Hao-jin, directed by Hwang Seung-gi, Kim Su-jin), which will be broadcast for the first time on Monday, October 30, is about a Cheongsang sire and a Cheongsang widow from the Joseon Dynasty meeting and becoming a widow and a miner (an old maid and an old bachelor from the Joseon Dynasty). It is a comical melodrama about a struggling matchmaker who carries out a 'wedding battle'. Shim Jeong-woo, the most angry man in Hanyang, and Jeong Soon-deok, a widow living a double life, join forces to present the 'Joseon version of Love Actually'.
In relation to this, on the 19th (today), Rowoon and Jo Yi-hyeon of 'Wedding Battle' are attracting attention with their 'comprehensive preview' that declared a great wedding battle for the representative singles of Joseon who have extremely different wedding concepts. In 'Comprehensive Preview', Rowoon and Jo Yi-hyun lovingly expressed their first single challenge since their debut, conveying laughter and excitement at the same time.
First, 'Comprehensive Preview' opened with a scene where 'Hanyang's most angry man' Shim Jeong-woo (Rowoon) appeals the marriage annulment, which has been in progress for 8 years. Sim Jeong-woo resolutely filed an appeal, saying, "I am filing an appeal for the annulment of the marriage between Princess Jaga and So-in." Shim Jeong-woo, who was suddenly noticed by the princess after becoming the youngest person to pass the civil service exam and married her, burst out laughing in anger, saying, "I will never accept a sire who can't enter the civil service!"
However, in the end, Sim Jeong-woo, who was about to marry the princess, froze in embarrassment when the princess suddenly died during the wedding, and caught the eye by changing from wedding clothes to mourning clothes and continuing to make appeals as time passed. In particular, the voice overlapping the face of Shim Jeong-woo, who had finished his appeal, saying, "I am so angry and upset that my wife passed away on the same day that I was forced to live in exile for eight years," imprinted the image of Shim Jeong-woo as a 'professional appealer.'
On the other hand, Jeong Soon-deok (Jo Yi-hyeon) covered her face with a red robe, jumped over the wall, and looked around, creating a secretive atmosphere. Moreover, when Jeong Soon-deok transformed into the matchmaker Yeo-ju, who was gorgeously decorated from head to toe, she exuded charisma with a confident expression, and when she returned to her main character, the second daughter-in-law of Jwasang-daek, she exuded elegant charm, showing off the essence of a perfect double life. Soon after, Jeong Soon-deok expressed his excitement about finding a match with a proud smile on his face, saying, "I am the god of matchmaking."
And Shim Jeong-woo and Jeong Soon-deok, who finally met, created a dizzying Tiki Taka, heightening curiosity. Soon-deok Jeong went straight towards Sim Jeong-woo without hesitation and asked with a straight face, "How can you be bothering with a married businessman?", which embarrassed Shim Jeong-woo. Sim Jeong-woo, who was backing away from Jeong Soon-deok, said in astonishment, "Stake??!?", raising his interest to the peak. .
On the other hand, Sim Jeong-woo received an order from the king (Jo Han-cheol) to "marry all three daughters of Dr. Maeng," the three representative women of Hanyang, within two months, and was happy and hopeful, saying, "The path for me to enter the civil service has finally been opened." that had . In response, Sim Jeong-woo said, "I'm here to ask for matchmaking!" and asked Soon-deok Jeong to do the matchmaking. "If we sort out the conditions, the deadline is two months." Various aspects of Sim Jeong-woo and Jeong Soon-deok were revealed through Jeong Soon-deok's voice saying, "I am with Nari through the entire process." In addition, the two people raised expectations by showing off their extraordinary chemistry, from the thrilling skinship of suddenly touching their bodies to the comical reaction of Shim Jeong-woo feeling pain after receiving a powerful blow from Jeong Soon-deok.
Lastly, the two met face-to-face in the middle of the night, when colorful lotus lanterns gave off beautiful light, creating a strange atmosphere. Sim Jeong-woo declared, "Marriage does not necessarily require love," but Jeong Soon-deok said, "No. "Love is everywhere and it is the beginning of everything," he said, giving different opinions on weddings. However, the two people who were bickering exuded romantic energy with a picturesque two-shot between lotus lanterns, amplifying curiosity about their future relationship.
The production team said, "The 'comprehensive preview' is composed of content that confirms that 'Wedding Battle' is a 'comic-melo historical drama' that can be enjoyed without prejudice," and added, "Roun and Joy will bring warm energy to the small screen with their diverse charms in the drama. "Please support Hyun's acting skills."
Meanwhile, KBS' new Monday-Tuesday drama 'Wedding Battle' will premiere at 9:45 pm on Monday, October 30.
Ryu Yae-ji, Ten Asia Reporter ryuperstar@tenasia.co.kr