TV
"I lost 7 kg in 10 hours" Choo Sung-hoon, what is his weight management method?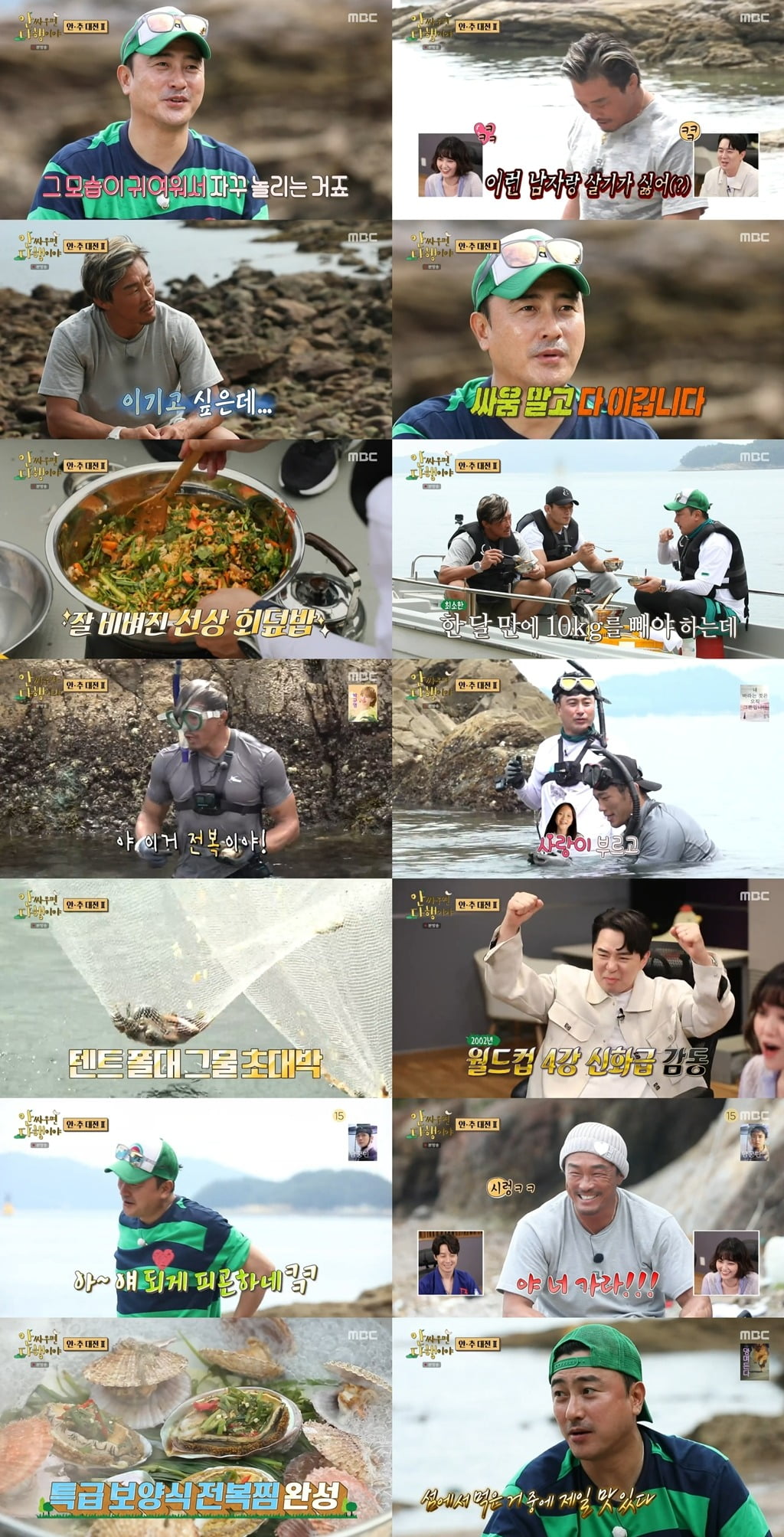 The 50-year chemistry between Ahn Jung-hwan and Choo Seong-hoon, best friends of the same age, brought laughter.
In the 143rd episode of MBC's entertainment show 'I'm Glad We Don't Fight' (hereinafter referred to as 'Thank God I Know'), which aired on the 16th, the second story of Ahn Jung-hwan, Choo Seong-hoon, and Jeong Da-un's 'Hold Me My Hand' (I will hold you with my own hand) was depicted. The viewership rating was 5.2% (Nielsen, nationwide). The highest viewer rating per minute soared to 7.1% (metropolitan area).
On this day, Ahn Jung-hwan and Choo Seong-hoon started the second round of 'Anchu Daejeon' from breakfast. Choo Seong-hoon was annoyed by Ahn Jung-hwan for not telling him the breakfast menu, and Ahn Jung-hwan thought Choo Seong-hoon's reaction was cute and kept his mouth shut even more. Their confrontation led to a trap bet. Unlike Choo Seong-hoon, who lost twice in a row, Ahn Jung-hwan's fish trap contained norae and peppermint. Ahn Jung-hwan was happy and said, "I win everything except fighting against Seong-hoon."
An on-board raw fish bowl party was held with vegetables that Ahn Jung-hwan had prepared in the morning and sea bream caught in a crab trap. Choo Seong-hoon, who lost the trap bet, was responsible for cleaning the fish. The youngest member, Jeong Da-un, who had to lose 10 kg in a month before the competition, was sad because he could not eat as much as he wanted. Choo Seong-hoon confessed, "I once lost 7 kg in 10 hours," and told us about the world of extreme diets of professional fighters.
After breakfast, they went out to sea again to get food for dinner. Choo Seong-hoon and Jeong Da-un, who had been scolded by Ahn Jung-hwan for their weak appearance in 'My Hand, My Job' the previous day, looked different and collected various seafood. In particular, Choo Seong-hoon received a compliment from Ahn Jung-hwan, saying, "You did the best today," while picking the abalone. Ahn Jung-hwan made people laugh by saying, "Let's call for love," as the food was plentiful.
However, Ahn Jung-hwan, who saw a school of fish while diving during the twilight, was not satisfied with this. To catch fish, he dismantled the tent, took poles, and aroused everyone's curiosity. After seeing Ahn Jung-hwan making a basket-shaped net using tent poles, Hyun Joo-yeop and Boom exclaimed, "You studied a lot," and "He's a genius." The result was also successful. The three succeeded in catching a tent net full of fish, creating a legendary sensation in the World Cup semifinals.
Even when preparing for dinner, the 'An-Choo Dae-jeon' continued. Choo Seong-hoon, who lost the crab pot bet and was left in charge of cleaning the fish, kept complaining. He then got angry at Ahn Jung-hwan, who happened to bump into him while washing peppers. In response, Ahn Jung-hwan said, "Boy, I'm really tired. "You go," he countered. Boom, who was watching the two people's big and small arguments, made everyone laugh by expressing their chemistry by saying, "It's like a married couple who has lived for 50 years."
Despite the big and small arguments, a hearty meal was completed, including clam soup, steamed abalone, seasoned turtle hands, and fried dragonfish wrasse. The perfect course meal, from clam soup that soothes the stomach with cool soup to turtle hand salad with attractive spicy seasoning, bothered Boom, Hyun Joo-yeop, Heo Gyeong-hwan, and Kang Mina, who were watching in the studio. Among them, Ahn Jeong-hwan ate the steamed abalone and said, "It's the most delicious thing I've ever eaten on the island," which got people's mouths watering.
Meanwhile, in the scene where Choo Sung-hoon coughs continuously while eating clam soup, viewership ratings soared to 7.1%, making it the 'best minute'. The clam soup was so delicious that Choo Seong-hoon drank it so hungrily that he even said he was laughing. It was a mukbang that stimulated both mouthwatering and curiosity.
In the trailer released at the end of the broadcast, Chinese food master Lee Yeon-bok and his regulars Myung Se-bin, Heo Kyung-hwan, and Choi Kang Chang-min's 'My Hands' were depicted.
Taeyuna, Ten Asia Reporter youyou@tenasia.co.kr