TV
"My ex-husband killed my 3-year-old daughter, and she died of malnutrition."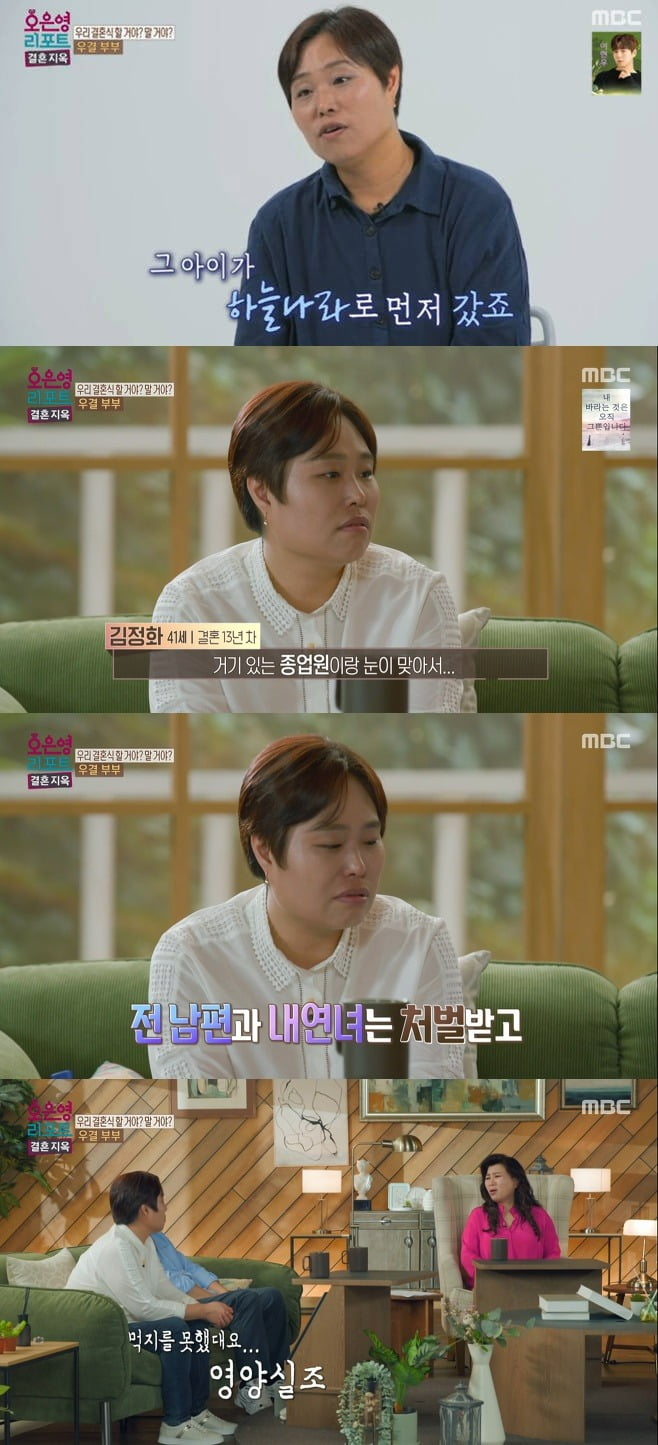 A wife in 'marriage hell' revealed the story of how she buried her daughter in her chest first because of her ex-husband.
On MBC's entertainment show 'Oh Eun-young Report - Marriage Hell', which aired on the 16th, a couple who was at the crossroads of breaking up ahead of their wedding 13 years after registering their marriage appeared.
On this day, the wife confessed that she hardly ever communicates with her husband, saying, "I wish he would take care of me, but he doesn't." The wife, who is a remarried family, explained the reason for the postponement of the wedding, saying, "At first, I wanted to have a wedding, but it wasn't financially feasible. I said we would do it after having a baby, but we had another child right away." She said, "Before I'm a wife, I'm a mother, I'm a woman. I also want to wear a wedding dress. "I want to have a wedding and hear people say I'm pretty," he said.
My husband went to the bathroom whenever he was in a difficult situation. After work, I prepared a meal and ate it in the bathroom. The husband explained, "Should I say the bathroom is comfortable? It's a space where I can do everything. I'm afraid my wife will wake up if I rustle, so I solve the problem there."
Oh Eun-young, who saw this, said, "One of the things adolescent children do when they don't want to listen to their parents' nagging is to go to the bathroom." She asked, "Is there a part of the husband that avoids it because he is afraid that if he runs into his wife, he will tell her to talk to her?" In response, the husband admitted, "When I organize my day, when I think to myself, I also try to do some review while organizing."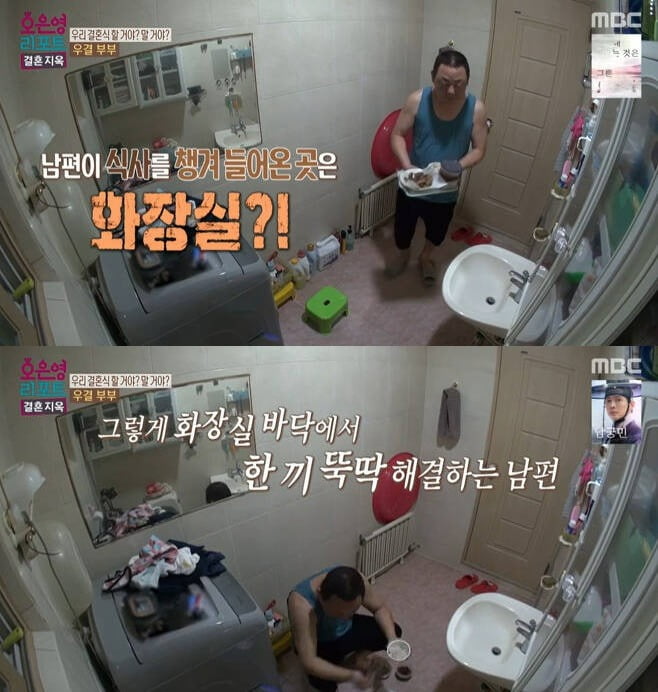 Afterwards, the wife talked about her married life with her ex-husband at a drinking party with a friend. The wife, who grew up in a divorced family, said that she ran away from home at a young age, met her ex-husband, and became pregnant. "I just registered my marriage, gave birth, and lived. I was too young to know anything," he said. At that time, the husband said that he ran away after making eye contact with an employee of the PC cafe.
The wife also shed tears, saying, "It was hard leaving my child." The wife, who had a daughter from a previous marriage, was shocked when she confessed, "That child went to heaven first," and "My ex-husband abandoned our 3-year-old child outside on a cold winter day."
The wife expressed her sorrow by saying, "I found my husband on the road and left the child with him. I thought I would end up with her. I belatedly tried to contact my father-in-law to bring the child, but he said the child had died." The reason for the child's death was malnutrition. They said not a single drop of water was found in the stomach and intestines autopsy.
The wife explained, "I couldn't look at the photo because I was in tears. After the police investigation, my ex-husband and his mistress went to prison. In the meantime, I had to hold the child's funeral."
Taeyuna, Ten Asia Reporter youyou@tenasia.co.kr