TV
Choi Woo-sik and BTS' V, legendary performance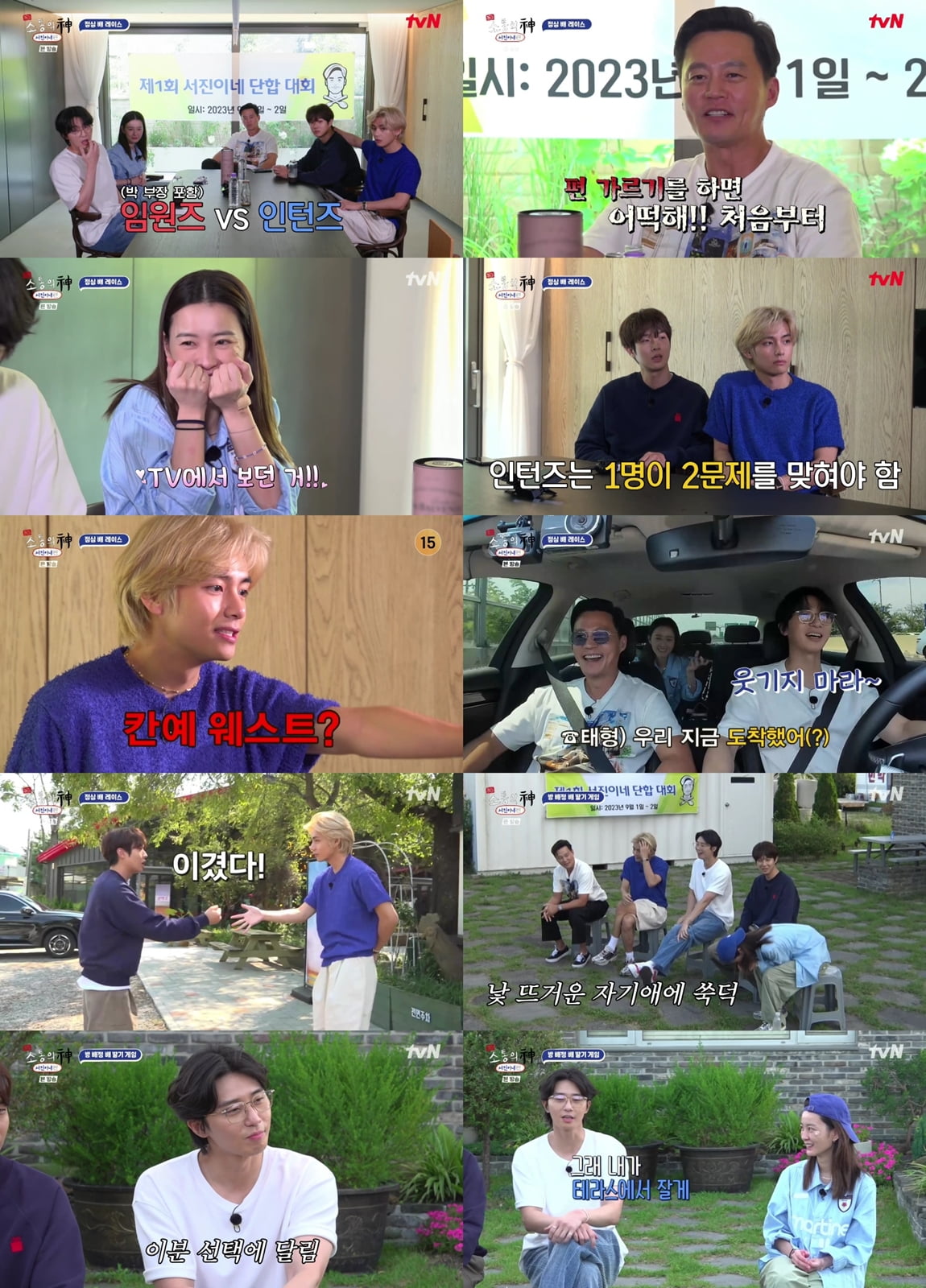 The executives and staff of 'Seojin' left behind another legend.
In the first episode of tvN's 'God of Business Trip Communication <Seojin's Edition>', which aired on the 12th, CEO Seojin Lee, director Yumi Jeong, manager Seojun Park, intern Woosik Choi, and BTS's V entered the '1st Seojin's Unity Competition' and made viewers' hearts tremble. I caught it. In particular, Seojin Lee drew attention with his unexpected performance while working passionately on the game despite grumbling.
The viewer rating on this day was an average of 4.0% and a maximum of 5.3% for households in the metropolitan area, and an average of 3.8% and a maximum of 4.9% for households nationwide, ranking first in the same time slot including comprehensive cable channels. tvN's target male and female 2049 viewership rating was an average of 1.9% in the metropolitan area, a high of 2.1%, a national average of 2.0%, and a high of 2.4%, ranking first in the same time slot on all channels, including terrestrial broadcasting, both in the metropolitan area and nationwide. (Based on a paid platform integrating cable, IPTV, and satellite / Provided by Nielsen Korea)
With executives and employees gathered together who did not know that the situation started with Jeong Yu-mi's tip-off, Lee Seo-jin turned on his eyes to hunt down the whistle-blower who said that communication was not going well. Accordingly, Choi Woo-sik showed intense loyalty to Lee Seo-jin, giving a glimpse of his strong will toward becoming a full-time employee.
In the lunch race, which began in earnest, executives Lee Seo-jin, Jung Yu-mi, and Park Seo-joon and interns Choi Woo-sik and V competed in a back-and-forth battle, causing an explosion of adrenaline. The Interns, who were ahead in the Signal Quiz, were overtaken by the Executives and started late, but then came back again in the Jegichagi and won the Tree Frog Rock, Paper, Scissors to win Dakgalbi.
However, Lee Seo-jin burst into laughter by proudly breaking the rules, such as eating side dishes after consulting with fellow teammate Park Seo-joon without permission from the Interns who won the lunch race, and eating wraps prepared by V. In addition, he expressed his anger at the game that continued to be divided into sides, saying, "What kind of a freezing unity competition is this by splitting sides like this?", adding to the fun.
We were also able to confirm Jung Yu-mi's absurd charm. Jeong Yu-mi, who was lost in Jegichagi, was eliminated as soon as the first round started due to a self-attack by shouting her own slogan in the strawberry game, which involves attacking by chanting the opponent's slogan. With Lee Seo-jin, Park Seo-joon, Choi Woo-sik, and V remaining, it was assumed that the next eliminated person would be Lee Seo-jin.
However, breaking everyone's expectations, Park Seo-joon was eliminated early, followed by Choi Woo-sik, and in a twist, Lee Seo-jin was the second person to be selected for the room after V, which was a surprise. In addition, with the exception of the rooms chosen by 1st place V, 2nd place Lee Seo-jin, and 3rd place Choi Woo-sik, only the rooftop room and tent sleeping on the terrace remained, and Park Seo-joon gave the rooftop room to Jung Yu-mi, creating a warm feeling with sweet consideration.
Kang Min-kyung, Ten Asia reporter kkk39@tenasia.co.kr