TV
Park Gyu-young "Cha Eun-woo is my 4-year-old younger brother, but he's trustworthy."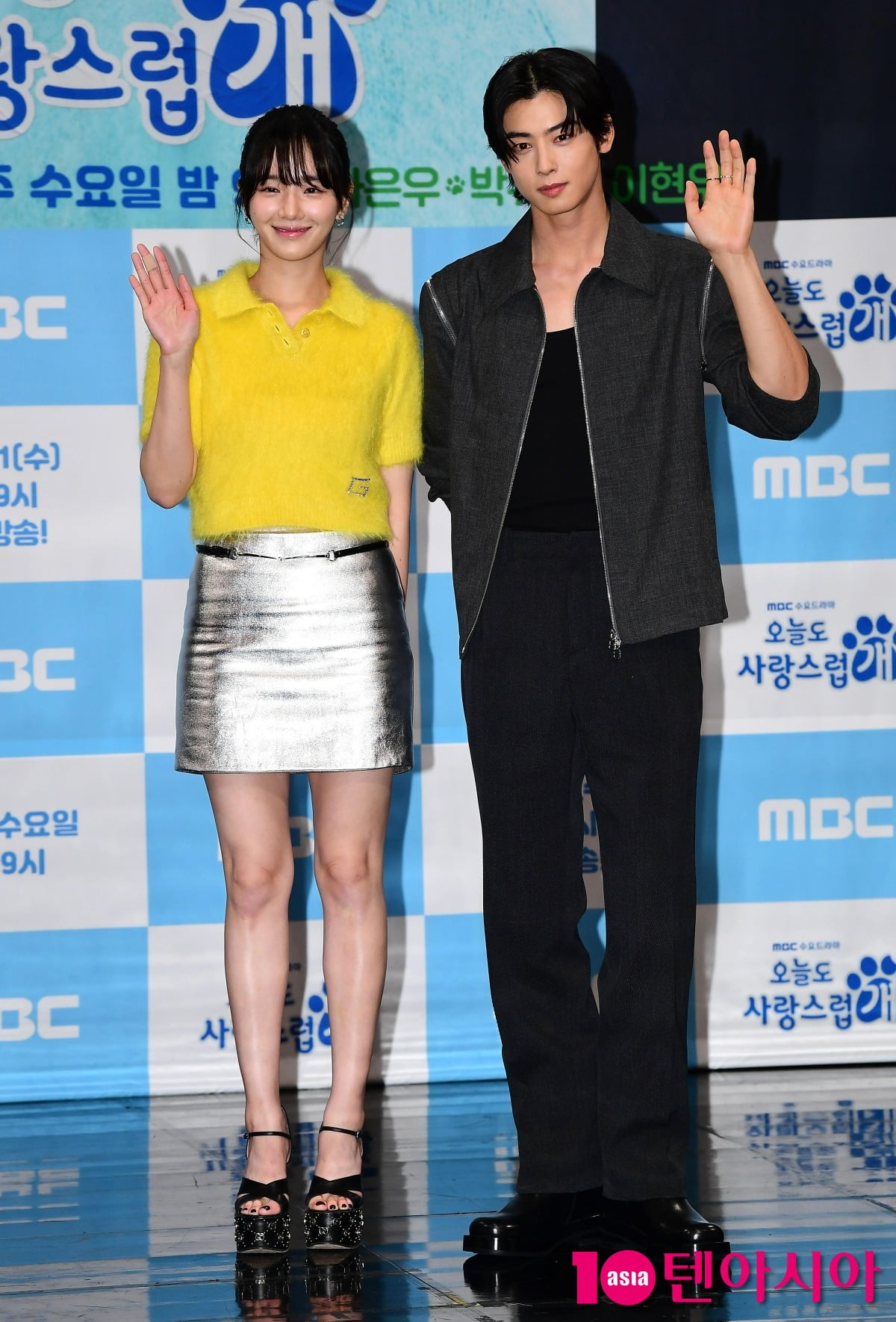 Actor Park Gyu-young spoke about acting together with Cha Eun-woo.
On the afternoon of the 11th, a production presentation for MBC's new Wednesday drama 'Lovely Dog Today' (hereinafter referred to as 'Oh Sa Dog') was held at MBC Golden Mouse Hall in Mapo-gu, Seoul. Actors Cha Eun-woo, Park Kyu-young, Lee Hyun-woo and director Kim Dae-woong attended the event.
'I Love Your Dog Today' is a fantasy romance drama about a woman who is cursed to turn into a dog when she kisses, and a man who is afraid of dogs, although he is the only cheat who can break the curse. It is based on the webtoon of the same name by author Lee Hye.
Park Gyu-young plays Han Hae-na, a high school Korean language teacher and a woman who has inherited a special curse from generation to generation in her family that turns her into a dog when she kisses her. Park Gyu-young said, "The staff put a lot of effort into the process of turning into a dog with CG elements and filming techniques. The lines of 'Gaena' after becoming a dog were recorded in hindsight so that viewers could understand them."
Park Gyu-young said about her chemistry with Cha Eun-woo and Lee Hyun-woo, "I always couldn't stop laughing. I have a crush on actor Hyun-woo, and I really enjoyed working with Eun-woo because he has a romantic role." "He is my younger brother. He was there with reliable energy on set. He gave me bright energy while maintaining a solid center. Actor Hyunwoo is the same age, but he is a long time senior. I learned a lot as a senior, and he always gave me bright and comfortable energy."
When asked about synchronization with the character, Park Gyu-young said, "Haena has a much better personality than me, and is more active, energetic, and strong. I learned a lot from Haena, and I am grateful that I was able to have a brighter energy than I had during the filming period." He said, "I'm not friendly with dogs."
The 14-episode 'Lovely Dog Again' will premiere at 9 PM on the 11th, and episodes 1 and 2 will be broadcast consecutively in the first week.
Taeyuna, Ten Asia Reporter youyou@tenasia.co.kr