TV
I don't know that my mom remarried… Lim Na-young, secretly heard and was shocked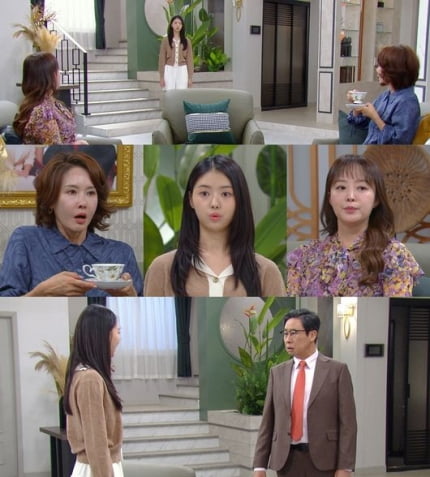 Lim Na-young from 'The Woodland Tang Family' senses something suspicious after overhearing the conversation between Choi Soo-rin and Ahn Yeon-hong.
In the 14th episode of KBS 1TV's daily drama 'Ruddy Family' (directed by Kim Seong-geun, written by Moon Young-hoon), which airs at 8:30 p.m. today (10th), Kang Seon-ju (Lim Na-young) meets her mother Shim Jeong-ae (Choi Soo-rin) and aunt Shim Jeong-sook (Ahn Yeon-hong). ) appears in the conversation scene.
Previously, after contemplating with Jeong-suk, Jeong-ae searched the Korean community in the Philippines to find Yoo Dong-gu (Lee Jong-won), Eun-ah (Joo Sae-byeok), and Eun-hyuk (Kang Da-bin). Her husband Kang Ki-seok (played by Lee Dae-yeon) also gave out phone calls and gift certificates to people who visited her, asking them to be considerate, and his actions touched Jeong-ae.
In the stills released today, a serious conversation between two sisters, Jeong-ae and Jeong-sook, was revealed. Jeong-ae, who was talking with Jeong-suk, is startled when she sees Seon-ju suddenly appear.
Seon-joo is unaware that his mother Jeong-ae remarried and that she has another child. Her expression is full of puzzlement, and the surprised Jeong-sook keeps her mouth shut and pretends not to know, raising curiosity about whether Seon-ju has found out about her mother's story.
In another still, Seon-joo is talking with her father Ki-seok. After overhearing her mother's story earlier, she said she was looking for Ki-seok, and Ki-seok's expression when he saw his daughter was unusual, stimulating curiosity about the broadcast to see what kind of conversation took place between the two father and daughter.
Ryu Yae-ji, Ten Asia Reporter ryuperstar@tenasia.co.kr