TV
Cha Eun-woo♥Park Gyu-young, the beginning of a thrilling romance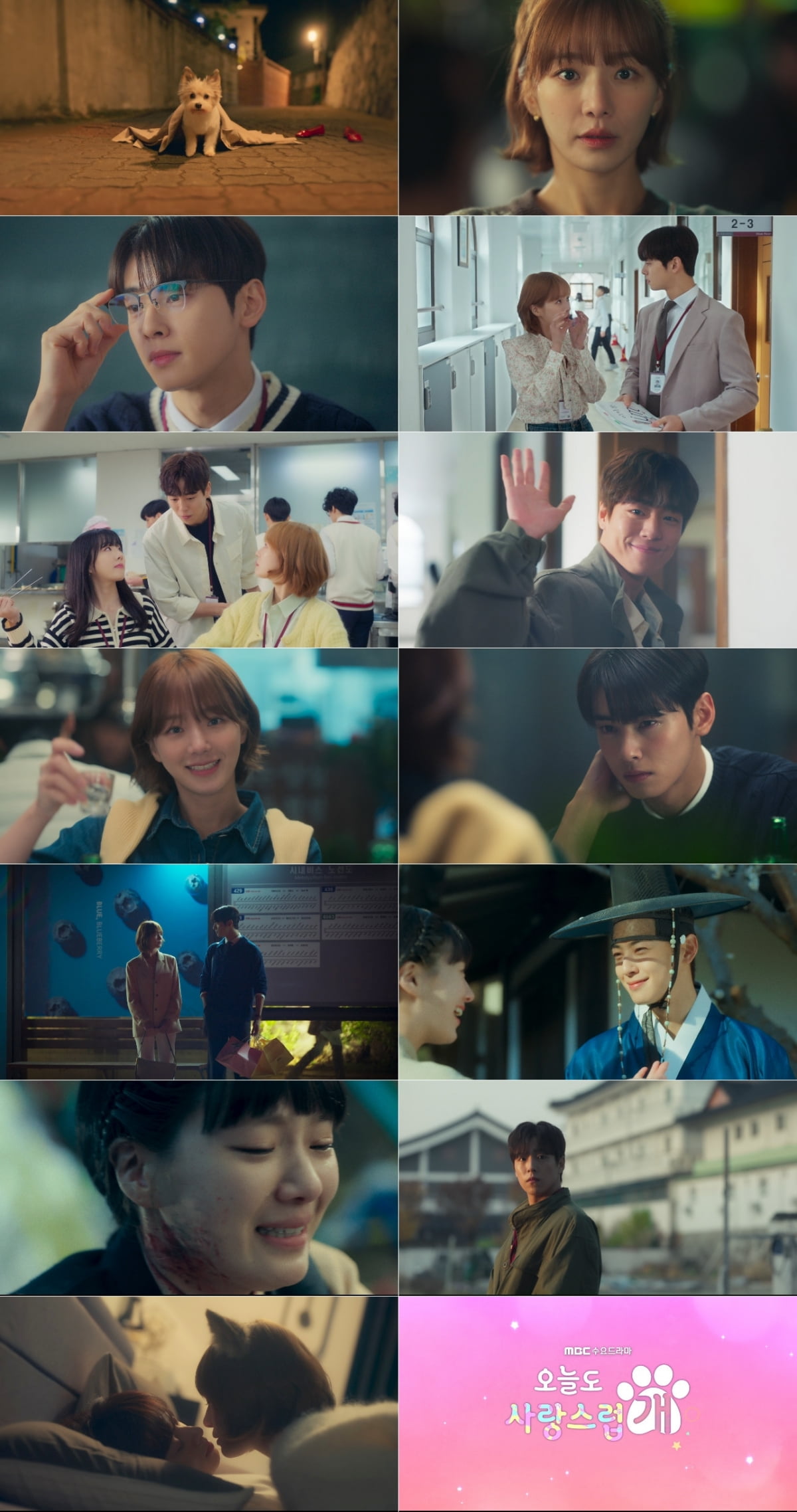 MBC's new Wednesday drama 'Lovely Dog Today' has released its highlight video.
On the 10th, the 'Lovely Dog Today' side released a highlight video that triggered a excitement warning a day before the main broadcast. 'A Lovely Dog Today Too' is based on the Naver webtoon of the same name and is a fantasy romance drama about a woman who is cursed to turn into a dog when she kisses, and a man who is afraid of dogs, although he is the only cheat who can break the curse.
The highlight video released ahead of the first broadcast captures the intertwined relationships between characters surrounding a special curse in an exciting way. The narrative of Han Hae-na (played by Park Gyu-young), who is cursed to turn into a dog when she kisses someone of the opposite sex, and Jin Seo-won (played by Cha Eun-woo), who is the only cheat who can break the curse but is afraid of dogs, tickled everyone's hearts.
Hannah, who has an unusual family secret that turns her into a dog when she kisses her, faces the biggest crisis of her life through an awkward relationship with a fellow teacher and an accidental kiss. Hae-na, who is cursed to turn into a dog every night, is eventually discovered by her mother, Shin Mi-seon (played by Jeong Young-joo), and is shocked to learn that in order to lift the damn curse, she must kiss her partner again as a dog (dog + Hae-na). In response, Hae-na writes a letter of resignation, but after receiving comforting words from her older sister Han Yu-na (played by Ryu Abel), she goes back to school and slowly begins to approach Seo-won.
Meanwhile, Seo-won, a math teacher who has exploded in popularity at school by taking on the idol position with Lee Bo-gyeom (played by Lee Hyun-woo), discovers Hae-na sticking around by her side differently than usual. He has no way of knowing her true feelings, so he keeps rejecting Hae-na, but eventually, after her efforts, he makes a date with Hae-na alone with the words, "It's okay tonight."
Hae-na, who has a chance to break the curse, begins a full-fledged operation, including giving Seo-won alcohol. He, drunk, mistakes the dog for a crab and makes people laugh by saying absurdly, "I like it too. It's delicious when steamed and stewed, too." Seowon, the only one who can lift the curse and who is afraid of dogs, brings a lot of fun to the small screen.
Hae-na then says, "I will help you," and struggles to help Seowon overcome the trauma of his dog. Seeing this, Seowon is filled with strange, unknown feelings toward Hae-na. Here, the story is revealed that Seowon is afraid of dogs due to a childhood trauma, with the words, "When I see a dog, my body and mind just fall apart." It doubles the interest of the play.
Although everything is perfect, there is also something meaningful about Bogyeom. Hae-na, who has a crush on Bo-gyeom, smiles brightly at him, and Bo-gyeom also sticks around by Hae-na's side, leading her and Seo-won to become closer. Seowon and Hae-na's past lives, revealed with the words, "In order to become further apart, we have to become closer," heralded a unique twist.
At the end of the video, we get a glimpse of Hae-na's deepening feelings for Seo-won as their relationship grows closer. The highlight video, which ended with a scene of Hae-na kissing a sleeping Seo-won, colored the home theater with pink excitement and announced the birth of a drama that will surely touch anyone's heart.
'I'm Lovely Dog Today' will air episodes 1 and 2 consecutively at 9 PM on the 11th.
Kang Min-kyung, Ten Asia reporter kkk39@tenasia.co.kr