TV
Jo Bo-ah's bloody smoke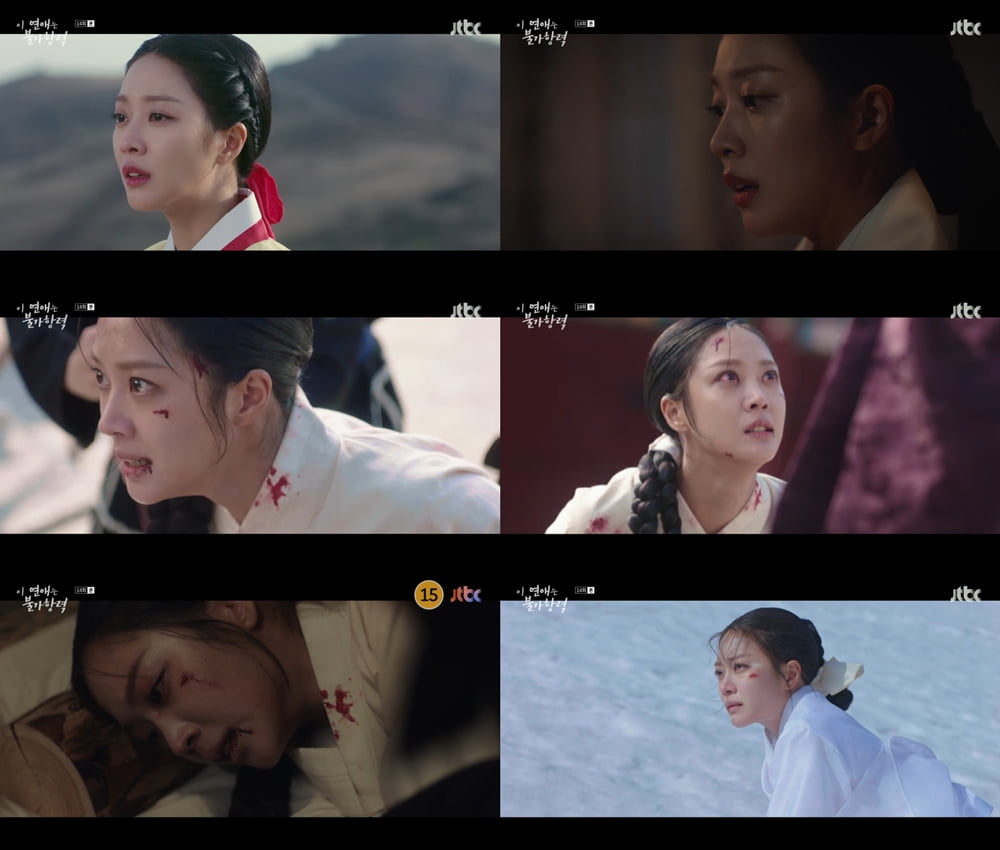 Actress Jo Bo-ah proved her extraordinary class in dual roles.
Jo Bo-ah plays the role of Primrose, Hong Jo's former life and shaman whose narrative begins to unravel in the second half of the JTBC Wednesday-Thursday drama 'This Love Is Force Majeure' (written by Noh Ji-seol, directed by Nam Ki-hoon, produced by SLL and C-JeS Studio) and is drawing extreme immersion.
In episode 13, Hong Jo recalled his past life, which ended tragically after being stabbed by Mu-jin (played by Ro Won) 300 years ago, and began to distance himself from Shin Yu (played by Ro Woon). As he had previously confirmed Shin-yu's feelings and did not hesitate to show affection, viewers became even more empathized with Jo Bo-ah's immersion in persuasively explaining Hong Jo's rapidly changing emotions.
In particular, Jo Bo-ah, who shed tears with the words, "They say those who kill me will be cursed," even though it was the moment of betrayal, held the face of Rowoon, who harmed her, and touched the hearts of those who watched him with sad eyes that worried about him. It rang. In addition, in this life, he was filled with guilt and doubled his sorrow by saying, "I was the one who cursed you."
The scene where Jo Bo-ah's solid acting skills stood out was the primrose torture scene in episode 14. Primrose showed off her spirit despite being robbed by the king of the book containing a spell, and Jo Bo-ah, who played her, overwhelmed the TV screen with her bloodshot eyes and an atmosphere of anger all over her body, making it impossible to take your eyes off her for even a moment. .
Jo Bo-ah, who is showing a wide range of acting by playing dual roles from Hong Jo to Primrose, is raising curiosity about what kind of acting she will create in the remaining two episodes and create an all-time great scene.
Meanwhile, JTBC's 'This Love Is Force Majeure', in which Jo Bo-ah appears, is an irresistible romance between Lee Hong-jo, a low-ranking civil servant who obtains a banned book that was completely sealed 300 years ago, and Jang Shin-yu, a lawyer who becomes a victim of the banned book. It airs every Wednesday and Thursday at 10:30 p.m.
Ryu Yae-ji, Ten Asia Reporter ryuperstar@tenasia.co.kr