TV
"Is there any good news?" Jeon Hyun-moo caught the pink color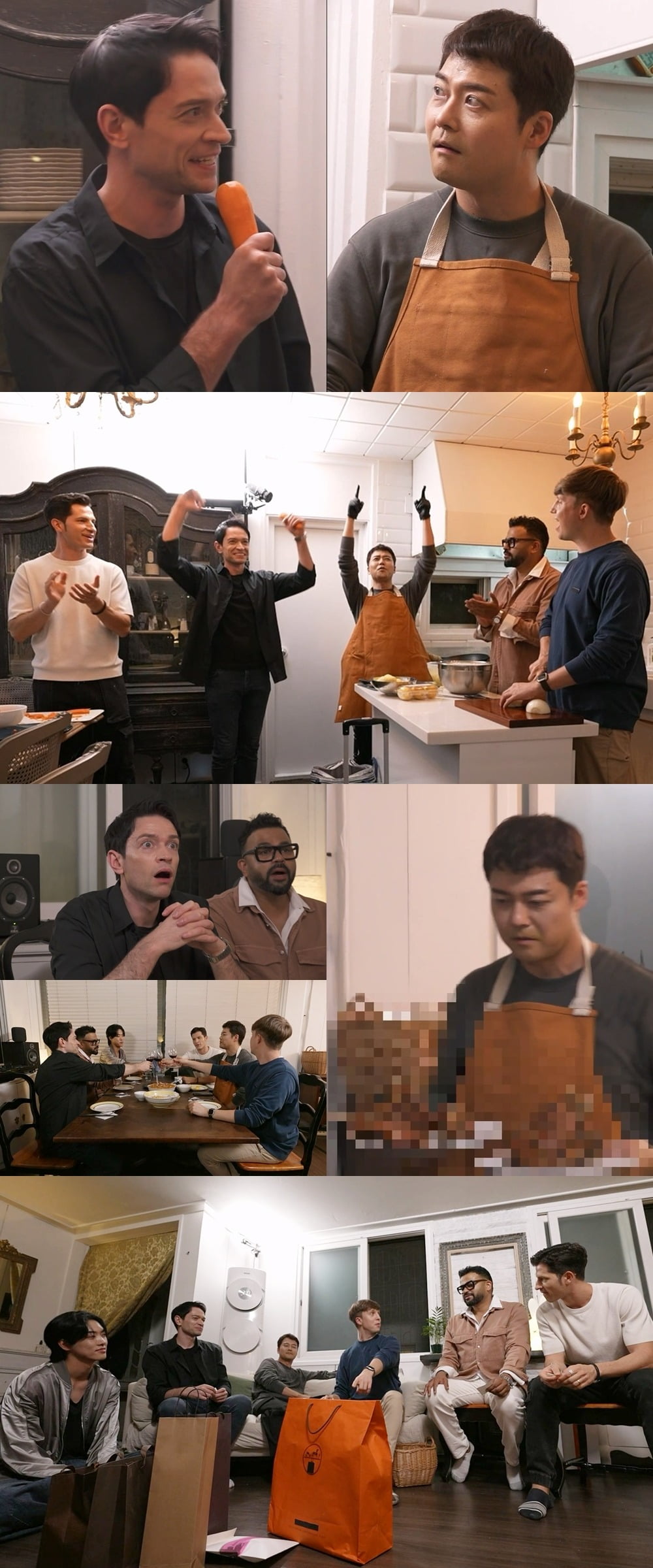 Broadcaster Jeon Hyun-moo announces surprising news in front of his foreign siblings who are looking forward to good news on Chuseok. He revealed that he received a call from a woman during the holidays asking her to go camping together. From Jeon Hyun-moo's surprise confession to Daniel's marriage announcement, curiosity is growing about what kind of stories will come out of the scene that is suddenly colored in pink.
In the MBC entertainment show 'I Live Alone' broadcast today (6th), Jeon Hyun-moo, 'Mother (Mother + Jeon Hyun-moo)', cooks home-cooked meals in his hometown for five 'Korean foreigners' (Lucky, Alberto, Daniel, Takuya, and Julian). The appearance is revealed.
Jeon Hyun-moo, Lucky, Alberto, Daniel, and Takuya gather at Julian House to celebrate Chuseok. Younger brothers who know Jeon Hyun-moo well are unfamiliar with the sight of their older brother cooking. Alberto embarrassed Jeon Hyun-moo by asking a surprise question, saying, "(Men) cook a lot when they have a girlfriend. Do you have any good news?"
Jeon Hyun-moo, who was hesitant, said, "I got a call during the holidays. He surprised everyone by saying, "Let's go camping." While the younger siblings' attention is focused on Jeon Hyun-moo's mouth, attention is focused on who it might be as she honestly reveals her identity on the spot.
Jeon Hyun-moo also asks Daniel a meaningful question, "Are things going well?" Daniel is embarrassed and announces the happy news, "I'm getting married within this year." The sight of Daniel announcing the wedding news while holding a carrot and his friends giving him congratulatory applause is heartwarming.
The image of Jeon Hyun-moo quietly using potatoes in front of his younger siblings, who are making jokes by mentioning Shin Dong-yup and Yoo Jae-seok as the master of ceremonies for Daniel's wedding, is also revealed. When Jeon Hyun-moo's name was mentioned as the last choice, he said, "I have plans that evening," and turned on the 'push and pull' mode, causing laughter.
Jeon Hyun-moo said, "I'll show you what a palm oil leader is," and revealed the Hoesim's menu, which he completed after practicing all night for 3 days and 2 nights. Expectations are high on what this menu will be like, which even the 'prince of palm oil' Jangwoo Lee failed, and what his younger siblings' reactions will be like.
The scene where foreign younger brothers, who were moved by the heart of 'Mudeo' Jeon Hyun-moo, who gave them the taste of their hometown, compete to promise gifts in return with no idea when they will come true, and the scene of the Chuseok gift exchange ceremony are also revealed. It is said that the younger siblings' attention was drawn to Jeon Hyun-moo's large gift, which he said "I thought about it a few times," so attention is being paid to what kind of gift it will be and who will be the recipient of the gift.
Jeon Hyun-moo's generous giving to his foreign younger siblings can be seen through 'I Live Alone', which airs today (6th) at 11:10 PM.
Taeyuna, Ten Asia Reporter youyou@tenasia.co.kr