TV
Kim Soo-mi's daughter-in-law, Seo Hyo-rim "I came here after seeing Min Woo-hyuk's SNS"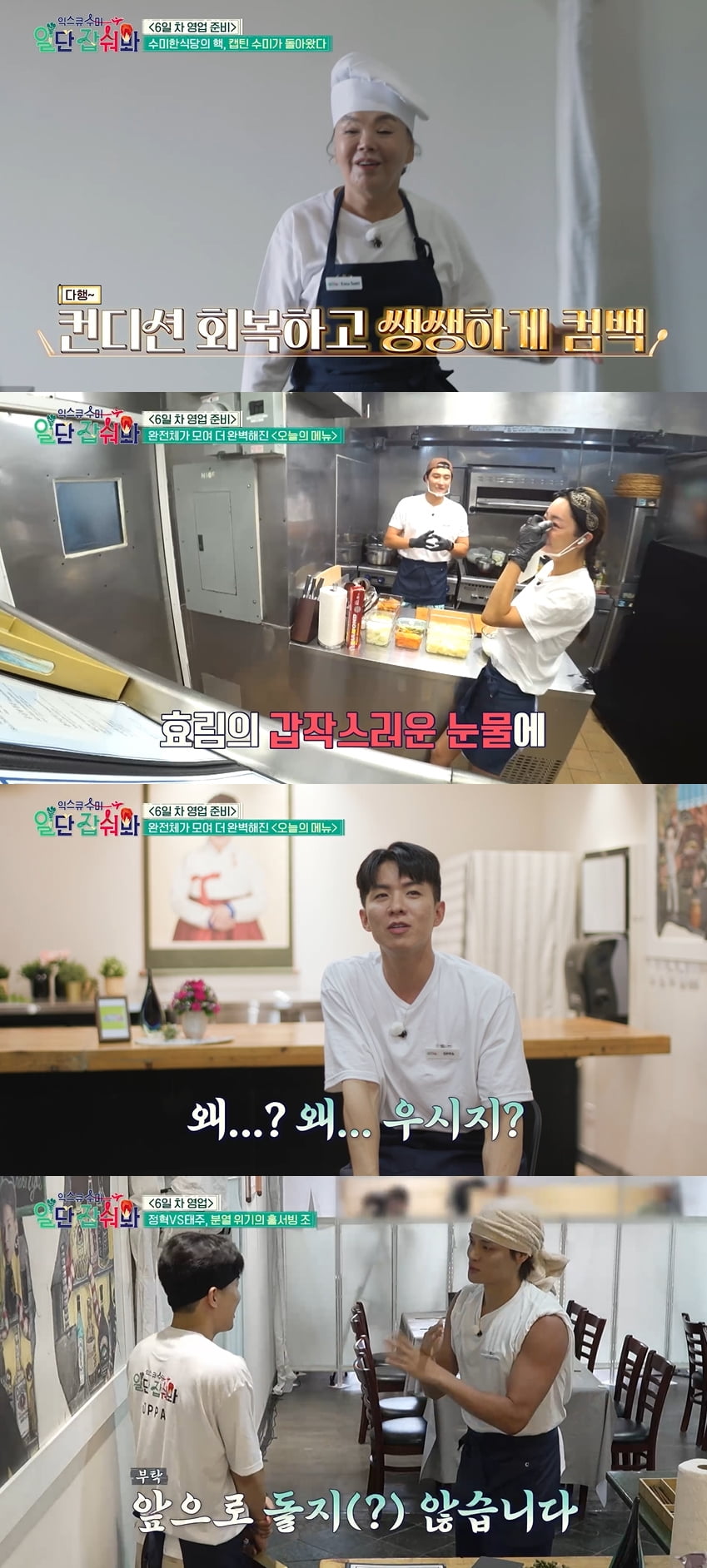 With Captain Kim Soo-mi's comeback, 'Sumi Korean Restaurant' opens for the 6th day on a windy day.
In T-Cast E Channel's 'Excuse Me: Let's Break It Down', which will be aired on the 5th, the Brand New family gathers with the return of Captain Kim Soo-mi, who went on vacation, and there are signs of division between hall serving assistants Jeong-hyeok and Na Tae-joo.
On this day, the employees of Sumi Korean Restaurant begin preparations for business with a cheerful morning greeting from Captain Kim Sumi, who has recovered. The face of new employee Na Tae-joo, who is about to welcome his first customer, is also filled with excitement and tension, raising expectations for his performance even more.
Finally, the restaurant door opens and customers come in, and hall managers Jeong Hyeok and Na Tae-ju also speed up their service. In particular, Na Tae-joo's high tension while riding inline skates upset not only Seo Hyo-rim and Min Woo-hyuk, but even Jeong Hyeok. Jeong Hyeok, who could not see this, said that he started suppressing the situation by saying, "I brought in someone who is beautiful," drawing attention to the future of Joe, the energetic hall server.
It is said that unlike the hall, which was full of laughter, there were tears in the kitchen once. Little Captain Seo Hyo-rim shed tears after seeing Min Woo-hyuk's SNS full of love, saying, "Hyeon-ta has arrived." Na Tae-joo of 'Drama T', who was embarrassed by Seo Hyo-rim's sudden emotional change, asked, "Why are you crying?", raising curiosity about what really happened to Little Captain Seo Hyo-rim.
Kang Min-kyung, Ten Asia reporter kkk39@tenasia.co.kr