TV
Infinite dressed up in hanbok, complete game showdown to celebrate Chuseok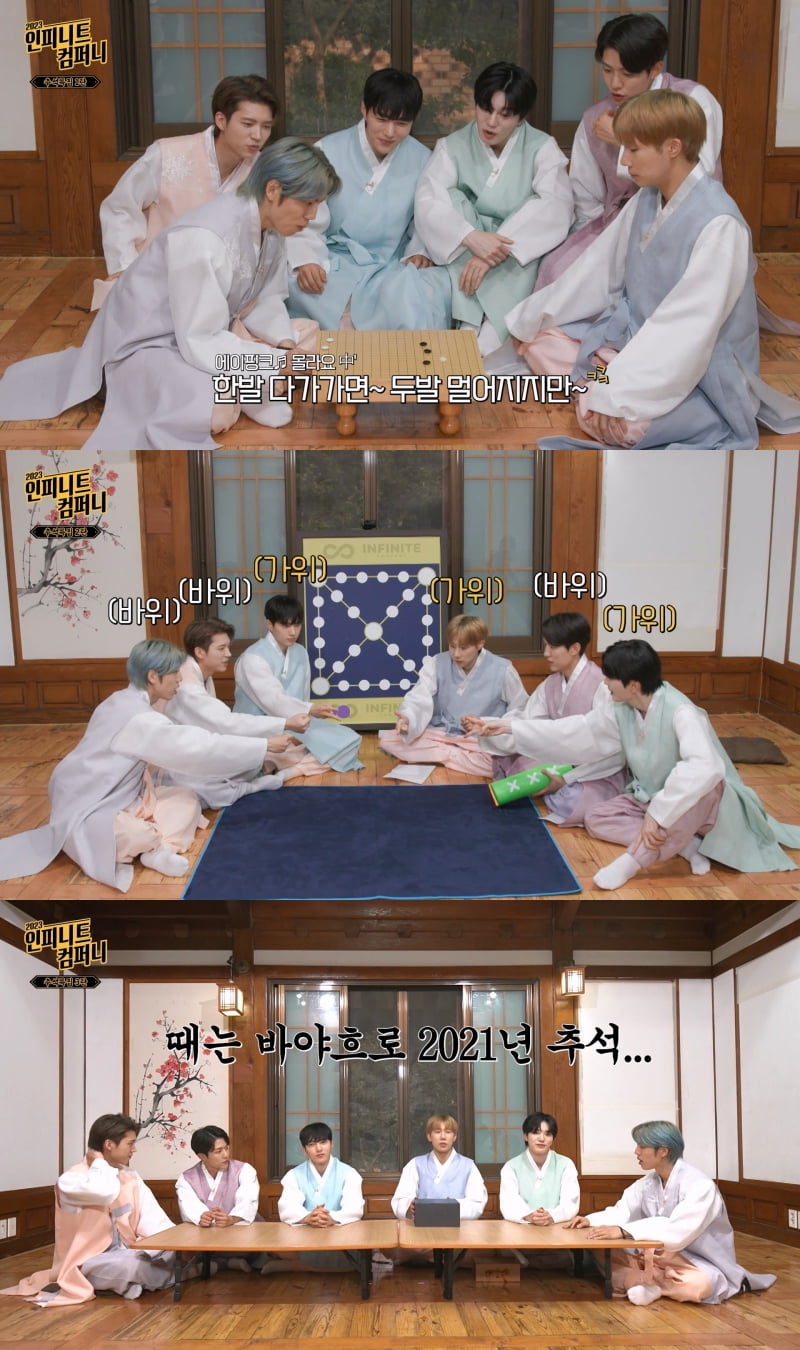 The group INFINITE (Kim Sunggyu, Jang Dong-woo, Nam Woo-hyun, Lee Seong-yeol, L, Lee Seong-jong) gathered in one place to celebrate Chuseok.
The agency Infinite Company released a Chuseok special episode of Infinite's exclusive reality program 'Infinite Company' through its official YouTube channel over three days from the 28th to the 30th.
In the released video, Infinite appeared in a neat and colorful hanbok, shaking the hearts of fans. Leader Kim Seong-gyu sent a warm Chuseok greeting as representative, saying, "It's been a while since all the members gathered together for Chuseok. I hope you all have a happy and prosperous Chuseok while sharing delicious food and fun stories with your family."
The first corner to welcome the long-awaited Chuseok was the alkagi competition held in a tournament format. L, who showed strong confidence, earned the title 'the weakest' due to his clumsy appearance, while Nam Woo-hyun, who automatically won due to Lee Seong-yeol's infinite self-destruction, made people laugh by complaining, "Please give me a chance to attack."
Lee Seong-jong, who was ranked last as everyone expected, showed off his incredible skills with unwavering eyes and perfect power control, and won the event in a surprise victory. The members bowed their heads in apology, saying, "You're really good," and "We were careless," and Lee Seong-jong nodded, "You should be sorry," making everyone laugh.
The second corner was Yutnori, an essential holiday folk game, and the members were divided into two teams, 'Kim Brothers and Lee Seong-jong' of Kim Sunggyu, L, and Lee Seong-jong, and 'Eldest Son' of Jang Dong-woo, Nam Woo-hyun, and Lee Seong-yeol, and had another fierce battle. To make the game more fun, members had to write various missions in each space and perform the mission each time they stopped there.
Lee Seong-yeol, who won the 5-type heart set mission, showed off cute moves toward the screen, and Kim Seong-gyu, who was watching them, dissed and said, "Why do you make a sound when you do a heart? It feels bad," causing laughter. The team of 'Kim Brothers and Lee Seong-jong', who fell into the hell of endless vocal imitation, cried and said, "We are running out of ideas," and ended up losing by repeating the same steps with the endless collaboration of 'Dog' and '3 Backwards'.
The third and final corner was the time for Lee Seong-jong to reveal a letter he had kept for two years. The letter was written to each other by the five members, excluding L, who was serving in the military during Chuseok in 2021. The members gave a touching applause to Lee Seong-jong, who had kept the letter perfectly without a speck of dust for two years.
Jang Dong-woo's letter reads, "We came together because the members and fans have great unity. Even if we are reborn, we want to be in Infinite. We are praying for concerts, fan meetings, and even a complete album." There was a lot of talk about whether this was a prediction of the future of those who returned to the music industry. Lee Seong-jong, who had already shed tears once, made his brothers laugh with the phrase, "I am so grateful to my brothers who are always by my side and on my side. Our ending is a never ending."
Kim Sunggyu brought Infinite back together with the comment, "More than 10 years have already passed since we were together. Although many things will happen in the future in this world, I want to be a strong support for the members and Inspirit. That's why I have to live hard." It was touching as it showed the leader's strong inner self and sense of responsibility.
Lee Seong-yeol said, "Infinite will be with Inspirit forever. I am grateful and love the members who made it possible for us to be together for the rest of our lives despite all the difficulties." Nam Woo-hyun said, "I am already excited about the memories we will write together in the future and I hope time passes a little more slowly. . Let's Infinite and Inspirit have a happy love for the rest of our lives."
Lastly, Infinite once again made promises for the future and wrote a letter to themselves one year from now. The members sealed the box with the promise, "Let's get together and open it again at Chuseok next year," and ended the video with the words, "I hope those who watched the video have fun and excitement, and have a healthy Chuseok with their families."
Meanwhile, Infinite released their seventh mini album 'Begin (13egin)' last July and returned to the music industry as a complete group after about five years. Last month, they successfully completed their solo concert 'COMEBACK AGAIN' Asian tour, starting in Seoul and then stopping in Yokohama, Taipei, and Macau.
Ryu Yae-ji, Ten Asia Reporter ryuperstar@tenasia.co.kr