TV
'Steel Unit 3' wins against 'Street Woman Fighter 2'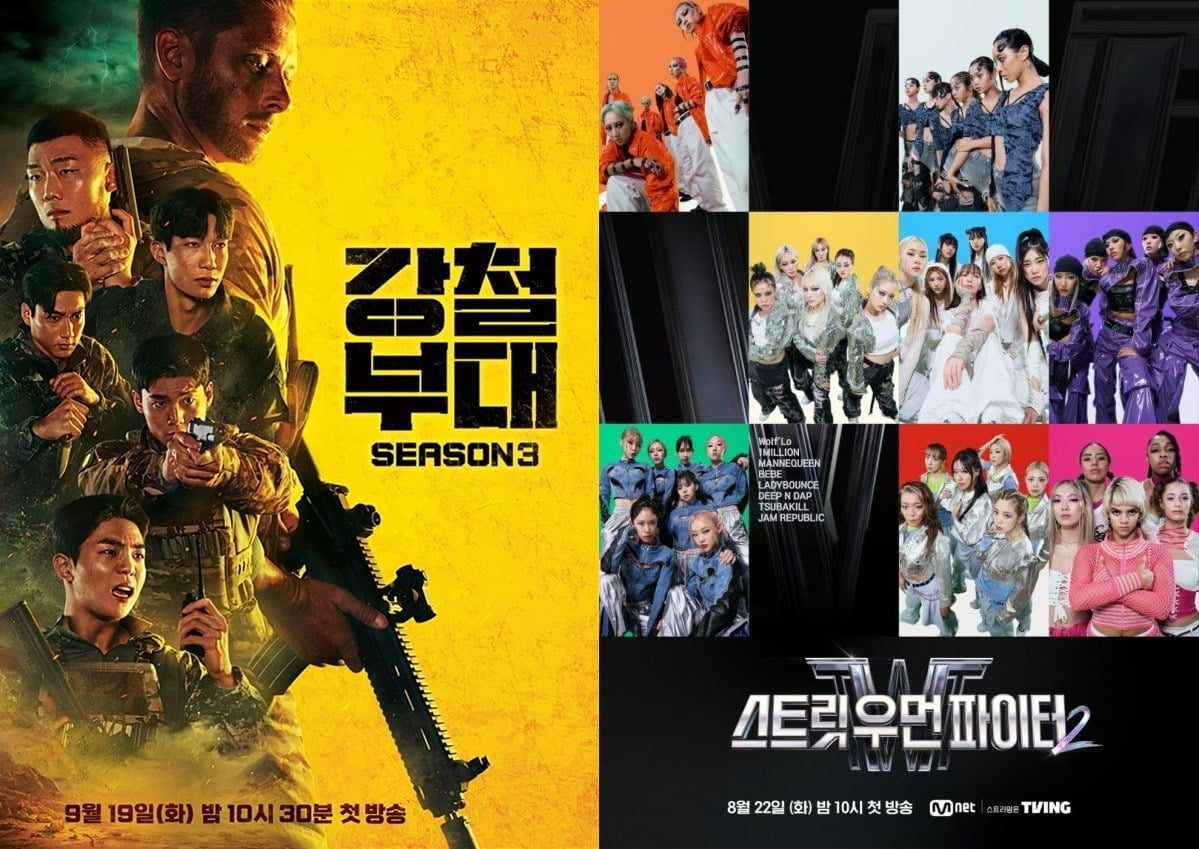 'Steel Unit 3' beat its competitor 'Street Woman Fighter 2' in the same time slot.
The 2nd episode of Channel A and ENA's entertainment show 'Steel Unit 3', which aired on the 26th, recorded a viewership rating of 3.6% (based on the combined channel A and ENA of paid broadcasting households nationwide), up 0.4 percentage points from the previous week. The highest viewer rating per minute soared to 4.6%. Mnet's 'Suppa 2', which was canceled in Jeonju, recorded 2.6% on this day's broadcast.
In 'Steel Unit 3' broadcast on this day, Special Forces (Army Special Operations Command), HID (Army Intelligence Unit), 707 (707th Special Mission Group), UDU (Navy Intelligence Unit), UDT (Navy Special Operations Group), and USSF (U.S. Special Forces) Unit) A total of 6 special forces & 24 members were seen participating in the 'Strongest Operator Selection Competition'.
In the first round, '2 vs 2 Trench Fight', HID Kang Min-ho and Lee Dong-gyu faced UDU Kim Su-won and Go In-ho. Here, Go In-ho was pushed out by Lee Dong-gyu and was eliminated first, and Kim Soo-won, a 'super strong man', survived two people alone, but was pushed out by Kang Min-ho and Lee Dong-gyu's joint attack and ultimately lost. Next, UDT Kim Kyung-baek and Lee Han-jun and U.S. Special Forces Ian and Jeff were dispatched, and Lee Han-jun immediately lifted the '191cm tall' Ian, shocking everyone. He also teamed up with Kim Gyeong-baek to eliminate Jeff, showing off his crazy presence and enjoying a thrilling victory.
Next, 707 Oh Yo-han and Lee Yoo-seok and UDT Lee Jeong-jun and Jeong Jong-hyun participated, and 'domestic pull-up competition champion' Oh Yo-han faced off against Jeong Jong-hyun and showed his tenacity to help Lee Yoo-seok even in difficult situations. However, Lee Yu-seok appeared to be troubled by Lee Jeong-jun's power, saying, "Wow, there's a wild boar here." In the end, 707 lost to UDT as Yoo Seok Lee went out first. In particular, 707 had to suffer the hardship of being eliminated, as Hong Beom-seok and Park Chan-gyu had previously lost. After the game, Yohan Oh did not hide his disappointment, saying, "I didn't feel good" after losing.
HID Go Ya-yung and Park Ji-yoon, who competed next, showed off their overwhelming power and won against Special Forces Bae Yi-jeong and Kim Dae-seong. MC Kim Hee-cheol, who watched HID's landslide victory, expressed his admiration, saying, "They are a strong candidate for the championship!" Lastly, U.S. Special Forces Kaz-Will faced UDU Kim Hyeon-young and Lee Byeong-ju. At this time, Lee Byung-ju immediately put Will out with a loud shout, and Kim Hyun-young also passed Kaz during a one-on-one match. As a result, an unexpected incident occurred in which the U.S. Special Forces were 'all eliminated', shocking the scene. When the fierce trench fighting ended, HID and UDT, all of whom survived, were full of laughter in their quarters, but there was an awkward silence in the quarters of the U.S. Special Forces and 707.
The next morning, the 12 members who survived the 'Trench Fight' entered the second round of obstacle battles in the 'Strongest Operator Selection Competition'. The second round was an 'obstacle battle' where each group of four had to overcome 'barbed wire crawling section - 8m net obstacle - container - underwater crawling section - 11m single rope.' First, UDU Kim Hyun-young, UDT Lee Han-jun, Special Forces Agent Park Moon-ho, and HID Kang Min-ho stood in front of the starting line. Among them, Kang Min-ho showed intelligent play throughout the mission, maintained his pace in first place, and even succeeded in tightrope walking. Kang Min-ho's great performance made the MC corps explode with fan spirit, saying, "He's so smart" and "He's like a human weapon." Following Kang Min-ho, Lee Han-jun also passed the second round in second place.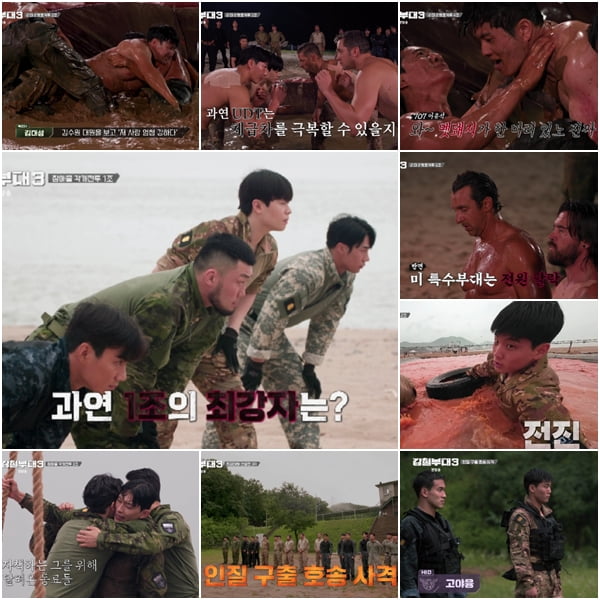 Next, UDT Kim Gyeong-baek and Jeong Jong-hyun and HID Lee Dong-gyu and Park Ji-yoon had a fierce battle, with Lee Dong-gyu and Park Ji-yoon arriving at the line in 1st and 2nd place, predicting HID's victory. However, just as the two were taking a moment to catch their breath, Jeong Jong-hyun pulled off a comeback by taking first place in tightrope walking. In addition, Park Ji-yoon beat Lee Dong-gyu and rang the bell for the second time, successfully advancing to the next round.
Lastly, UDT Lee Jeong-jun, HID Go Ya-yung, Special Forces Jeong Seung-hoon, and UDU Lee Byeong-ju faced off. At the beginning of the game, Lee Byung-ju maintained first place, but Go Ya-yung, who arrived at the single rope in third place, climbed to the single rope at super speed and took first place. Second place was Lee Byeong-ju, and Jeong Seung-hoon, who failed to walk the tightrope, tried to keep climbing without letting go of the tightrope even after the game ended, bringing everyone to tears. The studio MCs also showed heartwarming emotions at the loyalty of the crew members who sympathized more with the pain of the losers rather than the winners and embraced them with deep camaraderie.
After the fierce 'obstacle battle' ended, the final round mission of the 'strongest operator selection contest' was revealed. A total of six people, including HID Kang Min-ho, Go Ya-yung, and Park Ji-yoon, UDT Jeong Jong-hyun and Lee Han-jun, and UDU Lee Byeong-ju, advanced to the final round, and they moved to the Army's 50th Infantry Division. Here, Master Youngjae Choi announced, "The powerful benefit given to the strongest operator is the right to decide the matchup of this mission, where the first eliminated unit is announced." He then said, "Round 3 is a hostage rescue convoy shooting," and presented a new mission not seen in the previous season. However, at this time, Lee Han-jun announced that he would withdraw due to an ankle injury, causing regret. In addition, the final battle scene of the remaining five people will be moved to next week, raising curiosity about who will be the winner of the 'Final Operator Selection'.
'Steel Unit 3' airs every Tuesday at 10:30 PM.
Taeyuna, Ten Asia Reporter youyou@tenasia.co.kr