TV
Return of intern Choi Woo-sik and BTS V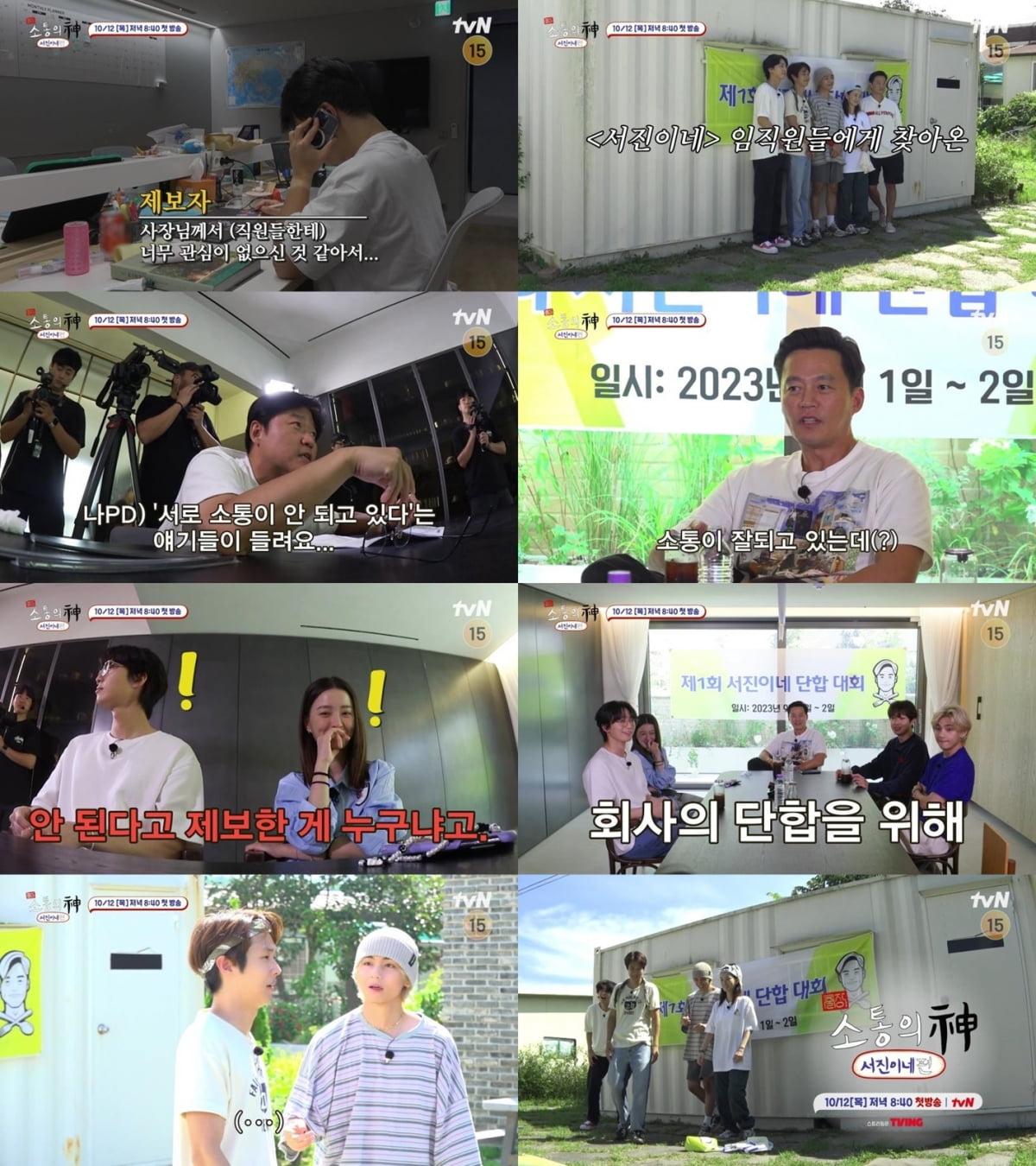 'Seojin' returns with a spin-off.
tvN's 'God of Business Trip Communication: Seojin's Episode' will be aired for the first time on October 12th as a communication delivery service that goes directly to every corner of the country, where PD Na Young-seok, a communication expert who has just started walking, runs to wherever communication is needed.
'God of Business Trip Communication: Seojin's Edition' maintains the worldview of 'Seojin's' position, and expectations are soaring as it is possible to meet executives and employees for the first time in a long time. President Lee Seo-jin, director Jeong Yu-mi, manager Park Seo-joon, intern Choi Woo-sik, and BTS's V plan to strengthen teamwork and strengthen communication through various games.
In the released teaser video, you can preview the fun episodes of 'Seojin's' employees. Someone shrouded in mystery reports, "It seems like the boss is not very interested in (the employees)," causing an unprecedented situation of lack of communication among the executives and staff of 'Seojin'. Accordingly, the executives and employees who were urgently convened are arousing interest by holding the '1st Seojin's Unity Rally'.
With Lee Seo-jin, Jung Yu-mi, Park Seo-joon, Choi Woo-sik, and V gathered in one place for the first time in a long time, Lee Seo-jin expressed his discomfort and started to hunt down the informant, saying, "Communication is going well, but who reported that it is not working?" In response to Lee Seo-jin's remarks, Jung Yu-mi and Park Seo-joon turn their heads to avoid eye contact, and Choi Woo-sik turns away and asks, "Who are you?", making us wonder if there is an informant among them.
In addition, the performance of executives and employees who do not sacrifice themselves for unity causes laughter. Seojin Lee lost her balance and fell backwards during Jegichagi, while Yumi Jeong, who seemed to have to guess what V was explaining, was unable to give the correct answer and stuttered.
In the group jumping rope, Choi Woo-sik, who was put in after Park Seo-joon and V, got caught in the rope as soon as he entered, giving a foreshadowing of their great chemistry. The sight of producer Na Young-seok firmly shouting "the end," Lee Seo-jin and Jung Yu-mi turning around and leaving, and Choi Woo-sik losing his words brings laughter. In addition, at the end of the teaser, there is a scene where Lee Seo-jin steps on the banner and says, "Stop filming now," raising curiosity about whether their unity rally will be able to conclude safely.
Kang Min-kyung, Ten Asia reporter kkk39@tenasia.co.kr