TV
Yumi Lee smiles as soon as she sees the handsome Ong Seongwu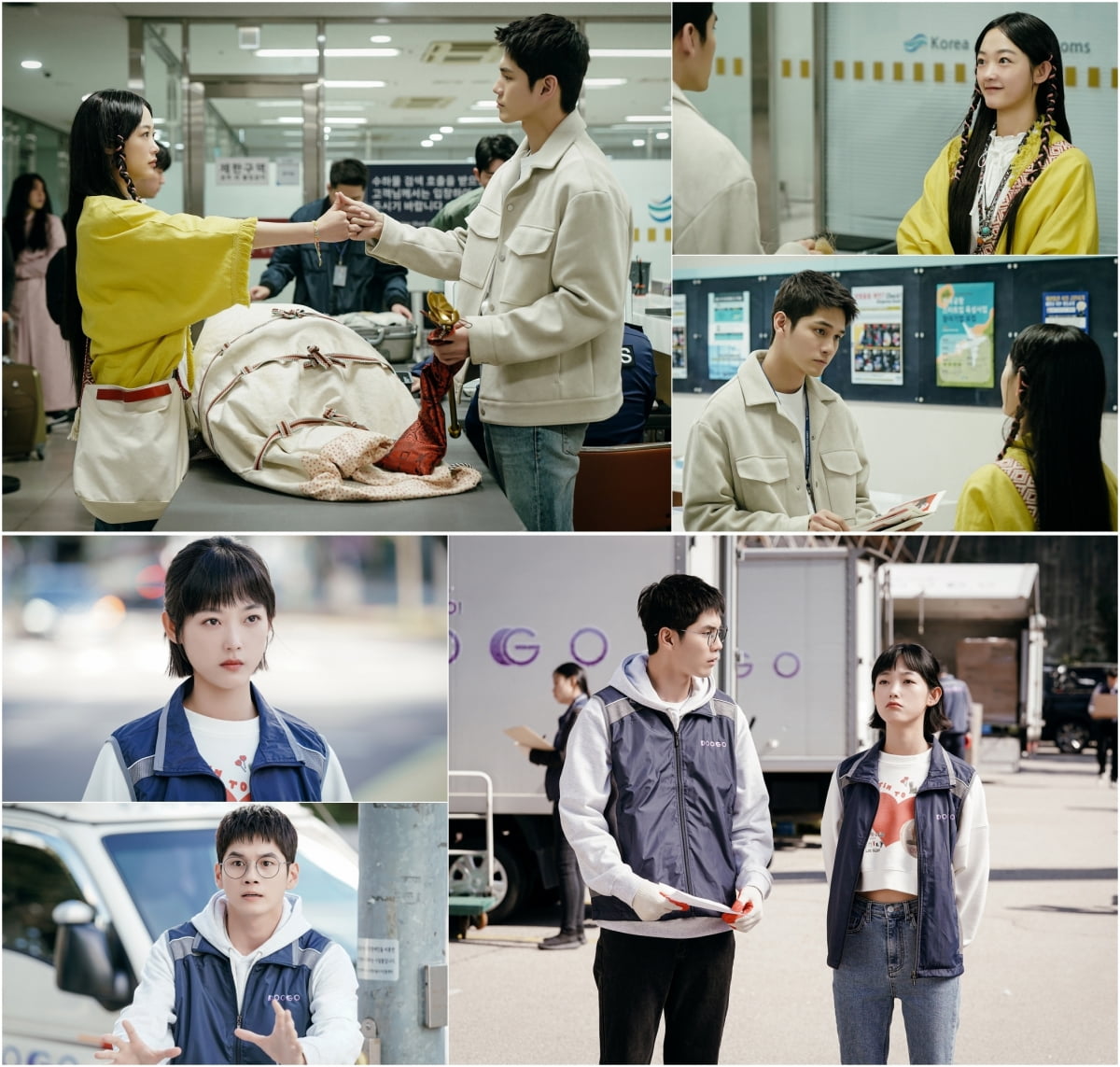 Lee Yu-mi and Ong Seong-wu open a special relationship restaurant.
On the 27th, JTBC's new Saturday-Sunday drama 'Strong Woman Kang Nam-soon' released still cuts showing the first meeting and cooperation between the strong girl Kang Nam-soon (played by Lee Yu-mi) and the passionate detective Kang Hee-sik (played by Ong Seong-wu). 'Strong Woman Gangnam-soon' is a comical crime drama about a mother and daughter of three generations who are naturally gifted with incredible strength and uncover the true nature of a new drug crime taking place around Gangnam. This work returns with an expanded worldview 6 years after the drama 'Strong Woman Do Bong-soon'.
Lee Yu-mi takes on the role of Kang Nam-soon, Do Bong-soon's 6th cousin and a quirky, lively and powerful person who flew from Mongolia to find her parents. Having unexpectedly become an international child lost in Mongolia as a child, she finally returns to Korea and is expected to play a powerful role as a mother-daughter hero who fights new drug crimes with her mother Hwang Geum-ju (played by Kim Jong-un) and grandmother Gil Jung-gan (played by Kim Hae-sook). Ong Seong-wu plays Kang Hee-sik, the youngest police officer in the Gangnam Han River District Police Department who possesses intellectual skills. He is a sharp and fresh police officer who has just graduated from the police academy. After meeting a strong woman named Kang Nam-soon one day, he experiences a huge culture shock and begins to feel curiosity and admiration.
The released photo shows the moment when the interesting relationship between Kang Nam-soon and Kang Hee-sik began. The place where they stood was none other than the airport baggage claim area. Kang Nam-soon, who likes good-looking people, puts a smile on her face as soon as she sees police officer Kang Hee-sik. On the other hand, Kang Hee-sik, who meets him for work, is just calm. In another photo, there is literally a bundle of luggage that Kang Nam-soon brought from Mongolia between the two people. What are Kang Nam-soon's suspicious belongings caught by Kang Hee-sik? In addition, it stimulates curiosity about the promise shared by the two people, who are holding their little fingers with a determined face.
Kang Nam-soon, who began his career as a hero, and Kang Hee-sik, who became his strong partner, were also captured. Two people secretly infiltrated the scene where the incident was taking place as employees. The sight of Kang Nam-soon, whose eyes are suddenly burning with a sense of justice, and Kang Hee-sik trying to calm him down brings smiles. It raises curiosity about how the thrilling cooperation between those who are trying to eradicate the new drug crime that has hit the world will be portrayed. Among them, attention is also focused on the change in their relationship, which will give each other new 'strength' and courage that they have never felt before.
Lee Yoo-mi boasted of her chemistry with actor Ong Seong-wu, saying, "I was shy, but I instantly became comfortable and friendly with actor Ong Seong-wu." He said, "We developed a lot of affection as we overcame a difficult scene together by joking around with each other. We were able to act in good chemistry until the end."
'Strong Woman Gangnam Soon' will premiere on October 7th.
Kang Min-kyung, Ten Asia reporter kkk39@tenasia.co.kr