TV
Seonwoo Yongnyeo reported that her husband was arrested on her wedding day while pregnant before marriage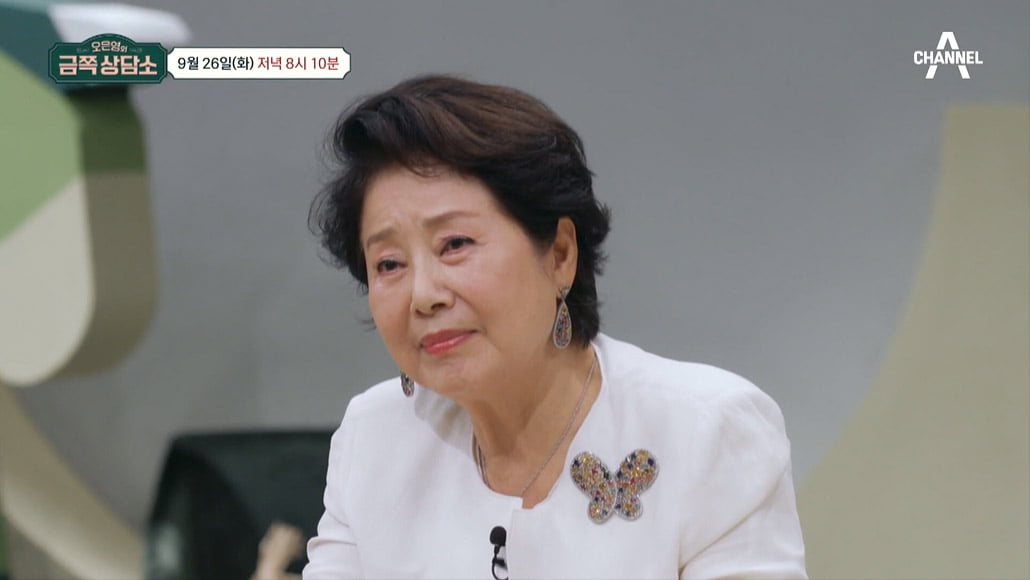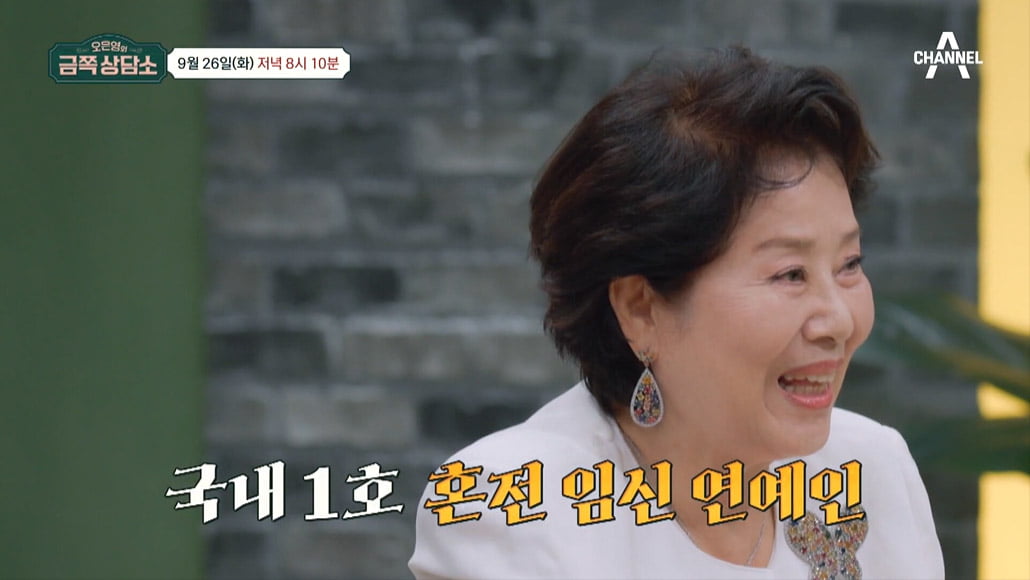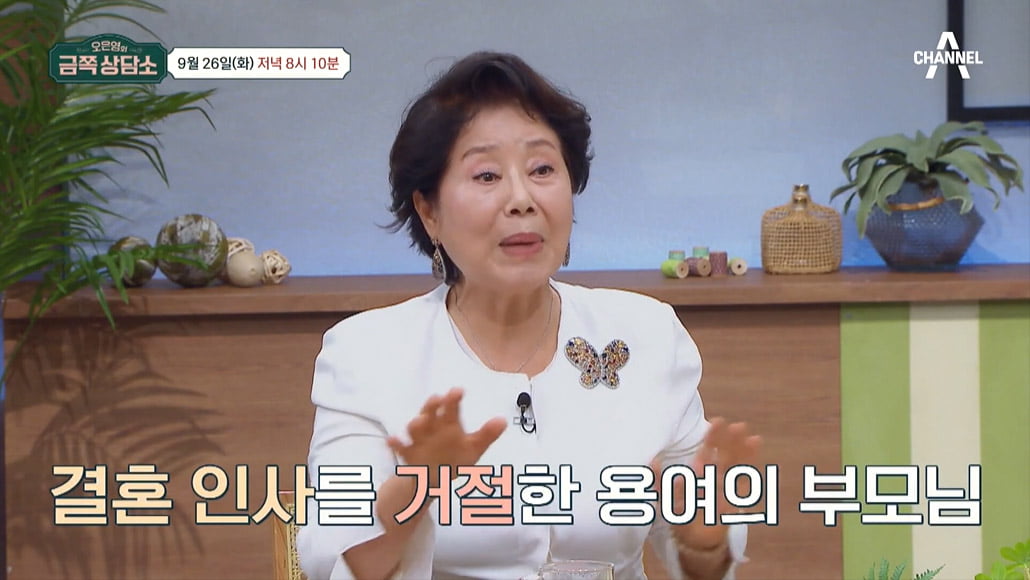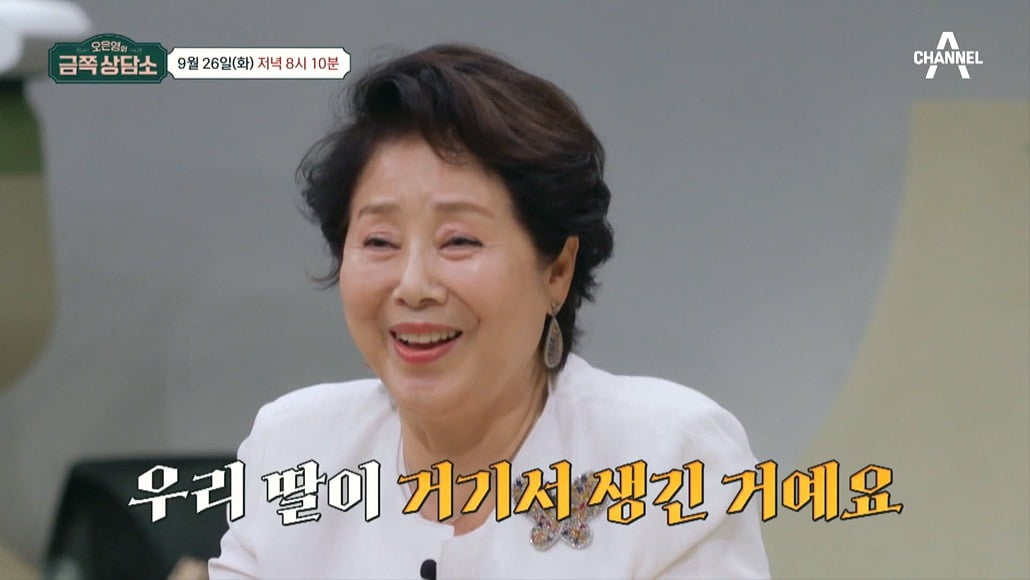 Seonwoo Yong-yeo revealed that she jumped into the livelihood front to pay off her husband's debt, which is currently worth over 20 billion won.
Seonwoo Yong-yeo appeared on Channel A's 'Oh Eun-young's Golden Counseling Center', which aired on the 26th.
Seonwoo Yong-yeo revealed the full story of becoming 'Korea's first premarital pregnancy celebrity.' Seonwoo Yong-nyeo said, "My parents were against my husband because he was 10 years older than me and he was the eldest of eight children." She continued, "At the time, my husband told me to come out, so he took me to a hotel and lived there for 20 days. Our daughter was born there." She also said, "At that time, due to the social atmosphere, if you were pregnant, you had to get married. I found out later in the entertainment industry," that she got married when she was four months pregnant.
Seonwoo Yong-yeo confessed her concerns, saying, "People tell me to speak more slowly." It is said that his daughter Choi Yeon-je nags him because of his rapid-fire speaking style, in which he talks without fully listening to what the other person is saying. Seonwoo Yong-yeo's daughter Choi Yeon-je is a former singer and a youth star in the 90s who achieved first place on music shows for four consecutive weeks. Oh Eun-young came up with a twisted analysis, saying, "The reason Seonwoo Yong-yeo speaks so quickly is because she is friendly to people and says what she wants to say right away."
Oh Eun-young asked whether Seonwoo Yong-yeo spoke quickly when she was young. In response, Seonwoo Yong-yeo confessed her introverted personality, saying, "Before I got married, I had a hard time talking to the point where I would cry whenever someone spoke to me. I was an obedient wife because I couldn't talk to my husband." He continued, "After getting married and becoming the head of the family, I think my personality changed."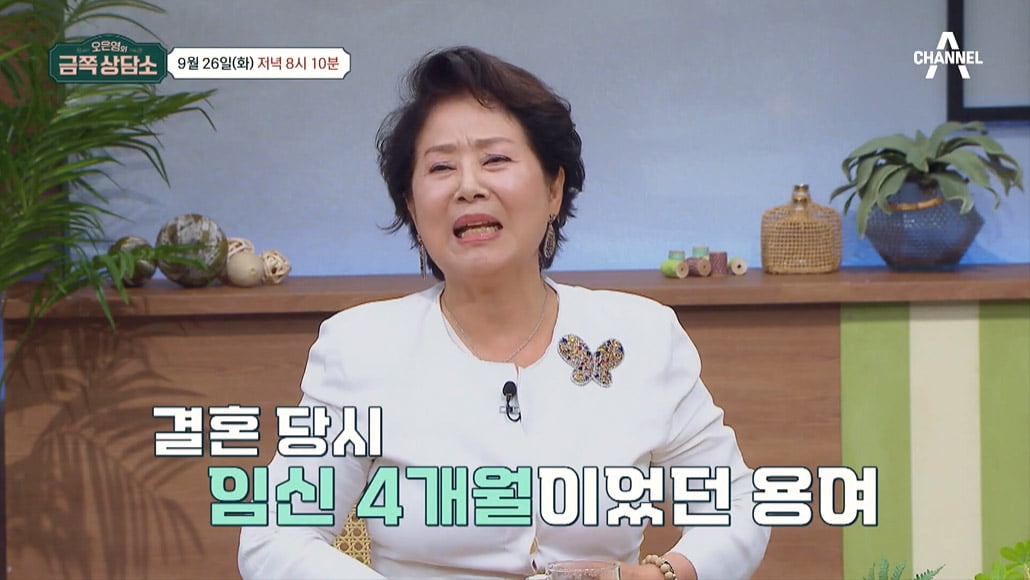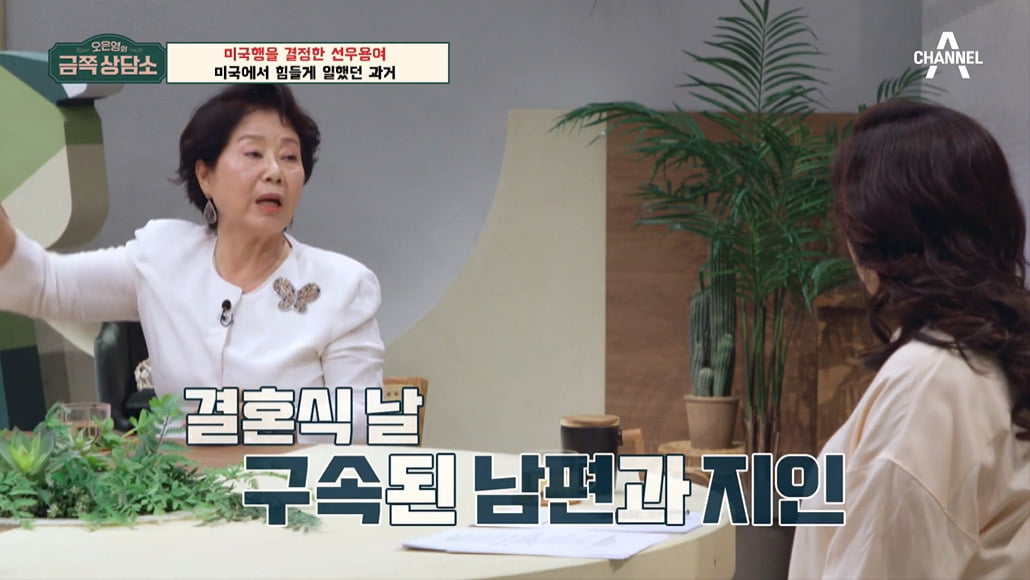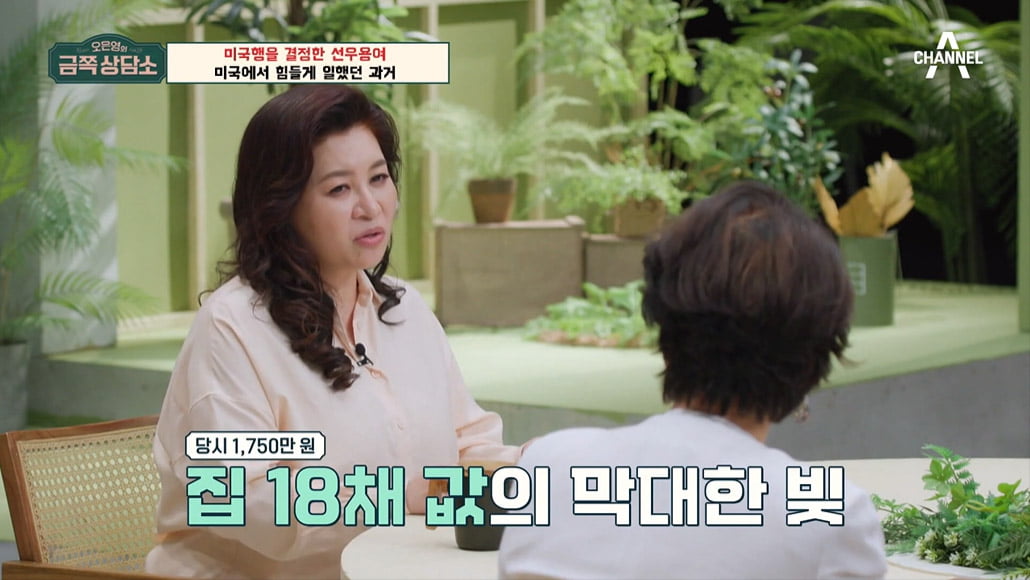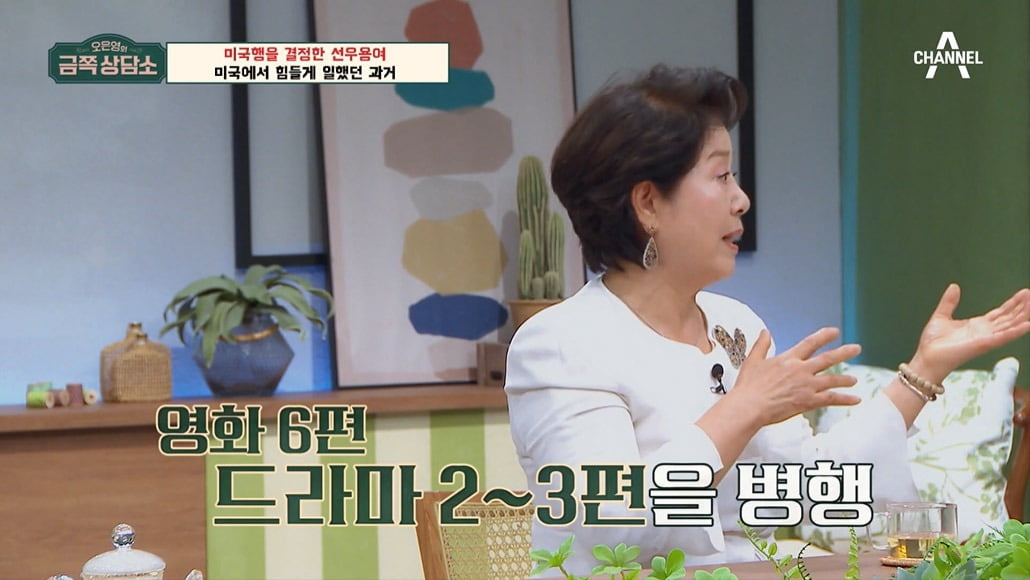 Seonwoo Yongnyeo told the story of how her husband, who suffered a setback in his business, was arrested on the day of the wedding and the ceremony was canceled, so the wedding had to be held again. Seonwoo Yong-nyeo said, "My husband decided to pay off the debt of an acquaintance who was like a father to him, but on the day of the wedding, my husband and the acquaintance were arrested and we had to have another wedding." She then recalled, "I had a debt of 17.5 million won. At the time, a house was worth 1 million won. In an instant, my husband's property disappeared and the 22,000 pyeong land was also taken away. The trial lasted 18 years." Sunwoo Yongnyeo's debt at the time was 18 houses, or about 20 billion won, at the current market price.
Seonwooyongnyeo had to become the head of the household instead of her husband in order to pay off a large amount of debt. Seonwoo Yong-yeo said, "I had to jump into the daily life without a home right away. I got married and didn't have a home. With 2 million won in hand, I went to the sales office of an apartment that was selling for 2.5 million won at the time. 'I only have 2 million won. 50 "I received a house by asking, 'I will pay you back 10,000 won within a year.' The house I bought for 2.5 million won became worth 8 million won in 7 months. At that time, I gained courage. After that, I actively worked in parallel with my work," he said.
Seonwoo Yong-yeo talked about how busy she was to the point where she couldn't visit her parents' house even on her mother's birthday. He said, "I think my personality has become impatient because I live hard." Eunyoung Oh said, "Because personality is the sum of innate temperament and experience, personality can change when experiencing important events or major changes in life."
Dr. Oh Eun-young, who continued the in-depth analysis, analyzed that Seonwoo Yong-yeo's personality may have changed due to her environment, but her original tendency was to be a "power extrovert." It seems that the extroverted tendency, which was suppressed in the conservative social atmosphere at the time, emerged as times and situations changed. Seonwoo Yong-yeo, who sympathized with this, recalled her childhood when she was active in everything thanks to her cheerful personality, and boasted of her naturally strong life skills, saying that she opened a dance studio at the young age of 1st grade in high school and even went out of her way to recruit students.
Oh Eun-young discovered that Seonwoo Yong-yeo was a person who thought in the form of a verb. He points out a clear difference between the two types of thinking, saying that people who use 'verb-type thinking' act without hesitation when something happens, while people who use 'noun-type thinking' think first. Oh Eun-young asked Sunwoo Yong-yeo how she handled the large amount of debt. Seonwoo Yong-yeo's eyes were filled with tears as she confessed that in order to repay her debt, she watched 6 movies and 2-3 dramas at the same time, and that she had to take a nap in her car because she didn't even have time to stop by her house. Oh Eun-young expressed her consolation by analyzing that the fact that Seonwoo Yong-yeo was able to actively take steps to resolve her debt was also thanks to 'verb-type thinking.'
Oh Eun-young advised that "there is a tendency to push forward with what you want to do" as a cautionary note about 'verb-type thinking.' Seonwoo Yong-yeo, who showed strong sympathy for this, told an anecdote about how when she chose to immigrate to the United States, everyone tried to stop her, but she went ahead for the sake of her children. Even though she was at the height of her success, she realized that she had not been able to be a mother to the extent that she had never been to her children's graduation ceremonies, so she boldly gave up being an actress and went to the United States to spend time with her children. I confessed that I needed to spend some time. It is said that at the moment when she was suffering from hardships to the point where she decided to become a housekeeper, she received an offer from a drama and returned to Korea after 7 years. Seonwoo Yong-nyeo said she realized, "Each person has a life and '8' that suits them."
Oh Eun-young noticed that Seonwoo Yong-yeo repeatedly mentioned the word 'palja' throughout the consultation. Oh Eun-young analyzed, "You may think that it is difficult to change the fate that was determined from birth through effort. Seonwoo Yong-nyeo seems to use the eight characters as a defense mechanism called resignation." He continued, "Psychiatically, resignation is the mind that realizes duty. It recognizes reality and comfortably accepts it."
Kim Ji-won, Ten Asia reporter bella@tenasia.co.kr