TV
Rowoon begins romance with Jo Bo-ah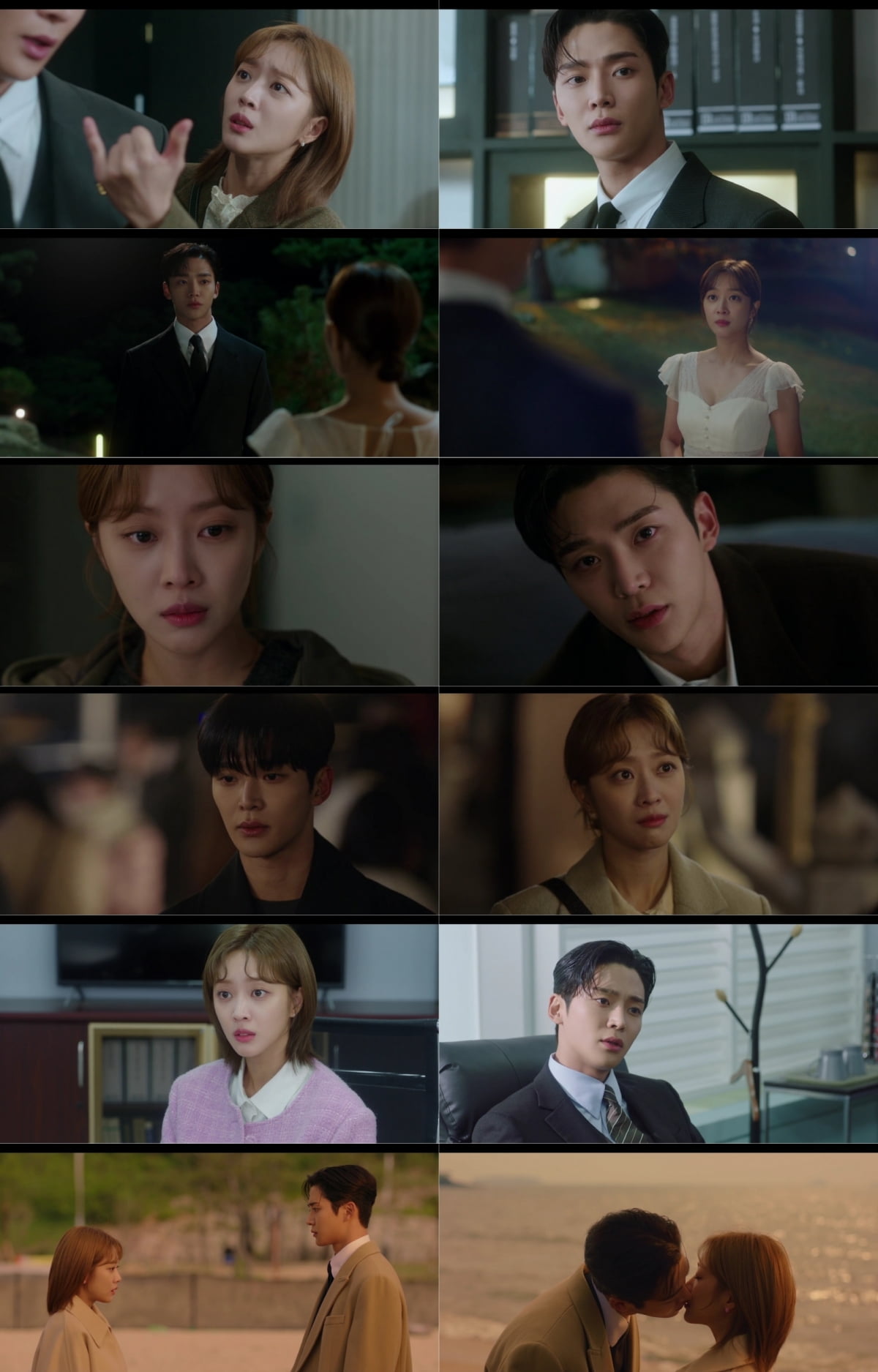 Jo Bo-ah and Rowoon ended their fate-defying adventure and confirmed their feelings.
In the JTBC Wednesday-Thursday drama 'This Love Is Force Majeure', the past lives of Lee Hong-jo (played by Jo Bo-ah) and Jang Shin-yu (played by Rowoon) were revealed, truly igniting a force majeure romance. The changes between Lee Hong-jo and Jang Shin-yu, who go through a harsh fate irregularity, enthralled viewers with each episode. Lee Hong-jo and Jang Shin-yu finally realize that they are led not by witchcraft but by an unstoppable fate. The sincerity that came after the conflict of emotions created a heartbreaking excitement.
Above all, as Jang Shin-yu recalled memories of her past life, the romance of her past life took a new turn. Accordingly, we looked into the emotional history of Lee Hong-jo and Jang Shin-yu, who thrilled viewers with their full-scale force majeure romance.
From aversion to witchcraft, an attraction that begins with a deep wish
The first meeting between Lee Hong-jo and Jang Shin-yu was fateful from the start. The two people, who had a strange first meeting at the site of a new temple on the verge of demolition, began to become entangled in an unexpected fate. Lee Hong-jo is the owner of the wooden box found at the Shindang site, and he is the person who will lift Jang Shin-yu's long-standing curse. The two people, who started out as bickering and dislike, continued to become intertwined as if by coincidence or fate. As if the words of shaman Eunwol (played by Kim Hye-ok), 'You two are destined to be inseparable, so accept it' were a signal, the cart of fate began to turn. The 'attraction' between the two people, who are drawn deeper the more they reject it, raised expectations for an irresistible romance.
Chaos and mixed sincerity in deep-seated emotions
The fact that there was no magic strongly shook the emotions of Hongjo Li and Xinyu Zhang. The two people, who believed that Jang Shin-yu's feelings were the result of the love spell, were confused. Jang Shin-yu was embarrassed at himself for even showing his drunken sincerity, saying that his feelings for Lee Hong-jo were love and not because of witchcraft. Lee Hong-jo was also troubled by the thought that Jang Shin-yu's feelings might be real. And Lee Hong-jo was changing to the point where he was reminded of Jang Shin-yu even in the confession of his unrequited love, Kwon Jae-kyung (played by Ha Jun). An irresistible emotion permeated deep into my heart. However, there was a powerful variable for the two: Jang Shin-yu's lover, Yoon Na-yeon (played by Yura). Jang Shin-yu confessed to Lee Hong-jo with an unorganized mind, but Lee Hong-jo tried to push him away.
End the fate tampering and check your mind
Jang Shin-yu's awakening brought about exciting changes. Jang Shin-yu was convinced that her attraction to Lee Hong-jo was love, and she accepted that it was an unbreakable fate. As I began to remember my past life, my emotions became clearer. It was Jang Shin-yu who realized that his feelings for Lee Hong-jo had been going on for a very long time. Jang Shin-yu confessed to Lee Hong-jo, "Whether there is witchcraft or not, I love you." Hongjo Lee could no longer hide his feelings for him. Although these two people were so close, they still had a lot of homework to solve.
Jang Shin-yu said goodbye to Yoon Na-yeon, but Yoon Na-yeon did not let him go, using his last request as an excuse. Hongjo Lee became anxious and distraught. Even if it was a little late, Jang Shin-yu, who was planning to go to Lee Hong-jo after everything was sorted out, was also disappointed that Lee Hong-jo did not know his sincerity. The feelings of the two people were mixed again. But this time was different. Jang Shin-yu, who decided to be honest about his feelings, asked, "Tell me. How are you feeling right now?" Lee Hong-jo confessed that he had liked Jang Shin-yu for a long time. The kiss that confirmed each other's feelings added to the affection and made the hearts of those watching pound.
The moment Li Hong-jo and Jang Shin-yu's hearts met, the Hwanchok curse came again. The unexpected ending of Jang Shin-yu, who was caught in confusion as he pushed away Lee Hong-jo's hand, foreshadowed another change that would come to them. It raised questions about what secrets there were in the past life and what connection it had with Jang Shin-yu's curse.
Kang Min-kyung, Ten Asia reporter kkk39@tenasia.co.kr