TV
Yoon Kye-sang suffered a stab wound to the abdomen while rescuing a child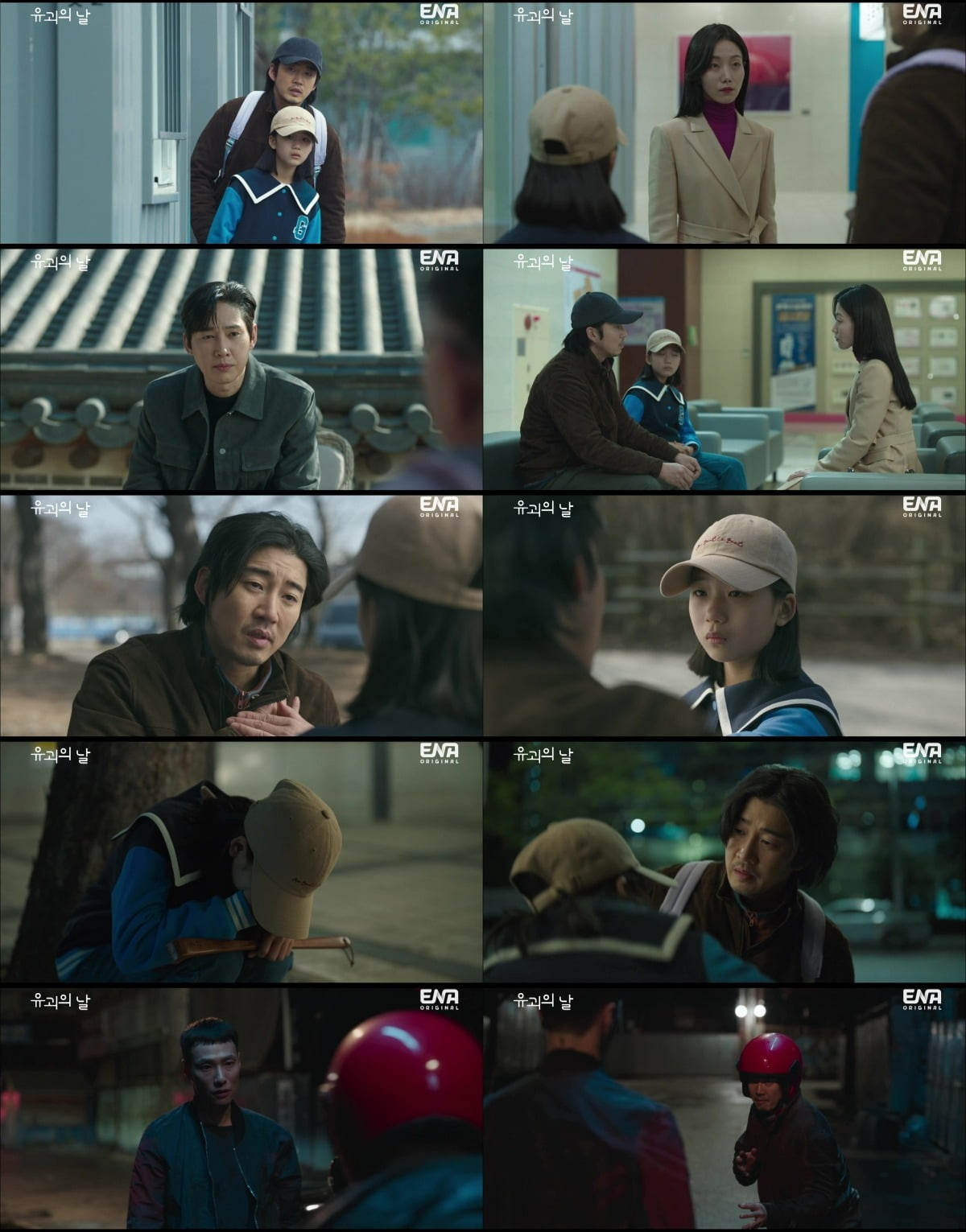 'The Kidnapping Day' Yoon Kye-sang awakens his monster instinct to protect Yuna.
In the 4th episode of ENA's Wednesday-Thursday drama 'The Kidnapping Day', which aired on the 21st, Myung-jun's (played by Yoon Kye-sang) heartfelt promise to Ro-hee (played by Yuna) was deeply moving. Myeongjun got into a rough fight with the mysterious man who kidnapped Rohee. Myeong-jun's struggle to protect Ro-hee until the end, just as he promised, "I will protect you unconditionally, without fail," was tearful. The viewer ratings for the 4th episode recorded 3.6% nationwide and 3.4% in the metropolitan area (Nielsen Korea, based on paid households), breaking its own record and maintaining the top spot among Wednesday-Thursday dramas. It ranked first among all cable channel programs broadcast that day. The highest viewership rating per minute nationwide rose to 4.2%.
Thinking about his daughter Hee-ae (played by Choi Eun-woo) who was about to undergo surgery, Myeong-jun tried to take responsibility for everything by himself, excluding Hye-eun (played by Kim Shin-rok) from the kidnapping case. However, Ro-hee said that she was still suspicious of Hye-eun and followed her movements with Myeong-jun. The place Hye-eun arrived at was the infectious disease clinic of a large hospital. Hye-eun, who realized that the two people were following her, gave an alibi that she was in the hospital for clinical trials on the day of the murder. And an unexpected confession followed. Hye-eun was infected with HIV (human immunodeficiency virus). This was the reason why I had no choice but to leave Myung-jun and Hee-ae.
Hye-eun revealed another shocking truth. The reason why Ro-hee was designated as the target of kidnapping was to target the investment money from Director Choi Jin-tae (played by Jeon Gwang-jin) for the 'Genius Child Project' and the fact that he used his daughter Ro-hee as a test subject. Rohee was shocked as she came face to face with a past she could not remember. He pretended to be okay, saying he didn't believe what Hye-eun said, but to make matters worse, Myeong-jun's murder record was revealed on the news, which tormented Ro-hee's heart. However, he got Myeong-jun to swear that he did not kill his real parents and that he would not kill him, and they continued their journey together.
Sang-yoon's (Park Seong-hoon) pursuit of the truth continued. Like Eun-seon (played by Seo Jae-hee) whom I met earlier, I met an old man named Ki-sun (played by Min Kyung-jin) who deposited investment money into Director Choi's research. It cast doubt on people's belief that the research would change the world and the future. Sang-yoon visited Jeong-do (played by Park Jin-woo) at Hyekwang Hospital again and asked about Director Choi's research, but did not get the answer he wanted. However, new information was obtained about security company employee Cheol-won (played by Kim Sang-ho). It was suspicious and suspicious that he did not manage the house and hospital at Director Choi's request, but had asked for it himself when he moved from the sales team to the installation team two years ago.
As the kidnapping case turned into a public investigation, it was not easy for Myung-jun and Ro-hee to move together. Myeongjun seemed to have decided that he could no longer run away like this and tried to persuade Rohee, but the two ended up in conflict over this issue. To Myeong-jun, who says he can't help with anything, he says, "Helping me for what I want is for my own good. Rohee turned around saying, "If you want to turn yourself in, do it, because I will find the culprit on my own." Seeing that, Myeongjun was not at ease. In the end, Myeong-jun knelt down in front of Ro-hee, who burst into tears, saying, "The only person I can trust now is you," and promised to protect him.
The crisis is not over. While Myung-jun was looking for a place to stay for the night, a mysterious man kidnapped Ro-hee, who was alone, by knocking her out. Myeongjun engaged in a chase and chase to save Rohee. In a standoff situation with no room to retreat, the man declared war, saying, "We will take Ms. Rohee Choi." Myeong-jun recalled the promise he made to Ro-hee and engaged in a fierce battle. Meanwhile, Myeong-jun was stabbed by the other man, but he knocked the man down and rescued Ro-hee from inside the car. Myeongjun, who was half-heartedly carrying Rohee across the Han River bridge, sat down with Rohee lying on his lap. Even as he slowly lost consciousness, the small words he spoke to himself, "I'm sorry," that did not reach Rohee, aroused regret.
On this day, 'monster' Myeong-jun and 'genius girl' Ro-hee formed a deeper bond and depicted changes in their relationship. In particular, it was revealed that Myeong-jun's murder record, which raised curiosity in the last ending scene, was an accidental accident during a national team selection match when he was a judo player. At the time, Myeongjun was a boy who was called a monster. Although Sang-yoon did not know his clear purpose, he warned that he could be a threat to Ro-hee. However, what awakened Myeong-jun's monster instinct that had been dormant for a long time was his sense of responsibility for his promise to protect Ro-hee. In this way, the special relationship between the two led to viewers' empathy and immersion.
Cheorwon, which exuded a mysterious presence from its first appearance, also attracted attention. Suspicion toward Cheorwon deepened due to the circumstances in which he intentionally approached the deceased Director Choi and the fact that he lost his wife and child in a medical accident at the hospital run by Director Choi's father. In addition, the appearance of a man who tried to take Rohee away from Myeongjun added tension to the play and made people look forward to the next story even more.
'Kidnapping Day' airs every Wednesday and Thursday at 9 PM.
Kim Ji-won, Ten Asia reporter bella@tenasia.co.kr