TV
Oh My Girl's Mimi "I got lip filler, I broke up with my ex-boyfriend because he cheated on me"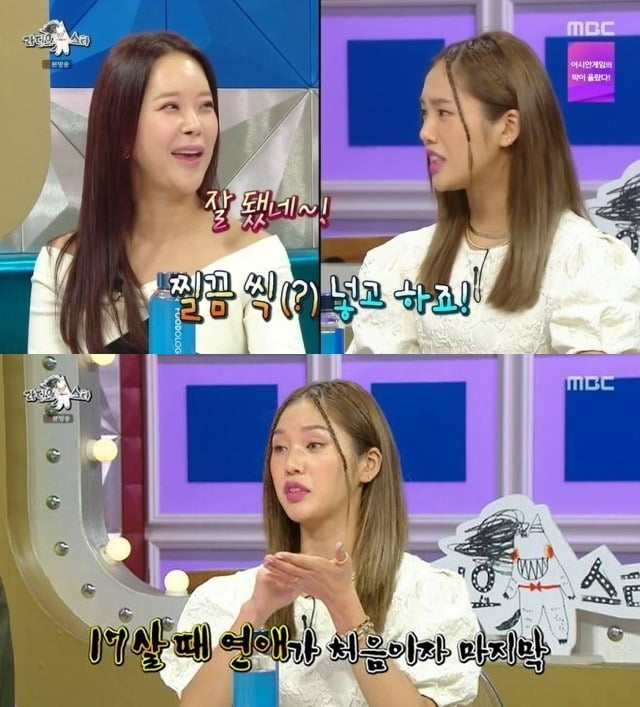 Oh My Girl's Mimi honestly confessed to having lip filler.
The 835th episode of MBC's entertainment show 'Radio Star' (hereinafter referred to as 'Las'), which aired on the 20th, was featured as a special feature 'Oh My Chemistry A Little Bit,' and singer Baek Ji-young, actors Lim Won-hee, Jeong Seok-yong, and Oh My Girl's Mimi appeared as guests.
On this day, Mimi was introduced as "Oh My Girl's folding screen, who had a small presence behind the members, and a self-made icon who is showing off her crazy presence after 8 years." He emerged as a trend through tvN's entertainment show 'Bung Bung Earth Arcade' and ranked 10th in personal brand reputation along with members of New Jeans, Ive, and Blackpink.
Mimi was proud, saying, "Originally, when you search my name, the doll Mimi comes up first. I was at the bottom, but now I come up first."
He also talked about the difference in popularity before and after 'The Groundhog Room'. Mimi said, "Before 'Earthfall' came out, many people didn't recognize who I was even if I didn't wear a mask. After 'Earthfall', even if I wore a mask, people recognized me even overseas."
He added, "During Oh My Girl, the more Oh My Girl rose, the more I fell. Oh My Girl is a fairy group, isn't it? I'm a bit far from a fairy."
Mimi confessed the procedure so coolly that it made you wonder if she was a female idol. She revealed that she got filler injections after hearing that her lips resembled Baek Ji-young, who became a fan after watching 'The Fall of Heaven'. He confessed, "I put it in little by little and just shaped it slightly. My gums are very dry. Then my lips stick to the gums."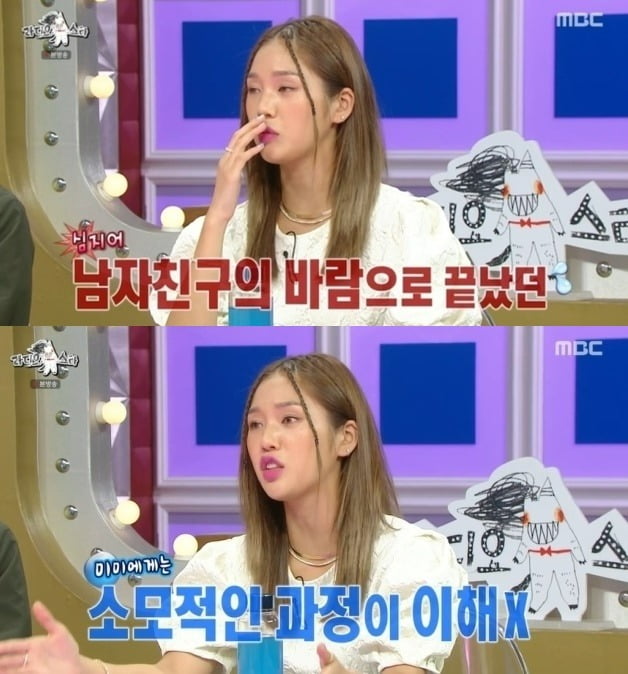 He also spoke honestly about dating. Although he worked as an MC for Channel A's 'Heart Signal 4', he said he had almost no dating experience. Mimi said, "My last relationship was when I was 17. We dated for 50 days. They said they wouldn't judge me because of my dating experience. The boy cheated on me with another girl."
He added, "I thought dating didn't fit my life. I don't even like dating. It's a waste of time to have to spend time and emotions. I wonder why I have to waste my emotions."
Mimi also revealed her special relationship with Park Bo-gum. Mimi, who looked at Park Bo-gum's photo and said it was Kim Beom-soo during the character quiz for 'Earthfall', explained, "Only people who have tried it know. I don't remember the name right away when it's suddenly shown to me."
He continued, "Senior Park Bo-gum is a fan of 'The Groundhog Room.' He contacted me through his manager and asked if he could nominate me for the Ice Bucket Challenge. Of course, he said yes and thanked me for letting me participate for a good cause."
Taeyuna, Ten Asia Reporter youyou@tenasia.co.kr