TV
"I won't broadcast with that XX" Kim Soo-mi exposes Tak Jae-hoon's 'attitude controversy'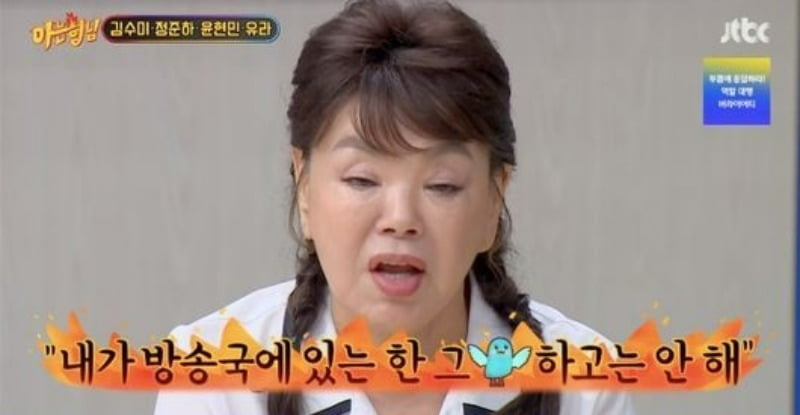 Actress Kim Soo-mi revealed that she corrected Tak Jae-hoon's lateness habit.
Actors Kim Soo-mi, Jeong Jun-ha, Yoon Hyun-min, and Yura from the movie 'Family Glory: Returns', who returned after 11 years, appeared on JTBC's entertainment show 'Knowing Brothers', which aired on the 16th.
On this day, Kim Soo-mi praised Tak Jae-hoon, saying, "He seems to have a fresh outlook on life, but there is no child as straight as Jae-hoon."
At the same time, "I corrected Jaehoon when he didn't keep his appointment. 11 years ago, when they launched a KBS program, they asked me to tell them which MC I wanted to be with. "When I said I wanted to work with Tak Jae-hoon and Lee Sang-min, the director of KBS said, 'As long as I'm at the broadcasting station, I won't work with that XX.'"
Kim Soo-mi said, "It's true. The director said that when he was a producer, (Tak Jae-hoon) made guests wait for an hour and a half. When I call, I'm in the sauna. He added, "As long as he's at the broadcasting station, he won't see that XX's face."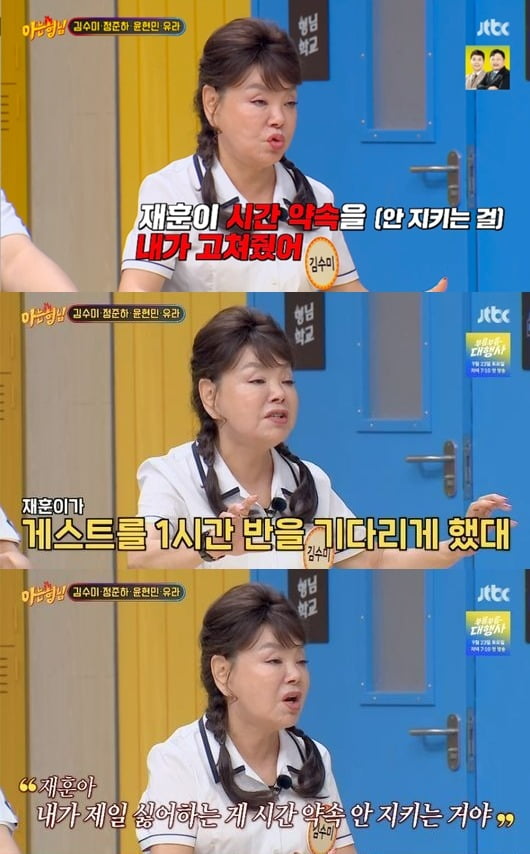 Afterwards, Kim Soo-mi said that she warned Tak Jae-hoon about his habit of being late during the movie 'Family Passion' and said, "I was asked who I wanted to work with during 'Family Passion' and asked who I wanted to work with, and I said Shin Hyun-jun and Tak Jae-hoon. Then, 'Jaehoon, what I hate the most is breaking promises. "I said, 'I'll come home even if I'm just 5 minutes late,'" he said.
Kim Soo-mi said, "The filming location was Paju. I went there and Shin Hyun-jun was doing all his makeup, but Jae-hoon wasn't in the dressing room. My manager just looked at me. I said, 'Shall we go back with the costume?' and Hyunjun said, 'Mom, Jaehoon came last night and slept in the motel next door.' "I don't want to be late," he explained.
He said, "There were 20 minutes left in the recording, and he came wearing pajamas and his hair like a scrubber. "From then on, we changed our time commitment," he added.
Taeyuna, Ten Asia Reporter youyou@tenasia.co.kr