TV
INFINITE's Kim Sunggyu revealed his daily life after 10 years of living alone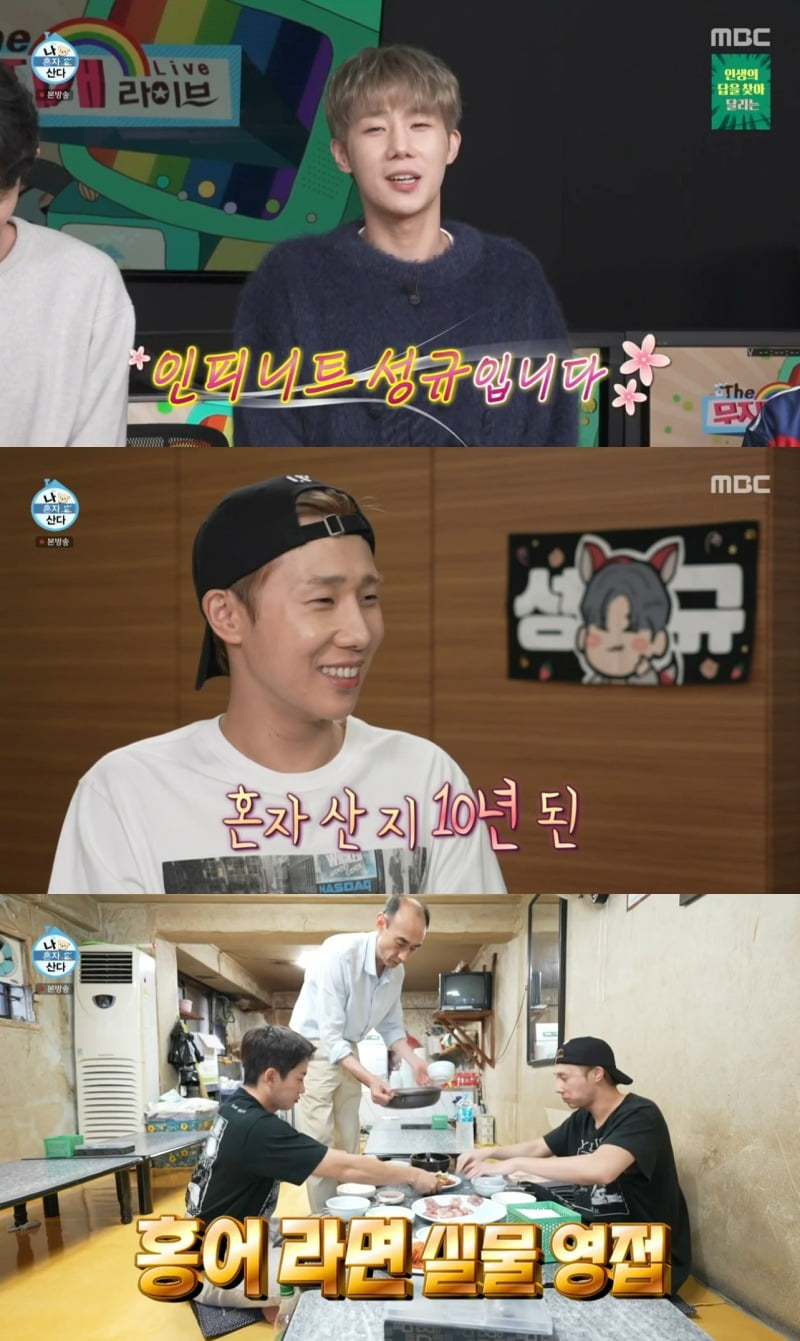 Singer Kim Seong-gyu revealed the realistic daily life of a 10-year professional living alone.
Kim Seong-gyu took on the challenge of disposing of large-sized waste for the first time in his life on MBC's 'I Live Alone', which aired on the afternoon of the 15th.
Kim Sunggyu, who had just woken up and appeared with a simple face without makeup and comfortable clothes, greeted viewers by saying, "This is Infinite's Sunggyu, who has been living alone for 10 years." He introduced his home, where he has been living for 6 years, saying, "The interior concept of our house is 'simple.' I think the house is a place to relax, so I have no greed for interior design."
Kim Seong-gyu said, "I worked a lot last year and my physical strength was overloaded. I thought, 'If I don't take care of my body, I won't be able to work for a long time,' so I'm taking herbal medicine for the first time in my life." He broke away from 'morning herbal medicine'. I shook it off. Next, the twist of hanging on a bar and completing 5 sets of morning pull-ups while gritting one's teeth was also surprising.
After finishing his workout, Kim Seong-gyu went straight to the sauna installed on one side of the master bedroom and sweated hard, mentioning the benefits of the sauna, such as improving blood circulation and expelling waste. After taking a shower, he looked refreshed and ate stir-fried tomatoes and eggs and brown rice deliciously, revealing his sincerity about taking care of his health.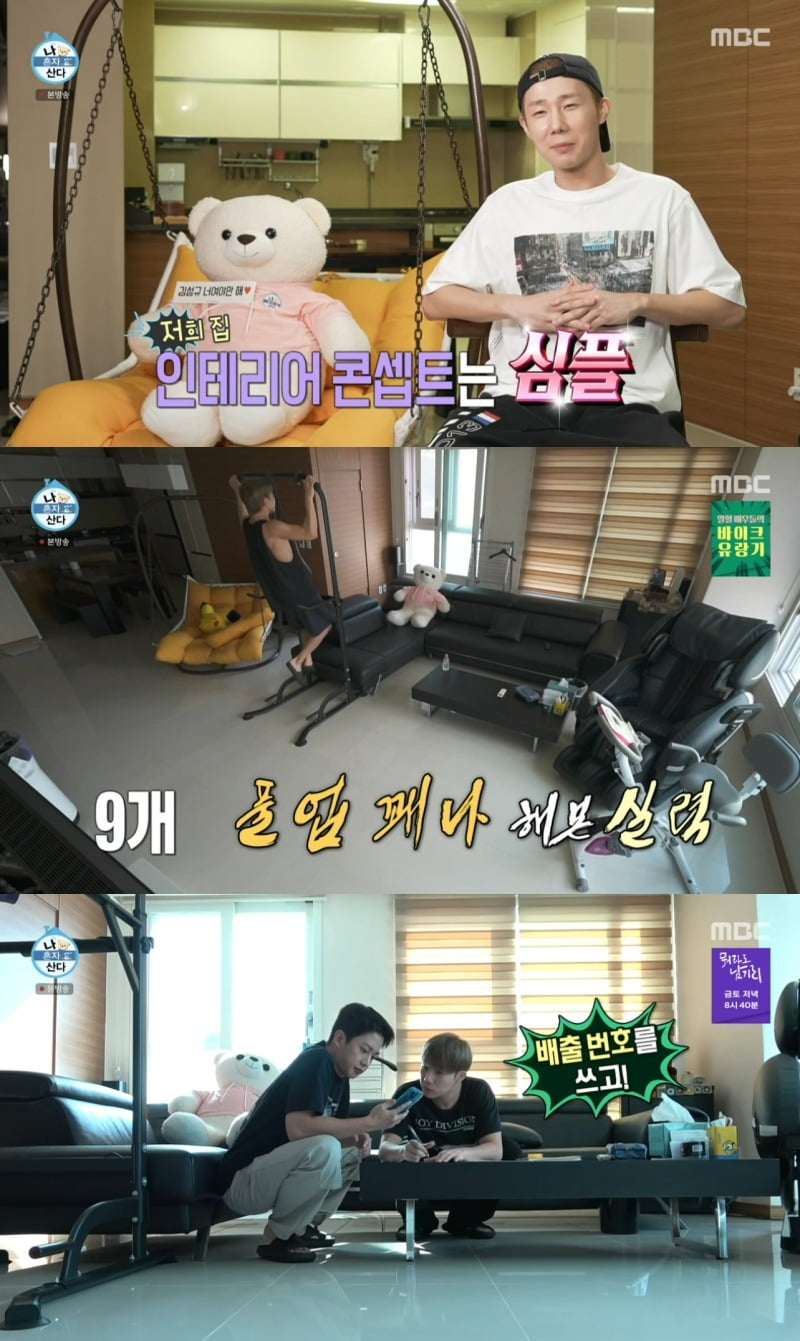 In order to throw away the old desk that was taking up space in his master bedroom, Kim Seong-gyu called several organizations, including the Dasan Call Center and the management office, and inquired about how to dispose of large-sized waste. Kim Seong-gyu, who was in a state of 'mental breakdown' after encountering large-scale waste for the first time in his life, summoned his best friend, actor Kim Min-seok. Kim Seong-gyu succeeded in safely throwing away the desk together with Kim Min-seok, who rushed to the scene.
The two people, who worked hard together from disposing of large waste to rearranging furniture, headed to their favorite restaurant, known as a mecca for skate lovers. When MCs asked him if he was good at eating skate, Kim Seong-gyu said, "I don't think it's too good, but I eat it if I have it." He made people's mouths water as he enjoyed eating skate samhap and makgeolli.
At the recommendation of the owner, Kim Seong-gyu tried the special skate ramen, which is offered only to regular customers. Kim Seong-gyu, who looked worried and said, "I've never tried it before," gathered courage and tried tasting it after hearing Kim Min-seok's recommendation, "It was a little painful at first, but I kept thinking about it."
Kim Seong-gyu was astonished at the pungent scent of skate ramen, saying, "It's the first time I've seen the sight and scent in my life." After hearing the owner's words, "Don't be afraid, try it," Kim Seong-gyu boldly took a bite, saying "I'm sorry," and burst into laughter as he was horrified by the pungent scent that penetrated his nose and took a shot of water.
Kim Seong-gyu expressed his gratitude to Kim Min-seok for spending the day with him, saying, "Thank you for helping me." After returning home, he finished the day by taking another herbal medicine and brushing his teeth, leaving everyone speechless.
When asked what life was like living alone, Kim Seong-gyu answered, "I don't have much experience, but it's peaceful. It's precious because I can have time for myself." He also said, "Infinite's overseas tour is over, and I am planning to resume my solo activities."
Infinite, to which Kim Sunggyu belongs, released its seventh mini album '13egin' last July and returned to the music industry as a complete group after about five years. Last month, they finished their solo concert 'COMEBACK AGAIN' Asia tour, starting in Seoul and then in Yokohama, Taipei, and Macau.
Kim Ji-won, Ten Asia reporter bella@tenasia.co.kr