TV
Actor Kang Hoon worries about Cha Tae-hyun "You'll getting sick while doing entertainment like this"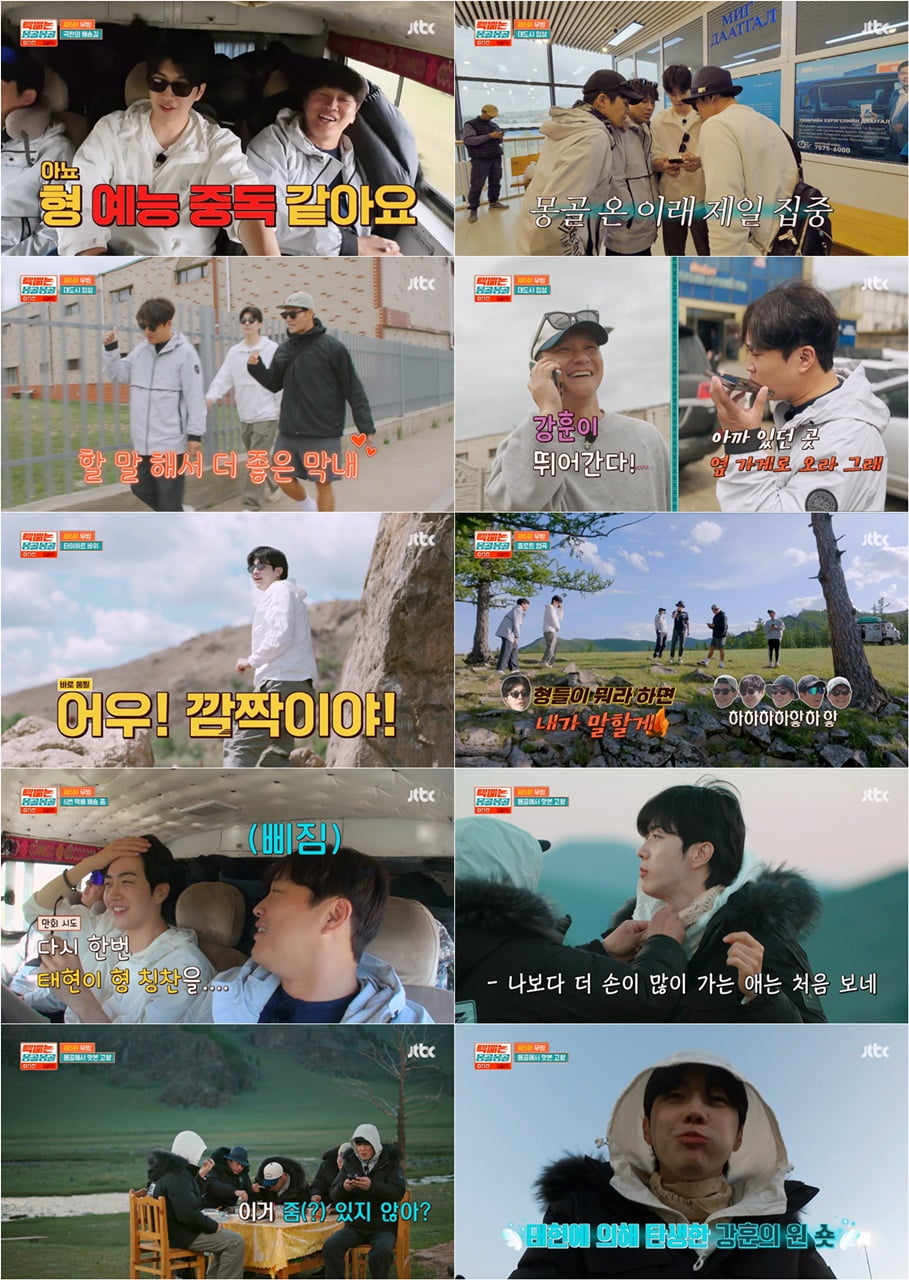 Cha Tae-hyun and Kang Hoon of 'Delivery to Mongolia, Mongolia' showed off their 'pseudo-rich' chemistry and brought laughter.
In the 5th episode of JTBC's 'Delivery to Mongolia' (directed by Kim Min-seok and Park Geun-hyung / written by Noh Jin-young) broadcast on the 15th (Friday), Kim Jong-guk, Jang Hyuk, Cha Tae-hyun, Hong Gyeong-min, Hong Gyeong-in and Kang Hoon, who are halfway through their trip to Mongolia, deliver their fifth package. Heading to Horgo-Terhincha Gangnor National Park was depicted.
The day's broadcast began with six men, who had spent a long-awaited comfortable night at a forest resort, enjoying a leisurely morning in their own way before departure for delivery. Jang Hyuk aroused interest by training his physical strength by jumping rope and shadow boxing from 7 a.m. while everyone else was asleep, while Hong Kyung-in and Cha Tae-hyun provided vicarious healing by soaking in hot spring water to relieve fatigue from travel.
Among them, Cha Tae-hyun provoked Kim Jong-guk, who is the only single one of his best friends in the year of the dragon, by saying, "Your already soft skin has become even better because of the hot springs, so your wife will like it even more? Don't you know, Kim Jong-guk?" They also made people laugh by exchanging humorous old man talk, such as provoking Kim Jong-guk, who is the only single one of his best friends in the year of the dragon.
The six men, who began their journey to the fifth delivery destination in earnest, used the spare time until delivery time to visit famous spots in Mongolia. The first place we arrived at was a city called 'Czerlek'. Kim Jong-guk, Jang Hyuk, Cha Tae-hyun, Hong Gyeong-min, Hong Gyeong-in, and Kang Hoon stopped by a shopping mall to purchase necessary supplies and a gift for a local driver, aka 'Nara-hyung', who had a birthday coming up, and then went to a restaurant. However, because it was Sunday, most restaurants were not open. Unfortunately, I had no choice but to turn back.
After finishing their meal in a small village nearby, the six men visited Taihar Cholo, a famous tourist spot where wishes will come true if you throw rocks over them, and Cholot Gorge, a magnificent canyon created by a volcanic eruption. Kim Jong-guk, Jang Hyuk, Cha Tae-hyun, Hong Gyeong-min, Hong Gyeong-in, and Kang Hoon, who had accumulated another unforgettable memory, visited the fifth delivery location.
The recipient of the package was a young couple living within Horgo-Terhincha Gangnor National Park. They ordered a large wireless speaker, and expressed their warm wish, saying, "My acquaintances often come to visit, so it would be nice to listen to songs loudly together." Moreover, the couple prepared a full Korean meal of stir-fried pork, seaweed soup, and stir-fried chicken for the delivery drivers who brought them the precious gifts, and the six impressed men scraped the food to the bottom and ate it, giving them happy smiles.
Meanwhile, on this day's broadcast, Cha Tae-hyun and Kang Hoon showed off their extraordinary chemistry and captured attention. The way they said everything they wanted to say but took good care of each other was similar to that of a childish father and son.
In particular, when Cha Tae-hyun, who has been doing a lot of entertainment shows, said, "I am a model of an animal of oblivion," Kang Hoon said with determination, "No, I think you are addicted to entertainment shows," and when Cha Tae-hyun complained of back pain due to traveling on unpaved roads for long periods of time, he said, "I have a backache." "If you're in pain and you're trying to endure it, don't do entertainment. You have to accept advice from younger people to become a good adult. As you get older, small pains turn into bone diseases," he pointed out.
In response, Jang Hyuk expressed strong sympathy and made people laugh, saying, "I couldn't say it because we were friends, but you said it to me years later." Cha Tae-hyun said, "I'm in tears. It's the same as what my wife said," and burst out laughing, wiping the corners of his eyes.
Cha Tae-hyun's counterattack continued. Hong Gyeong-in deliberately surprised Kang-hoon, who was weak-hearted, and praised Cha Tae-hyun, saying that he was jealous of his character and laughter. When Kang-hoon did not seem to be concentrating on the conversation, Cha Tae-hyun asked, "Why are you praising your older brother, but there is no reaction?" He jokingly criticized me and made me laugh.
On the other hand, Cha Tae-hyun wraps a scarf around the neck of Kang-hoon, who is shivering in the cold, saying, "I've never seen a kid who works harder than me," and even sets up a one-shot camera for Kang-hoon, looking after Kang-hoon like a father taking care of his youngest son. He took care of it carefully and gave a warm smile.
JTBC's 'Delivery to Mongolia' airs every Friday at 8:50 pm.
Kim Se-ah, Ten Asia reporter haesmik@tenasia.co.kr