TV
Seo Hyo-rim, how difficult is it to partner with her mother-in-law Kim Soo-mi?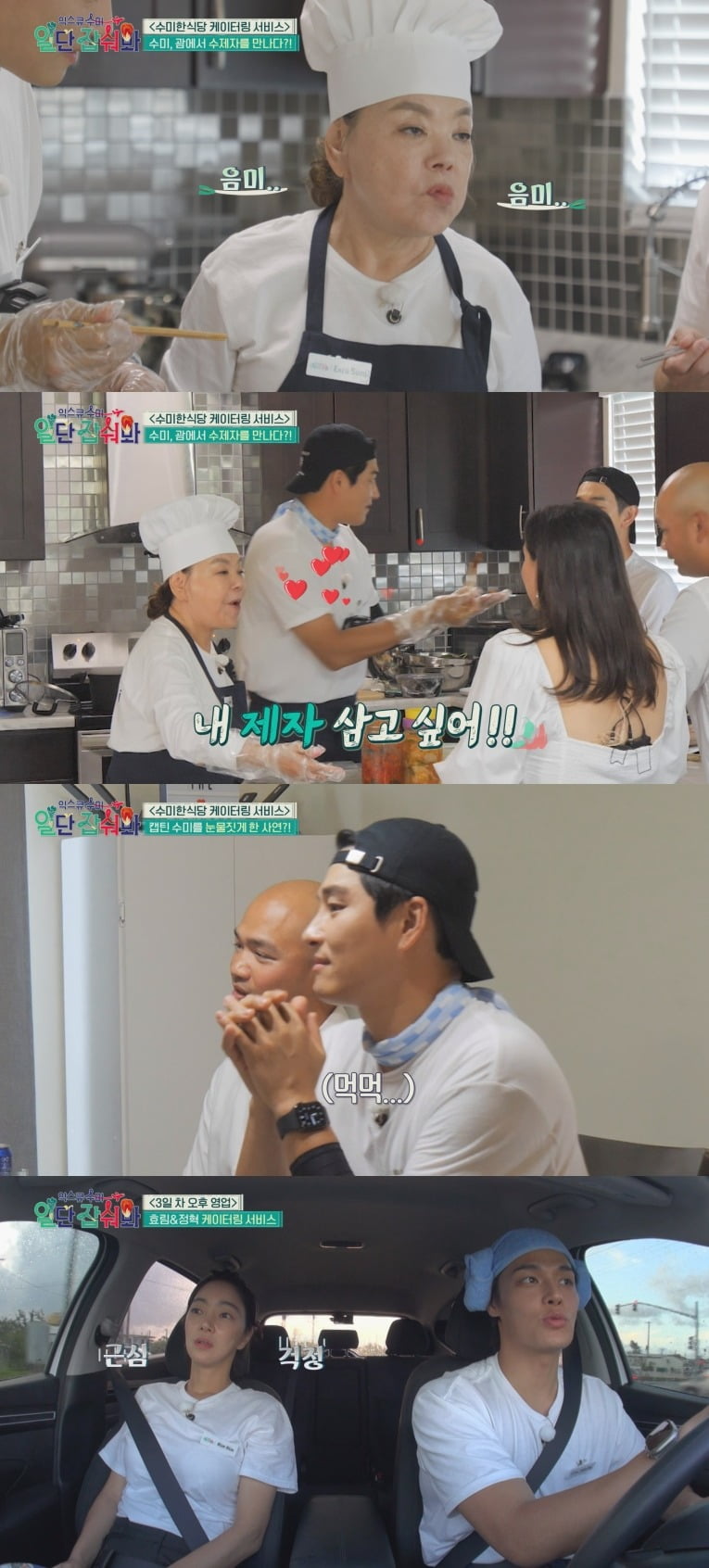 Kim Soo-mi and 'Little Soo-mi' Seo Hyo-rim offer a variety of catering services.
In T-Cast E Channel's 'Execute Sumi: Let's Try It Now', which airs today (14th), Kim Soo-mi and 'Little Sumi' Seo Hyo-rim provide an upgraded catering service as 'Sumi Korean Restaurant' begins its third operation. .
On this day, employees led by Kim Soo-mi finished morning business and immediately began preparing for catering service. As orders come in from different regions, the staff will be divided into teams, including chef Kim Soo-mi and sous chef Seo Hyo-rim, and head to the customers' homes.
First, Kim Soo-mi, Min Woo-hyuk, and Eric Nam step into America's 'White House', which has impressive white walls. This customer is someone who knows Korean food well enough to make kimchi himself. Kim Soo-mi, who tasted the kimchi made by a customer, expressed her admiration by saying, "I want to make you my disciple," and it is expected that the taste evaluation will be more rigorous than ever.
As a surprise cooking competition between Kim Soo-mi and the guests is expected, the staff in charge of judging become busy trying to keep an eye on the owner Kim Soo-mi. Kim Soo-mi, whose position as a Korean food master was in jeopardy, threatened her, saying, "Speak well." Finally, the eldest brother, Min Woo-hyuk, said that he even had tears in his eyes during delivery, making us wonder what happened.
At the same time, daughter-in-law Seo Hyo-rim takes on the challenge of running a catering service at 'Sumi Korean Restaurant' without her youngest children Jeong Hyeok and Kim Soo-mi. Sous-chef Seo Hyo-rim, who has to work a crazy schedule from hall sales to delivery, is said to have received a comment from Jeong Hyeok that she "looks like a living corpse" due to her rapidly aging face. Attention is focused on whether Seo Hyo-rim, who has run out of energy, will be able to safely complete the catering service with her youngest child, Jeong Hyeok.
'Excuse Sumi: Let's Try It First' will be broadcast at 8:40 pm on the 14th, showing the scenery of Sumi Korean Restaurant's third day of operation on a windy day.
Taeyuna, Ten Asia Reporter youyou@tenasia.co.kr