TV
Park Eun-bin is coming to save tvN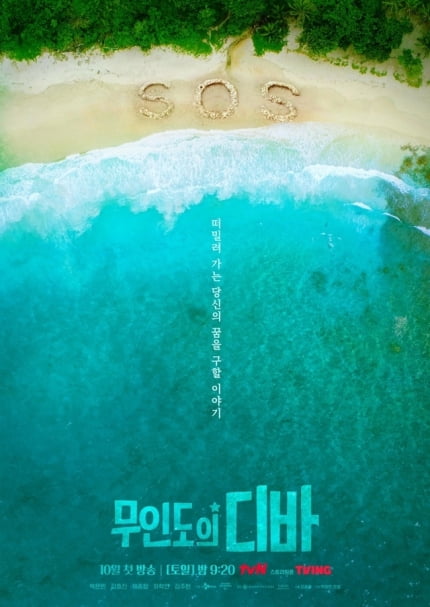 tvN's new Saturday-Sunday drama 'Diva on an Uninhabited Island' (written by Park Hye-ryun, Eun-yeol/directed by Oh Choong-hwan) has released its poster.
The scenery of crashing waves, an emerald sea, and a quiet uninhabited island in the released poster creates a mysterious atmosphere outside of reality.
Here, the huge SOS signal that someone has piled up and the phrase in the poster, 'A story to save your drifting dream,' give the impression that people who have lost their direction and are trapped on their own deserted island are sending out a request for rescue.
In this way, 'Diva of the Desert Island', which conveys hidden messages in the work through SOS posters, is directed by Oh Choong-hwan, who directed 'Hotel Del Luna' and 'Big Mouth', and wrote 'While You Were Sleeping' and 'Startup'. This is the third collaboration between writer and author Park Hye-ryun.
Director Oh Choong-hwan and writer Park Hye-ryun have proven their collaboration on several occasions, so expectations are high that 'Diva on a Deserted Island' will also be a new healing drama. In addition, actors Park Eun-bin (as Seo Mok-ha), Kim Hyo-jin (as Yun Ran-ju), Chae Jong-hyeop (as Kang Bo-geol), Cha Hak-yeon (as Kang Woo-hak), and Kim Joo-heon (as Lee Seo-jun), all with solid acting skills, are expected to create unique synergy.
'Diva on a Deserted Island', a chart-turning challenge for the comeback of ultra-positive Steel Mentalist Seo Mok-ha and ultra-sensitive Glass Mental singer Yun Ran-joo, is scheduled to be aired for the first time in October.
Ryu Yae-ji, Ten Asia Reporter ryuperstar@tenasia.co.kr