TV
Seo Jun-young was not the biological father of her daughter Geum Jan-di.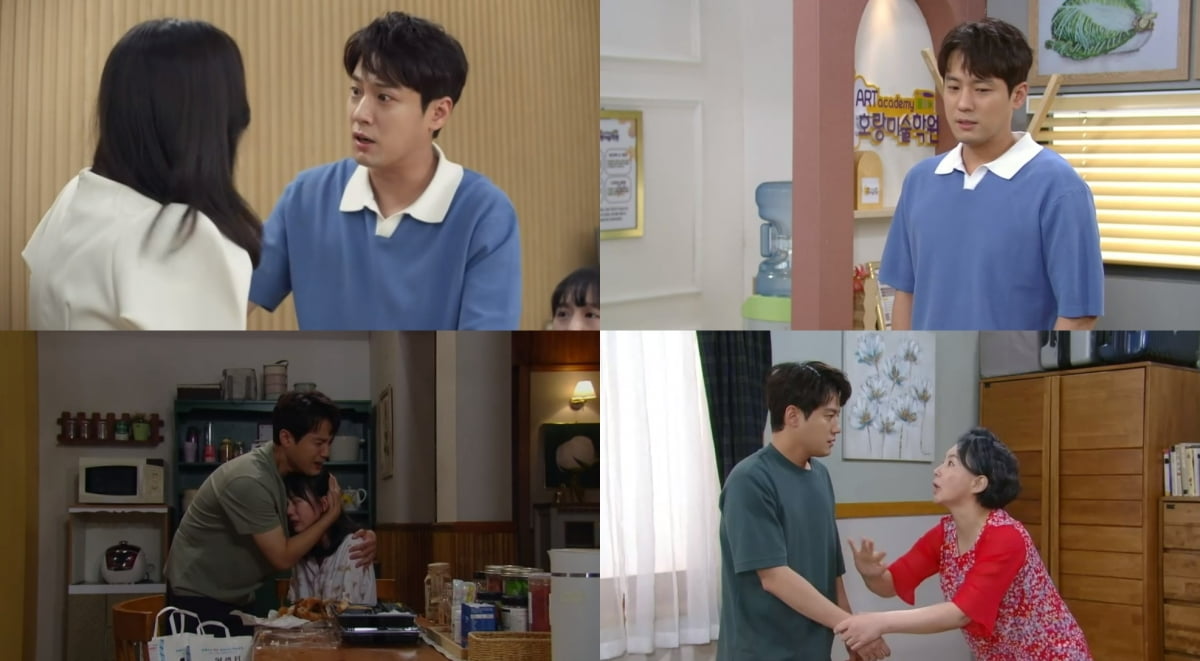 It was discovered by the family that Seo Jun-young was not the biological father of Kim Si-eun, the daughter whom he had been caring for alone.
In the KBS1 daily drama 'Gold, Ok,' which aired on the 13th, Geumgang-san (played by Seo Jun-young) left for the hospital with Geum Jan-di (played by Kim Si-eun), who eventually decided to donate bone marrow to her younger sister Jenny. However, even though the tissues matched, I heard that a bone marrow donor transplant could not be performed due to Geum Jan-di's low blood pressure and low weight. In response, Geumgangsan's ex-wife Lee Seon-ju (played by Ban So-young) urged Geum Jan-di, saying, "Jan-di, tell the doctor that you're okay and ask for the surgery quickly." Geumgangsan said, "Lee Seon-ju, come to your senses! "Are you going to endanger the grass like this?" he said, protecting the grass. Geumgangsan then returned to Horang Art Academy to tell the news and ran into his ex-lover, Ok Mi-rae (played by Yoon Da-young). The sight of Mt. Geumgang leaving the art academy lonely, leaving the awkward atmosphere behind, evoked sadness.
And while Geumgangsan and his family were having dinner, Seonjoo Lee came in late and recommended a high-calorie dessert to Geumjandi. Geumgang-san was angry at the sight of his family urging Jan-di to binge eat to gain weight even though he said, "I already ate all of Jan-di's dinner," and asked, "Don't you think about Jan-di getting hurt? "Isn't Jandi your daughter?!" she shouted. However, Lee Seon-joo refuted, thinking only of the second child, "No matter what anyone says, my priority is to save Jennie!" and was eventually kicked out of Ma Hong-do's (Song Chae-hwan) house.
However, Geumgangsan, who was tossing and turning in his sleep late at night, discovered Jandi binge eating. Geumjandi was crying and eating the food in front of her, saying, "Dad, I have to eat!" "What are you going to do if something goes wrong with Jenny because I can't donate?" he cried. In response, Geumgangsan said with tears in his eyes, "It's not your fault if you can't donate!" However, Geum Jan-di sobbed and said, "What if my mom leaves me again like 10 years ago... What should I do, Dad?" Geumgangsan hugged Geumjandi and said, "Dad, I'm so upset…" and shed tears, creating a pitiful appearance.
However, Seonju Lee continued to visit Geumjandi and fed her high-calorie food to gain weight. Geumgangsan, who discovered this, said, "I heard it's dangerous for Jandi to donate bone marrow at the hospital! "I will never allow the grass to become dangerous!" he raised his voice. But Lee Seon-ju said, "What right do you have to say that? "Jan-di, he's not your biological child?" he said. Seonju Lee then said, "Thank you for helping me grow the grass. "But don't worry about the lawn from now on," he shouted. Geum Jan-di, who heard this from outside, hurriedly left the house, and her mother-in-law Ma Hong-do and sister-in-law Lee Ye-ju (Kang Da-hyun), who were returning home, also heard the two people shouting and fighting and entered the room. Ma Hongdo said, "What does this mean? He asked urgently, holding Geumgangsan's hand, saying, "You are a man who has not even a drop of blood mixed with grass!" Seonju Lee said, "That's right. Kang San is not Jandi's real father. When he confirmed, "Jan-di's real father died a long time ago," Ma Hong-do sat down and sobbed, saying, "This isn't right… This isn't right."
Meanwhile, Lee Ye-joo said, "But what should I do, brother-in-law! When he shouted, "I think Jan-di heard this story," Geumgang-san glared at Lee Seon-ju, heightening the tension and making people curious about the ending.
KBS 1TV's daily drama 'It's Gold, It's Ok', which is heading towards its conclusion with Seo Jun-young playing a single dad who lovingly takes care of his adopted daughter with whom he doesn't have a drop of blood, airs every weekday at 8:30 PM.
Ryu Yae-ji, Ten Asia Reporter ryuperstar@tenasia.co.kr