TV
'93 kg' Lee Jang-woo "4XL size, double the yoyo"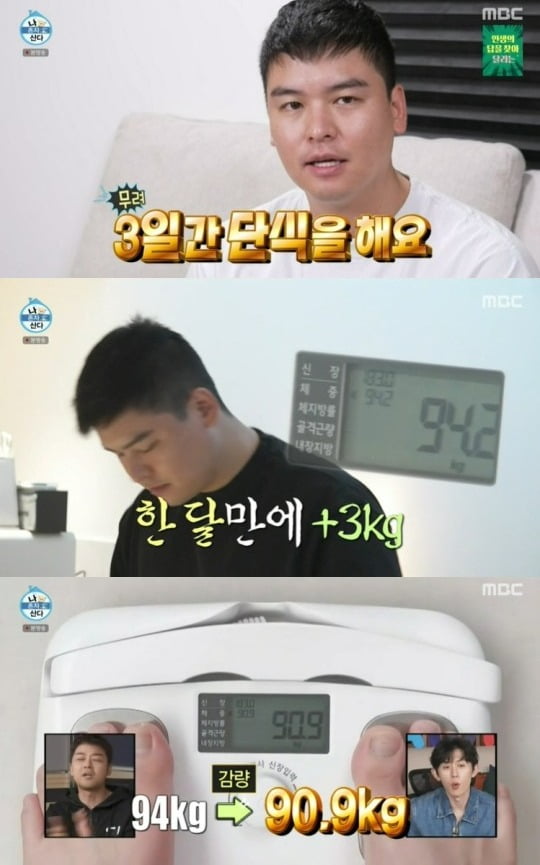 Actor Lee Jang-woo succeeded in losing 4 kg by fasting for 3 days.
In MBC's entertainment show 'I Live Alone', which aired on the 8th, Lee Jang-woo was seen challenging fasting.
On this day, Lee Jang-woo said, "I have a bit of a difficult time," and said that he had been fasting for 34 hours. He explained, "I fast for 3 days once every 3 months or once every 6 months. I need to detox because I hit myself too hard. I feel like I can detox by fasting for 3 days."
Lee Jang-woo, who only drank salt water and water, aroused sadness by showing his hands shaking, confessed that he gained 3 kg in just one month, reaching 94 kg. At the same time, he expressed his dissatisfaction, saying, "I felt betrayed. Hyunmoo lost a lot of weight. Narae's skin got better and it was no joke. I'm the only one drawing the number 9, and I'm looking at the number 3, and I'm being compared to a bear."
Jangwoo Lee watched a pork belly mukbang video with Daeho Kim to overcome his hunger. Afterwards, I took some salt water and went outside. The place he headed was a mineral spring. Lee Jang-woo said, "Isn't the purpose of fasting to detox? You can breathe in good air, and if you go to the mountains, there are mineral springs. Since it is a water fast, water is the most important. I went to the mineral springs to get good water."
This is a place where barefoot hiking is possible, and Lee Jang-woo also started hiking barefoot, wearing a black short-sleeved T-shirt and yellow shorts. The members who saw this said, "It looks like a bear," and Jangwoo Lee said, "That t-shirt is XXXXL. When I first bought it, I thought it was really big, but it turned out to be right. If you're tall enough to wear that, it's like a blanket," making everyone laugh.
We arrived at the mineral spring, but the water from the mineral spring was un-drinkable because Escherichia coli was detected in the water quality test. I looked for other mineral springs nearby, but the same was true.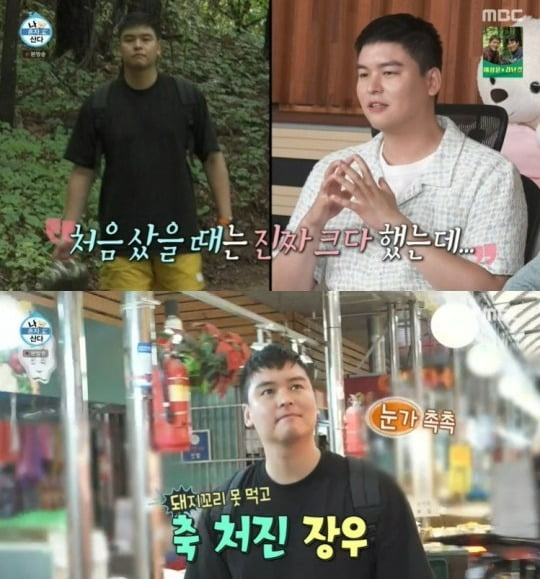 After finishing the hike with a sad heart, Lee Jang-woo headed to the market. He revealed the purpose of coming to the market, saying, "If you buy sea salt and let it sit for a few years, the bitterness will go out. Then it will be delicious and not salty. If you grind that salt and sprinkle it on chicken, it will be twice as delicious." However, the temptation of the market was strong, and Lee Jang-woo had a hard time saying, "I feel like I'm going to die."
Lee Jang-woo, who overcame the temptation and bought 20 kg of sea salt, said, "I also add some when I take a half-body bath. I sweat more easily due to osmosis." Lee Jang-woo, who returned home, stir-fried sea salt and continued to taste the salt, saying, "It smells spicy."
After 42 hours of fasting, Jangwoo Lee weighed himself. Lee Jang-woo, who weighed 94 kg in the morning, weighed 92.2 kg. I lost 2 kg in one day. When Cocoon was surprised and said, "My brother's weight changes quickly," Jeon Hyun-moo said, "Then it's more dangerous. The yo-yo comes faster." Lee Jang-woo also said, "When the yo-yo comes, it comes twice as much." After 72 hours, Lee Jang-woo lost 4 kg and achieved 90 kg.
Taeyuna, Ten Asia Reporter youyou@tenasia.co.kr