TV
Actor Kang Kyung-jun's son Jeong-an spoke on the phone with 'My Favorite' actor Noh Yoon-seo.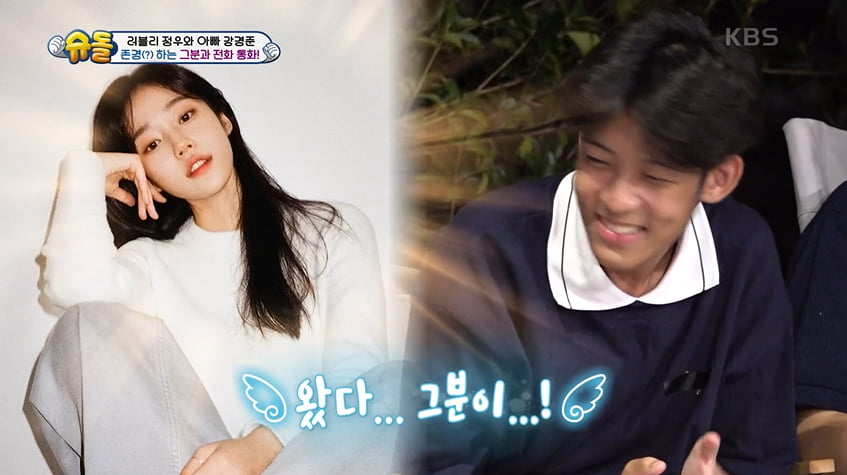 Actor Kang Kyung-jun arranged a phone call with Noh Yoon-seo to support his son Jeong-an's dream of becoming an actor.
On the KBS 2TV entertainment program 'The Return of Superman' (hereinafter referred to as 'Superman'), which aired on the 5th, the second story of the Jeju trip that actor Kang Kyeong-jun's sons Jeong-an and Jeong-woo took with Jeong-an's friends was revealed.
On this day, Kang Kyung-jun struggled to prepare dinner for the children alone. Kang Jeong-an, the son of Kang Kyeong-jun, who had to prepare dinner for 11 people, showed his kindness by making ssam instead of his father grilling meat.
Kang Gyeong-jun said that he remembers the day when his son Jeong-an poured him a drink for the first time, and expressed his affection, saying, "I would have been embarrassed to give my son Jeong-an a drink because he had all his friends, but I want to keep this good feeling." Jeongan said, "I felt sorry for him. I thought I should help him and take care of him."
Afterwards, Kang Kyeong-jun asked Jeong-an, who recently attended an acting academy with the dream of becoming an actor, "Are you having a good time at the academy these days?" Jeongan is also preparing to transfer to an arts high school. When we asked Jeong An why he wanted to become an actor, he said, "When the movie ends, I want my name to be on the ending credits. That left a lasting impression. Those people look so cool."
Jeong An mentioned his mother Jang Shin-young and father Kang Gyeong-jun as role models. After hearing this, Kang Kyung-jun added, "I don't know if he's giving lip service or what, but it felt good. As a senior actor and as a father, I want to help him as much as I can."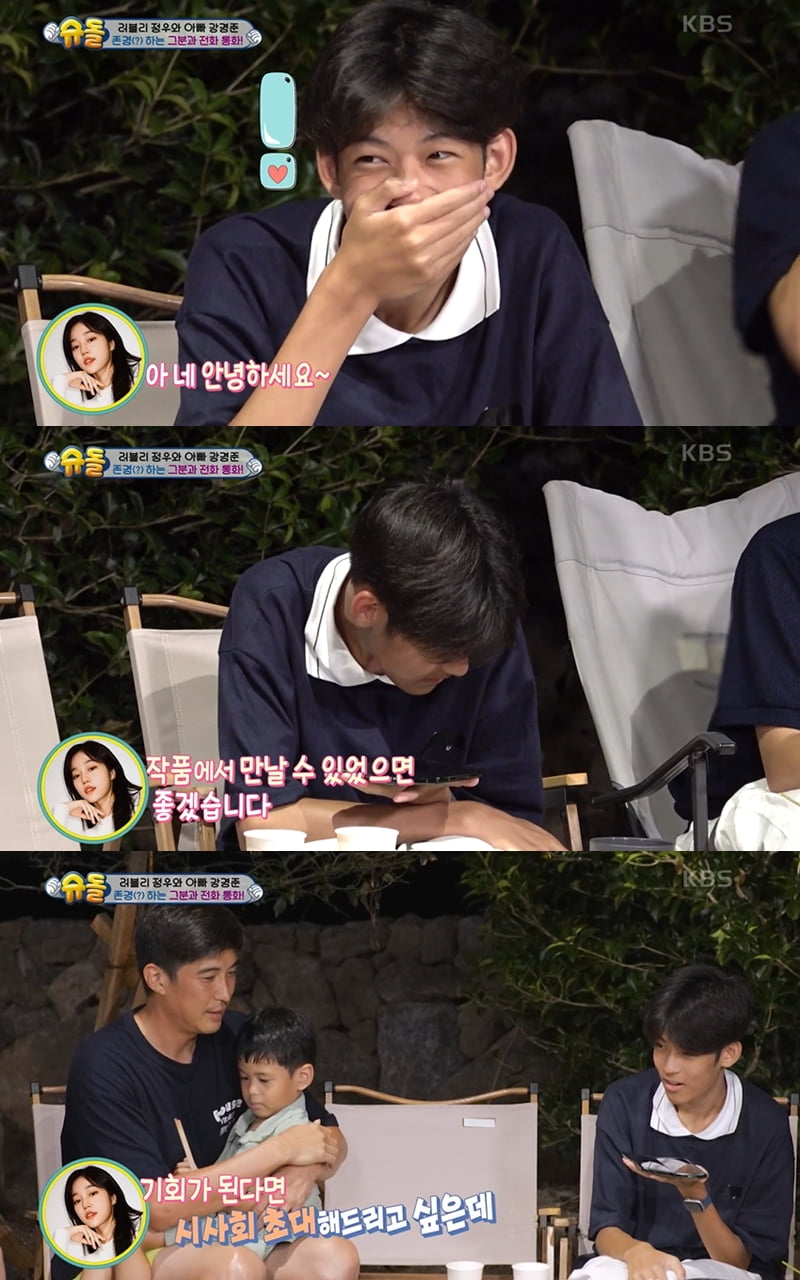 Kang Kyung-jun also provided an opportunity for Jeong An, who had revealed that he was a fan of actor Noh Yun-seo, to talk to Noh Yun-seo on the phone. Kang Kyung-jun said, "I found it out the hard way. Isn't this a chance to talk to an actor I respect?" and Jeong-an looked embarrassed.
Kang Kyeong-jun said, "Jung-an is usually shy, but I wish he wasn't like that. He says he likes her when he likes her, and it's a pity that he seems to be bad at doing that."
When the phone call was connected, Jeongan looked restless. Noh Yun-seo said, "Hello, Jeong-an. I've watched the show a lot," and Jeong-an said, "Thank you. I respect you a lot because I'm learning acting."
In response, Noh Yoon-seo said, "I'm still a newbie, too. Do you have a dream of acting? I hope we can meet in the work. I'd like to invite you to the preview screening." Jeong An also mentioned the soccer ball he received from Noh Yun-seo and added, "I am keeping the soccer ball as an heirloom."
Jeong-an, who dreams of becoming an actor, said, "There is a role I want to try. It is 'hero.'" Kang Kyeong-jun said, "I hope he becomes a better actor sooner than I did. I want to support him as much as I can."
Reporter Ha-neul Lee, Ten Asia greenworld@tenasia.co.kr