TV
Mo Tae-beom and Jin Hae-seong suffer a humiliating defeat in thigh wrestling match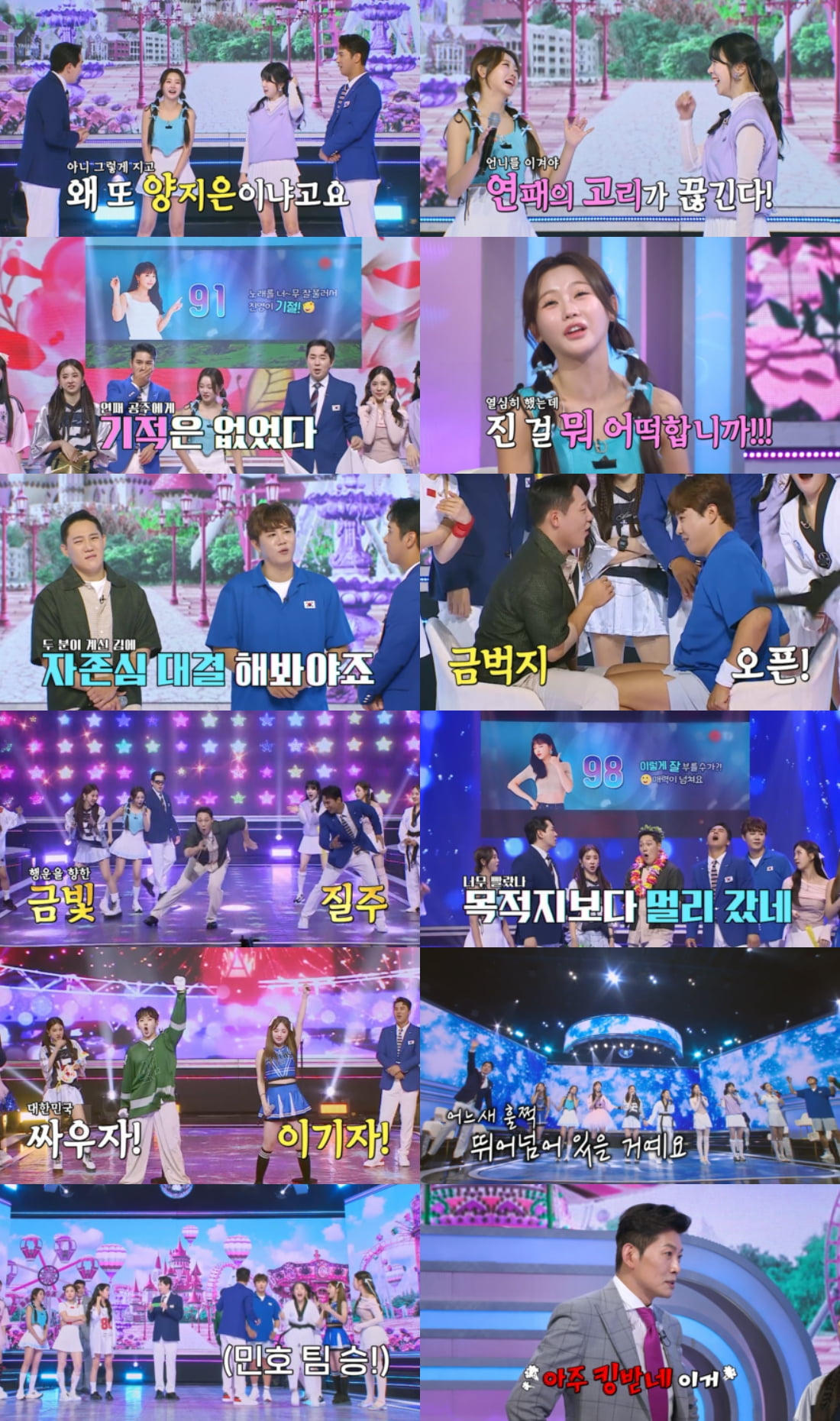 In 'I Like Tuesday Nights', Hong Ji-yoon showed the dignity of a 'consecutive losing princess' by recording 4 losses in 4 matches in the 'death match' against Yang Ji-eun.
The 83rd episode of TV Chosun's entertainment show 'I Like Tuesday Nights' (hereinafter referred to as Tuesday Night), which aired on the 5th, recorded a viewership rating of 4.7% based on the nationwide viewership rating research company Nielsen Korea, ranking first among all daily comprehensive programs for four consecutive weeks and ranking first on all channels in the same time slot. occupied the top position. The highest viewer rating per minute rose to 5.6%, proving its potential.
On this day, the broadcast was featured as a special feature of 'Oh, I'm sure to win,' and Jin Hae-seong, Lee Byung-chan, Kim So-yeon, and Kim Yong-pil appeared and competed in singing competition with the 'Hwabam' misses. The cast presented a powerful performance with hopes for the success of our country's national team players participating in the 2023 Hangzhou Asian Games. 'Gilpungado', prepared by Lee Byung-chan and Jeong Da-kyung, raised morale by spreading positive energy. After the stage, MC Boom praised the performance, saying, "I think the national team players must have gained great courage from seeing it." 'Hand in Hand', sung together by the 'Tuesday Night' misses, also left a deep impression on viewers.
A special 'Lucky Fairy' has appeared. The protagonist was Mo Tae-beom, Korea's first speed skating gold medalist. Mo Tae-beom, who appeared while singing Park Sang-cheol's 'Unconditionally', surprised everyone by showing a sensible skating performance and even singing skills that exceeded expectations. Mo Tae-beom, who introduced himself as 'Bingsin' (god of ice) and was equipped with a witty tongue, showed off his 'golden thighs' and started thigh wrestling with the male cast members.
Jin Hae-seong, a former judo player who is not inferior in physical ability, was the first to step forward, and when he entered the match, he showed his competitive spirit. In a tense battle of strength, Mo Tae-beom failed to defend and Jin Hae-seong won, resulting in a reversal. Due to Mo Tae-beom's unexpected defeat, everyone challenged Mo Tae-beom, but he lost miserably, providing great entertainment.
Mo Tae-beom then selected Kim Soo-hee's 'Southbound Train' as the 'Lucky Fairy' competition song, and everyone thoroughly enjoyed the exciting performance that made it impossible to sit still. As a result of the fun, Mo Tae-beom received 98 points, frustrating everyone, but Mo Tae-beom's performance, which radiated positive energy, made even the viewers feel good.
The fourth 'death match' match between Hong Ji-yoon and Yang Ji-eun unfolded and attracted attention. Hong Ji-yoon, who had already lost to Yang Ji-eun in three 'death matches', singled out Yang Ji-eun again on this day. MC Boom wondered, "Are we going to keep looking for Yang Ji-eun?" and Hong Ji-yoon expressed her motivation by saying, "I think the game will end only when we beat Ji-eun."
However, Hong Ji-yoon started off losing to Yang Ji-eun in the game to dominate the game. Yang Ji-eun sang Seol Woon-do's 'I Only Loved You' and earned 99 points, adding 1 point to the 98 points for winning the game. And Hong Ji-yoon countered with Kang Hye-yeon's 'Don't Go', and although she performed a perfect performance recognized by everyone with a spectacular break, she received 91 points. MC Boom teased, "This is the lowest point of the second half! It's our third straight loss!" and Jang Min-ho also said, "Why does Hong Ji-yoon always get results like this?" In response, Hong Ji-yoon made people laugh with a desperate look, saying, "Honestly, I don't even know why I'm like this."
As a result of the 'Death Match' on this day, 'Boom Team' was ahead with 4 to 3, but the lucky ticket obtained by 'Boom Team' winning the 'Lucky Ticket Round' was 'points This last-minute reversal was successful and they became the final winning team. Kim Yong-pil of the 'Boom Team', who personally drew the lucky ticket, expressed his sincere 'wow' by saying, "This is really winning," and Boom made fun of him by saying, "This is the first time you used the MZ generation language," giving a cheerful laugh until the end.
Kang Min-kyung, Ten Asia reporter kkk39@tenasia.co.kr