TV
Was BTS's influence this much?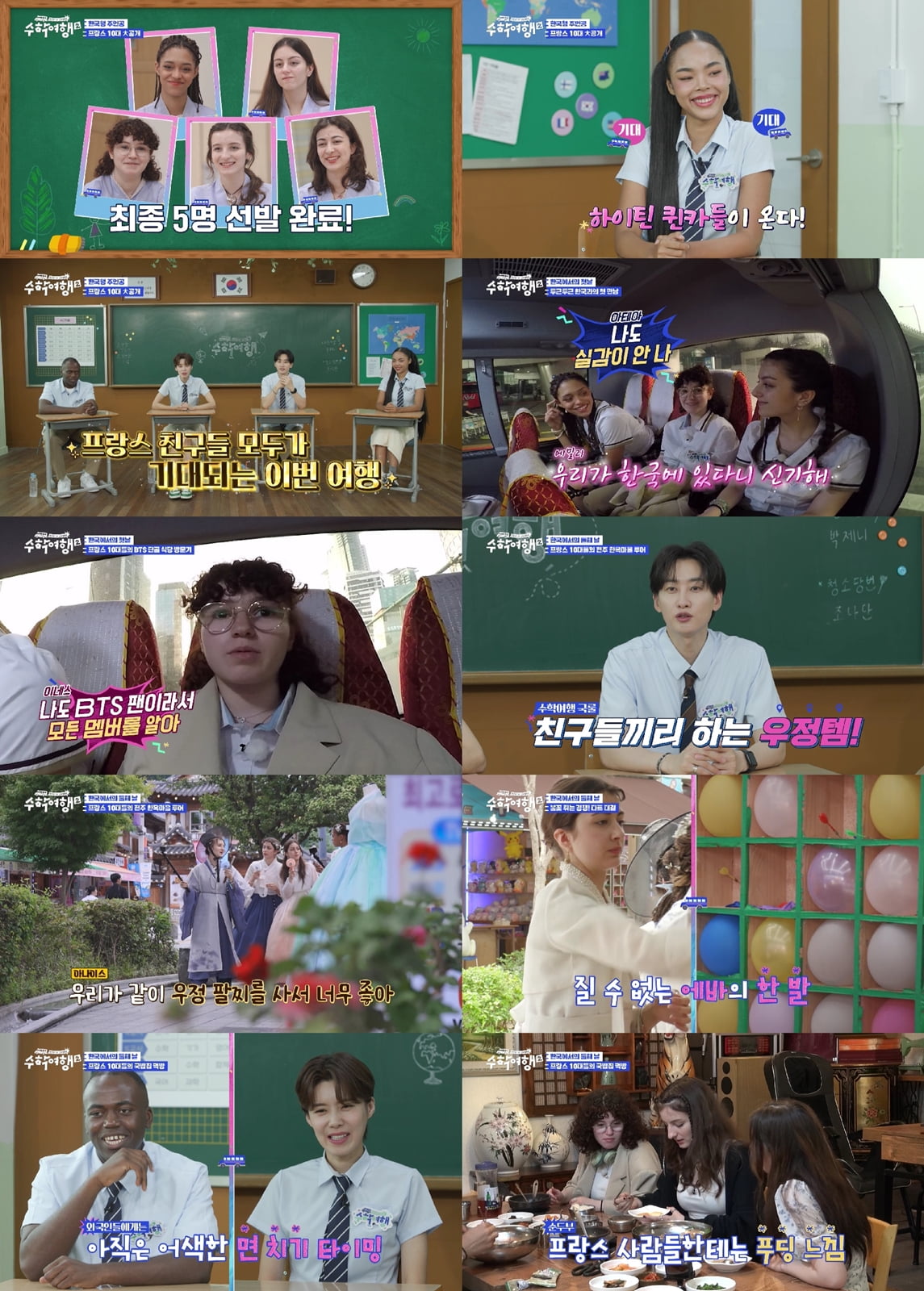 French high school girls participated from BTS (Bulletproof Boys) to Jeonju.
In 'After School Korea: School Trip 2' (hereinafter referred to as 'School Trip 2'), co-produced by E Channel, AXN, and Lifetime, which aired on the 4th, teenagers from France, the second country to visit Korea, began their school trip to Korea. In particular, Jonathan, who joined as MC, watched the video of their school trip and showed off his witty comments at the right time, adding to the fun.
On this day's broadcast, French students' love for Korea was revealed. In a special participant selection task called 'What is the Korean Wave that captivated you?', the students captured attention by expressing the Korean Wave in various ways through Hanbok, fan dance, Taekwondo, calligraphy, K-POP, and K-FOOD.
Among the numerous applicants, five people, including K-POP dance machine Atea, 'French Janggeum' Eva, Ines, who learned Korean thanks to BTS, Emily, who likes Korean ballads, and Anais, who learned Korean through pen pals, won tickets to Korea. As a result, a field trip exclusively for female high school students was confirmed for the first time.
For the first course, students who arrived in Korea visited BTS's favorite restaurant when they were trainees. The students, who showed great interest and affection by talking about BTS and listening to their songs on the bus, sat in the same seats as their favorite members in the cafeteria and tasted various Korean foods.
On the second day, I enjoyed a trip to Jeonju, which embraces the style and taste of Korea. The students arrived in Jeonju with excitement and went on a full-scale tour of the Hanok Village, wearing Hanbok that suited their individual tastes. They bought friendship bracelets, watched physiognomy, and played darts to make memories.
Afterwards, I tried bean sprout soup, soft tofu stew, and cold cold noodles for my first meal in Jeonju. Among them, Jonathan, who was seen eating cold noodles and was 'mukjalal' (short for 'knows how to eat well'), looked disappointed at the students' awkward noodle timing and gave a clever demonstration, making everyone laugh.
On the 11th, a variety of episodes will unfold, ranging from a K-pop dance battle between French teenagers to a skate challenge and Korean school life.
Taeyuna, Ten Asia Reporter youyou@tenasia.co.kr