TV
Jeon Hyun-moo, the heart of meaning, "Is there eternal love?"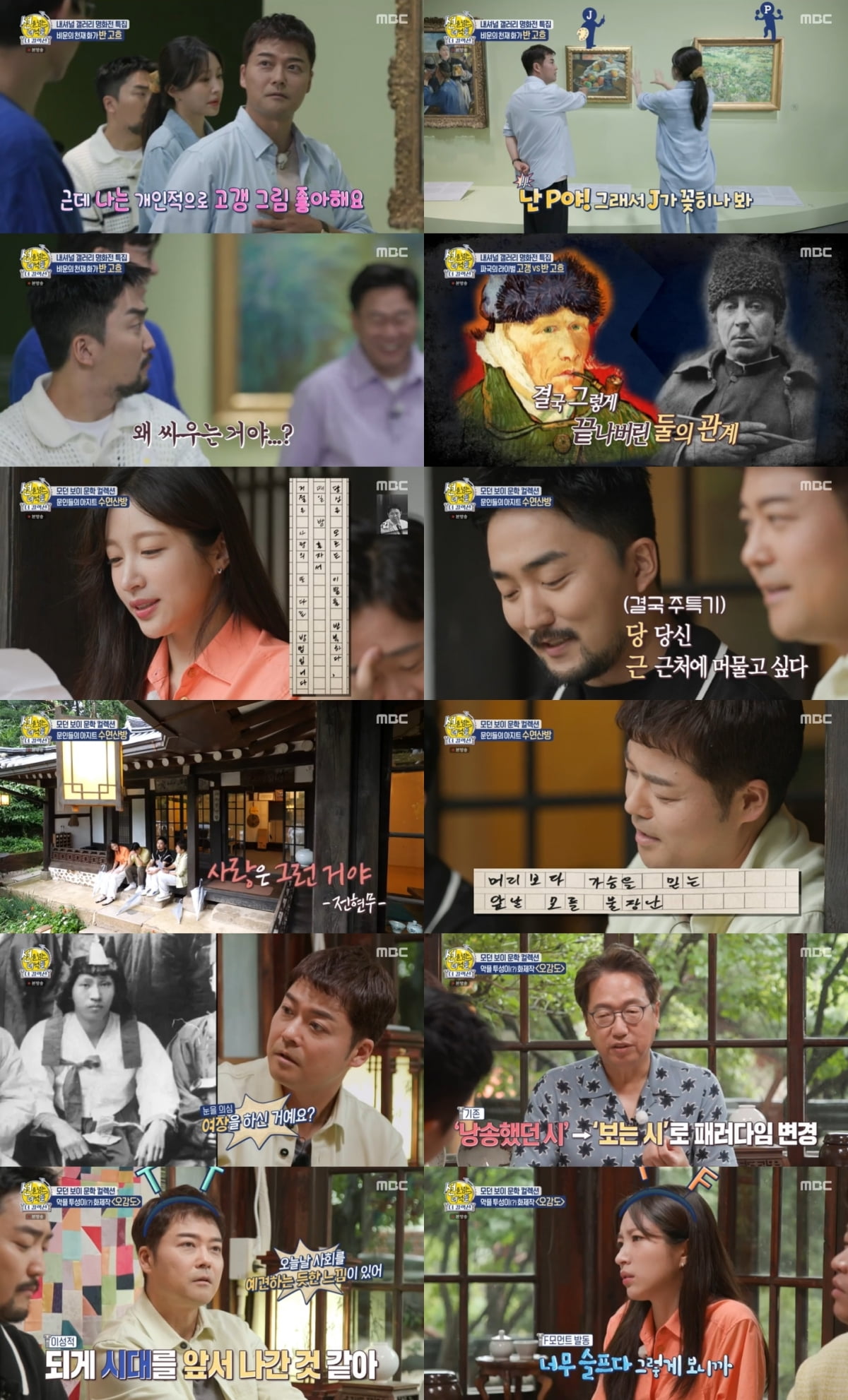 Jeon Hyun-moo, Yoo Byung-jae, and Hani transformed into romantic poets worthy of a literary collection and talked about love and separation.
In MBC's 'Guys Who Cross the Line - The Collection (hereinafter referred to as Fairies)', which aired on the 3rd, a special feature on a literary collection featuring the trio of young poets Lee Sang, Yoon Dong-ju, and Baek Seok was released, following the first two special features on the British National Gallery's masterpiece exhibition in Korea. .
At the famous painting exhibition at the National Gallery in England, the members encountered famous paintings by representative Impressionist painters. Manet and Monet were moved by the story of how they fell apart because of their similar names and then developed a passionate friendship. The relationship between Van Gogh and Gauguin, which were polar opposites, became more immersive when I heard about the different characteristics of their paintings. It started with the painting that ruined the relationship between the two people, followed by the incident where Van Gogh's ear was cut off, and the story with his younger brother Theo, who became Van Gogh's strong supporter.
In it, Jeon Hyun-moo and Hani bickered, showing great chemistry like Van Gogh and Gauguin. The scheming J Hani said that he liked the free-spirited paintings of Van Gogh, while his counterpart, P Jeon Hyun-moo, started the MBTI discussion with a sharp confession, saying, "I like Gauguin" and "Van Gogh's paintings are like my life (without a frame)." did. The two people also showed different reactions to the story that their younger brother Theo, who supported Van Gogh, was experiencing financial difficulties. While the emotional F Hani sympathized, "How guilty he must have felt," Jeon Hyun-moo made everyone laugh with his rational T moment, saying, "I have no one to rely on," and worrying about Van Gogh's financial situation.
In the next literary collection special, Jeon Hyun-moo, Yoo Byung-jae, and Hani drew attention by reciting a creative poem containing their feelings on the theme of 'love and separation.' Hani says, 'I take a step back from you in order to take a step closer to you.' He released the emotional poem 'Rejection' titled 'I Love You'. After hearing this, Jeon Hyun-moo made everyone laugh by showing another T-moment, saying, "I love you, but why are you rejecting me? Please make me understand." Yoo Byeong-jae attracted attention with a poem comparing carrots, an unloved vegetable, but ended up laughing by ending the poem with a couplet: 'Dang: you, Geun: I want to stay nearby.'
Poet Jeon Hyun-moo, who debuted amidst everyone's expectations(?), has released 'That's What Love Is'. Jeon Hyun-moo asks 'Is there eternal love? Is a beautiful farewell possible? Can a man and a woman remain in friendship? It started with 'I've thought about it a lot, but there's still no answer' and 'if you set it on fire, that's it.' Love is like that. Trust your heart more than your head... He ended with 'Playing with fire, the future is unknown' and recited an original poem. The members could not hold back their laughter at Jeon Hyun-moo's enlightening poem, which became a moth of love, and Yoo Byeong-jae commented, "My writing style is similar to that of poet Kim Bo-seong."
The members, who recharged their emotions through poetry, learned about poetry essayist Professor Jeong Jae-chan and Lee Sang, a Hype Boy 'youth poet' of the 1930s. Jae-chan Jeong said, "Sang Lee was the most revered genius modernist," and talked about Lee Sang's unusual life. Lee Sang's graduation photo wearing a female hanbok gave off a modern-day vibe and made everyone's eyes widen. Jeok Jeon, who was an elite architecture student, In the past, the space called Jebi Coffee Shop, which was created with a unique sense, and Dutch Pay, which was the first to be tried at the time, were all about Hype Boy.
The members also interpreted Lee Sang's 'Five Senses' poem, which is famous for being difficult, together with Jeong Jae-chan. Jeong Jae-chan introduced 'Ogamdo', which tells the story of 13 children running at speed, as a poem that destroys existing forms. It is said that Lee Sang changed the paradigm from 'poetry recited' to 'poetry seen' while feeling the rhyme. He also compared the appearance of the 13 children in 'Five Senses' to springbok living in the Kalahari Desert, saying, "Isn't it possible that the children who started running in fear were afraid of each other? Isn't this a world where running itself has become a fear?" I interpreted the world I saw.
After hearing this, Jeon Hyun-moo and Hani also showed polar opposite reactions, drawing attention. F Hani empathized and said, "It's so sad. Seeing it that way." T Jeon Hyun-moo said, "I feel like I was ahead of my time. It feels like I predicted today's society," recalling modern people running in endless competition. Jae-chan Jeong emphasized that "what we think when reading 'Five Senses' is more important than trying to reveal the above intentions," and gave the fun of interpreting the poem in various ways.
Kang Min-kyung, Ten Asia reporter kkk39@tenasia.co.kr