TV
Oh Ji-yul, close friendship with Park Bo-gum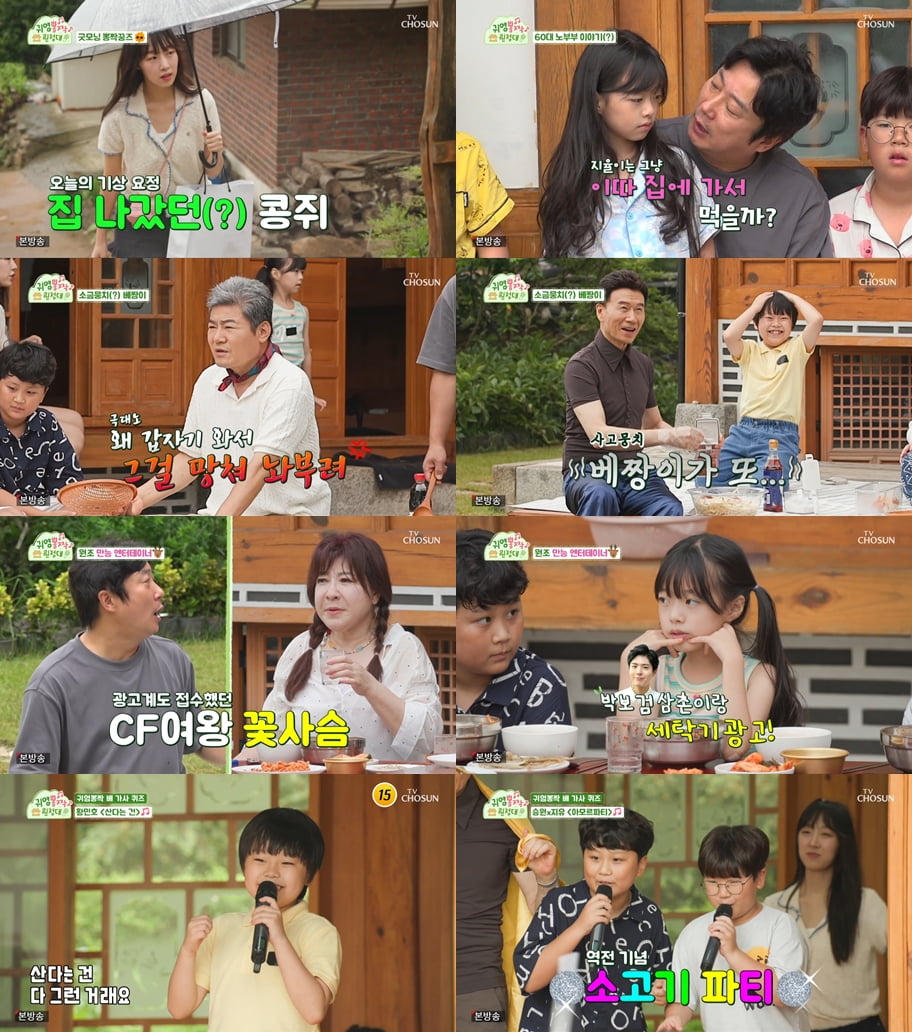 Child actor Oh Ji-yul revealed his friendship with Park Bo-gum.
In TV Chosun's 'Cute Expedition', which aired on the 28th, in the early morning, Cosmic Girls Subin, who had been absent from the schedule for the first musical performance the day before, returned to the expedition. Upon arrival, Subin woke up the expedition team with the wake-up song 'Brave Woman' and transformed into a 'Morning Fairy'. The juniors woke up as if they were bewitched by Subin's appearance, and when asked, "What did you do yesterday? Was it fun?", they answered, "It was more fun when Subin was with you." However, Subin didn't stop there and continued to confirm his affection by saying, "Wasn't it so much fun without me yesterday?", "Didn't you remember your sister?", and Hwang Min-ho replied, "I remembered you..." and was satisfied. has led to
At Lee Su-geun's suggestion, 'Ganghwa Turnip Bibimbap' was set as the breakfast menu. When Oh Ji-yul said, "I can't eat bibimbap," Lee Su-geun asked, "Ji-yul, how about 'cabbage miso soup'? Do you know how to eat it?" When Oh Ji-yul showed no reaction, Lee Soo-geun radiated 'father-likeness' by repeatedly asking, "Or Ji-yul, how about 'soy sauce egg rice'?" However, when Oh Ji-yul tilted his head at several menu suggestions, Lee Soo-geun blocked the complaints of side dishes by saying, "Or should Ji-yul just go home and eat later?"
Subin, who made a comeback with 'Kongjwi', washes and trims turnips, 'Suchef' Lee Soo-geun is in charge of 'cabbage miso soup', 'Grasshopper senior' Kang Jin is in charge of making the fire, and 'Homemade Food Teacher Jin' Jin Seong is in charge of preparing breakfast with radish and vegetables. rushed into In particular, Jinseong boasted the ability to cut radish with a certain thickness as if measured with a ruler, revealing the dignity of a 'human chop knife'. Hwang Min-ho, who watched this in the first row of the 'Cookbang', exclaimed, "Wow, Mr. Jinseong is awesome! What the hell are you doing?" In response, Hwang Min-ho asked, "Have you ever been a restaurant owner?", and Jin-seong showed confidence, saying, "I did~ (Cooking) is natural~".
On the other hand, Kang-jin skillfully lit a fire by himself without the help of Jin-seong, transforming from a 'national grasshopper' to a 'fire-making master'. Hwang Min-ho praised Kang-jin's fire-breathing skills, saying, "You really felt it, Teacher Kang-jin! It's like a campfire." Subsequently, Hwang Min-ho further boosted Kang-jin's confidence with the compliment, "You have the same skills as Jin-seong."
However, perhaps because of his overconfidence, while Subin was away for a while, Kang Jin, who approached the defenseless radish vegetables, dropped a large amount of salt and turned the radish vegetables into a salt pan. Jin-seong, who noticed the seriousness of the situation, was furious, saying, "Why did you come all of a sudden and ruin it?" Seo Ji-yu and Hwang Min-ho, who enthusiastically challenged to taste 'Salt Field Radishes', were horrified, saying, "It feels like salt clumping together like snow and eating it all at once." When Kang-jin tried to touch the seasoning, Lee Soo-geun dissuaded him, saying, "Jin-seong has to season the seasoning. Please don't do it. That's the main dish." Jinseong, who took over radish vegetables from Gangjin, revived the cardiopulmonary system with red pepper powder, minced garlic, and sugar, and revived radish vegetables in crisis by additionally prescribing green onions, becoming a 'cooking name'.
While everyone was enjoying breakfast with a storm mukbang, Lee Soo-geun said, "The originator of all-round entertainers is Noh Sa-yeon," referring to Noh Sa-yeon's heyday. In response, Noh Sa-yeon boasted the dignity of the 'original CF queen', saying, "At that time, there was no CF that I hadn't filmed, such as cosmetics, ice cream, detergent, ramen, and beverage CFs." To Lee Soo-geun's question, "Is anyone here filming commercials?" Oh Ji-yul, who raised his hand confidently, replied, "I shot a commercial for a washing machine with Uncle Park Bo-gum," earning everyone's envy. When Lee Soo-geun said, "Uncle Park Bo-gum told me to come here. Do you have a contact number?"
When Hwang Min-ho said, "I want to shoot a milk commercial," Lee Su-geun said, "When I said 'I want to be taller' in 'Gag Concert' before, a milk advertisement came in, but it was canceled because of 'I drank milk but I wasn't tall'." told And Hwang Min-ho, who challenged himself to become a 'milk CF star', sipped milk coolly and said, "You will grow as tall as this?" Then, Jin-seong said, "I need calcium in my old age. Take it with milk." After drinking elegantly like drinking wine, Kang Jin said, "If you drink a lot of milk, your heart beats." Noh Sa-yeon, the 'original CF queen', burst into laughter with one shot of 'cow smoke', saying "Moom~" after gracefully turning her neck.
Reporter Kang Min-kyung, Ten Asia kkk39@tenasia.co.kr