TV
Go Woo-rim gained 'figure skating queen' Yuna Kim and lost a friend

Forestella member Go Woo-rim revealed his marriage to 'figure skating queen' Yuna Kim.
Go Woo-rim appeared as a special MC in the SBS entertainment show 'My Little Old Boy' (hereinafter referred to as 'My Little Old Boy'), which aired on the 27th.
Ko Woo-rim married Yuna Kim in October last year and is enjoying her newlywed life. When Movengers said, "Your face resembles Yuna Kim," Go Woo-rim admitted, "It seems that we are starting to resemble each other."
Then, he revealed the reason for appearing, saying, "Shin Dong-yeop served as host at our wedding, but this time I was invited to 'Miu Bird' and came running with the heart of repaying the favor." Shin Dong-yeop said, "I once did a program called 'Kiss and Cry' with Yuna Kim. It truly was the wedding of the century. I was so ecstatic," he recalled.
Go Woo-rim first met Yuna Kim at a gala show in 2018 and developed love. When asked about the love story, Go Woo-rim, who fell in love at first sight at the time, said, "I was worried that since I was younger, I would lose my sincerity. The words that came to my mind at that time were that the courageous win the beauty. I made a confession with the intention of expressing my feelings well with a mature image."
Shin Dong-yeop said, "Before the wedding, I met Yuna Kim and Woo-rim Go and had a meal, and at that time I heard the details. Go Woo-rim, who fell in love at first sight after seeing Yuna Kim's gala show, told Yuna Kim, who came to say hello later, that she mustered up the courage to feel that if she didn't tell her now, she would regret it forever."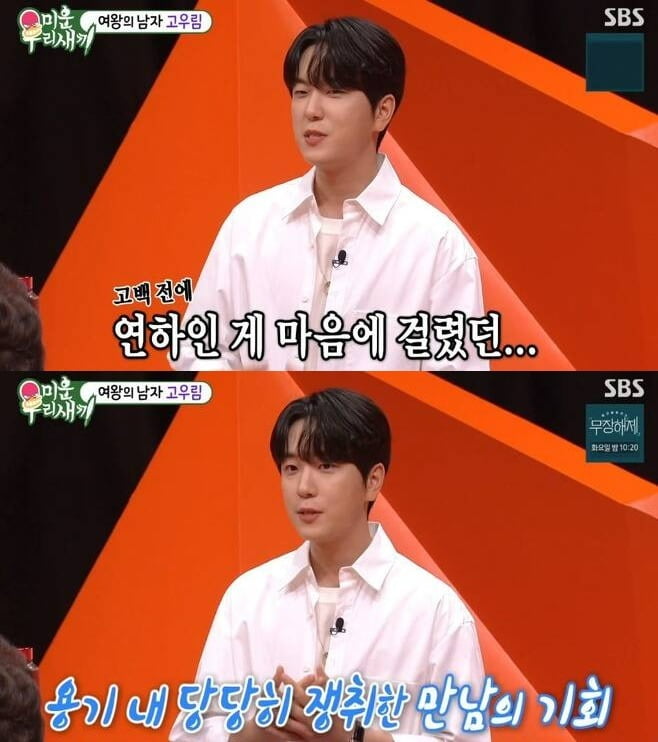 What about her husband Go Woo-rim? When asked to 'self-brag', Go Woo-rim said, "From the beginning of our relationship until now, it seems that we have been showing a consistent appearance. I don't drink or smoke, and I don't make appointments. I think it would be good for my wife since I am a house idol," he said shyly.
When asked if he even cut off his friends for Yuna Kim, Go Woo-rim said, "I think so. I couldn't get in touch unless I was a really close friend," he laughed.
Regarding Yuna Kim's nagging, she said, "Recently, it's a trivial thing, but it's too hot these days, so if you don't clean up immediately after eating, won't insects attract you? My wife nagged me, saying, 'It would be nice to clean up quickly so that the insects don't attract'."
While drawing, he said, "When my wife nags me, I talk in a low tone as usual, so I look proud, so I tend to show off aegyo."
Reporter Tae Yuna, Ten Asia youyou@tenasia.co.kr