TV
Lee Mi-joo and Yoo Jae-seok are also surprised by their short mouth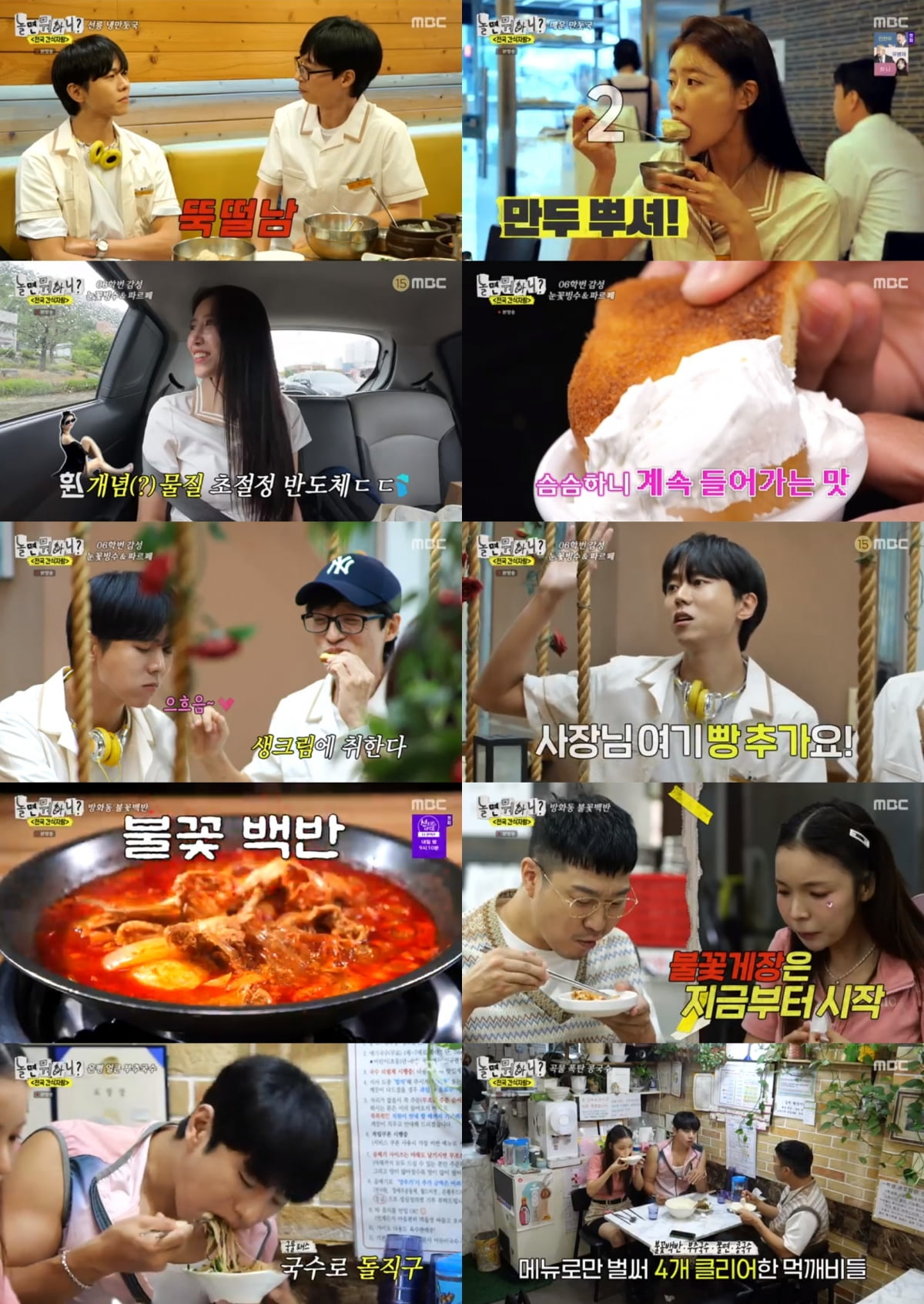 Bone siblings Joo Woo-jae and Lee Mi-joo have been reborn as eaters.
In MBC's 'What Do You Do When You Play?', which aired on the 19th, a summer special 'National Snack Show' was held as desired by Joo Woo-jae, who said, "Wasn't this program a snack-eating program?" The members, who were divided into the News Bone Team (Yoo Jae-seok, Joo Woo-jae, Lee Mi-joo) and the Gourmet Eater Team (Haha, Park Jin-ju, Lee Yi-kyung), ate summer snacks and stimulated their mouths.
On this day, the broadcast recorded 2.8% of the 2049 audience rating, which is a key indicator of channel competitiveness and topicality, and rose to No. 1 in entertainment on Saturday. The viewership rating for households in the metropolitan area was 4.4%, an increase from last week. The highest viewership rating of 5.8% and the best minute was occupied by the mukbang scene of Haha, Park Jin-ju, and Lee Yi-kyung, a team of eaters who instantly deleted noodles such as spicy leek noodles and Hawaiian bibim jjolmyeon. (Based on the Nielsen Korea metropolitan area)
The members came in contact with various snack stories sent by viewers. First, the Eater team went to eat Fireworks Baekban with bulgogi and blue crab. The three expressed high satisfaction with the unusual combination, saying, "It tastes like bulgogi at first, and crab soup at the end" and "It's delicious as it is steamed." In particular, Lee Yi-kyung drew attention by expressing, "It feels like Kang Ho-dong and Yoo Jae-seok are doing a program" on a menu that looks like the world's strongest people are together.
Yoo Jae-seok, who teamed up with short-spoken Joo Woo-jae and Lee Mi-joo, expressed concern about snack mukbang and asked, "Hey, eat some delicious bones." However, contrary to Yoo Jae-seok's worries, Lee Mi-joo's mouth exploded at the first cold dumpling soup. It was a menu with warm dumplings in cool cold noodle soup. Unlike Lee Mi-joo, who was reborn as a dumpling eater, Joo Woo-jae was warned by Yoo Jae-seok for being absorbed in talking without touching food. Lee Mi-joo showed an unexpected appearance of trying to challenge another dumpling soup while emptying a bowl.
Lee Mi-joo also gave advice to Joo Woo-jae, who did not eat dumplings and only served soup. In response, Yoo Jae-seok said, "It's the first time I've seen Mi-ju treat someone badly while eating," and Lee Mi-joo said, "It's the first time I've seen someone worse than me. I don't think I really want to go on a date with my brother." Yoo Jae-seok gave Joo Woo-jae a nickname, saying, "The level is dropping and the appetite is dropping." Joo Woo-jae responded, "Isn't it too humiliating?" and laughed.
The Meokkkaebi team continued to raise the tension of the mukbang with spicy leek noodles. Haha was surprised by the overwhelming visuals and continued to eat without stopping, discovering various ingredients such as pickled radish and bean sprouts hidden in the noodles. Park Jin-joo, who took a bite of the Hawaiian Bibim Jjolmyeon that appeared next, described it as "sweet, sour and fresh," and Lee Yi-kyung said, "It feels like eating Jjolmyeon dipped in fruit." Lastly, Haha, who ate soybean noodles filled with grain flour, praised it, saying, "This is the number one food I ate this summer." As if to prove the team name of Meokkkaebi, the three of them completely cleared 4 dishes of the menu and exploded their mukbang power.
Finally, the Bone Team arrived at a snowflake shaved ice shop full of memories. The members who saw the cafe full of emotions in the 2000s began to recall their past. This time, Joo Woo-jae's stomach exploded. Joo Woo-jae, who encountered the whipped cream toast, ate the whipped cream as if eating rice, and was surprised by even ordering more.
Yoo Jae-seok was excited about the fresh fruit parfait he had seen for the first time in a long time and recalled memories, saying, "Once upon a time, when other people ordered coffee, me, Seok-sam hyung (Ji Seok-jin), and Yong-man hyung were unconditionally parfait." Yoo Jae-seok, who saw Joo Woo-jae constantly eating whipped cream toast, said, "You are a glutton here. There was an uproar," and even Lee Mi-ju admired Joo Woo-jae, who showed that he was eating for the first time, saying, "Oppa, you are flying around here. You have wings."
Reporter Kang Min-kyung, Ten Asia kkk39@tenasia.co.kr