TV
JYP family fight breaks out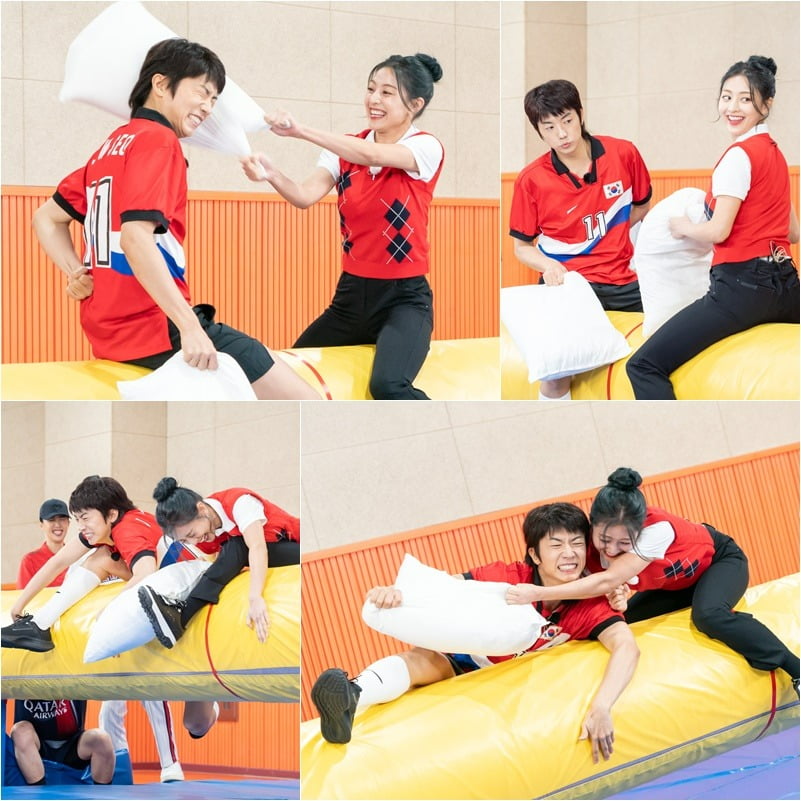 2PM's Wooyoung presents tension with a bloody pillow fight with Twice's Jihyo, who eats rice at the same agency.
The 49th episode of KBS2's 'Hong Kim Coin', which airs on the 17th, has the theme of 'Sports Star', and the front side of the coin is Frakchi and the reverse side is decided as a sports star. Hong Jin-kyung plays Tiger Woods, Kim Sook-eun plays goalkeeper Kim Byung-ji, Jo Se-ho plays martial arts star Choo Seong-hun, Joo Woo-jae plays Kang Baek-ho, and Woo-yeong plays soccer star Seo Jeong-won.
On this day, a pillow fight takes place on a large tongdori set. According to the spirit of sports, a fair match should be played, but Hong Jin-kyung provokes Joo Woo-jae, saying, "You look very ugly today," and Joo Woo-jae threatens, saying, "If I run into Jin-kyung sister, I won't let it go." back door. In the midst of this, Wooyoung and Jihyo, who eat rice together at the same agency, have a confrontation, which arouses interest.
In the released still, Wooyoung is playing the game with one hand behind his back as it is a confrontation with a female junior. Jihyo's strong punch to the pillow makes her lose heart and the image of her getting beaten up causes laughter. On the other hand, Jihyo's smile while enjoying the game is relaxing and Wooyoung's expression is 100 times more tense. It is rumored that although they are seniors and juniors who eat rice together at the agency JYP, they fought more fiercely than ever. Wooyoung, who clenched her teeth in a precarious position on top of a tall stone table, and Jihyo, who is desperately trying to steal the pillow, bring laughter to the audience and make them more curious about the outcome of the game.
In fact, it is said that Jihyo showed off her unexpected skills by gradually increasing the strength of her swing and hitting Wooyoung, and hitting Wooyoung's head properly with a pillow with a strong spirit. In response, Wooyoung said, "Why are you doing this to me?" and continued the game, raising expectations for the outcome of Wooyoung and Jihyo's family fight.
The production team said, "Compared to Wooyoung, who was flustered and nervous about the matchup with a junior from the agency, Jihyo's confrontation, which shows the aspect of a master from the beginning of the opponent's analysis to strategic attacks, will give a big laugh. Please look forward to the direction the family quarrel will go."
'Hong Kim Dong Jeon' is broadcast every Thursday at 8:30 pm.
Reporter Tae Yuna, Ten Asia youyou@tenasia.co.kr