TV
Kim Ji-min revealed plans to marry Kim Jun-ho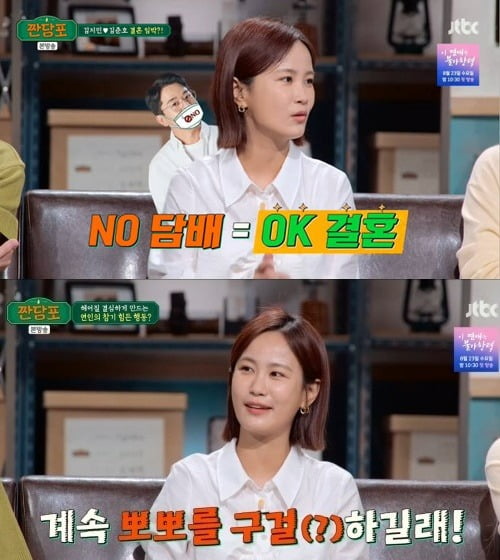 Comedian Kim Ji-min mentioned about getting married to her boyfriend, Kim Jun-ho.
MC Gree, Kim Ji-min, and Soyou appeared as guests in the JTBC entertainment show 'Jjandangpo', which aired on the 15th.
On this day, Yoon Jong-shin asked Kim Ji-min, "I heard that there was a time when I was in Junho's room before the relationship was revealed and I almost got caught." In response, Kim Ji-min said, "Kim Jun-ho's house is just an open house. Like an open house, everyone presses the password and enters, and it's easy for a while, and then the people come to the house without an owner and have a drink."
He said he was almost caught by senior comedian Hong In-gyu. He said, "I went to play during the day when no one around me knew. I couldn't even think of it, but someone pressed the password. So I hid in my bedroom," he recalled.
He also shared the story of being moved by Kim Jun-ho taking care of his parents. Kim Ji-min said, "My mom called and said, 'Junho sent this. I should have received a rehabilitation PT, but I went down to Donghae, paid for it at the gym, and came up."
Regarding skinship, "Junho Kim likes skinship. Kisses, hold hands a lot. He kept begging for kisses" and then said, "It's begging. I want you to beg me," he corrected. Then he said, "Now I don't look at you with my eyes," and made me laugh.
He also mentioned marriage. He said, "After public dating, even a single word was linked to marriage. That's why it's so burdensome," he said. Then, "I also marry late, and he also has a past, so I want to put a prerequisite. I promised to get married if I succeed in quitting smoking."
Then, he revealed, "I switched to an e-cigarette instead of smoking, but he kept being condescending. If I keep delaying my marriage, Kim Jun-ho is still smoking."
Reporter Tae Yuna, Ten Asia youyou@tenasia.co.kr