TV
pushed to the edge of the table... "Celebrities bully YouTubers"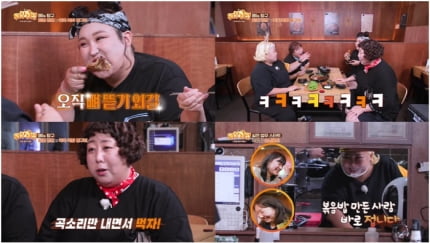 The satire of 'employment in disguise' explodes sadness toward Kim Min-kyung, Mirage, and Hong Yun-hwa during a pig's feet eating show.
In the 10th episode of 'Disguised Employment' (co-production with Channel S and KBS Joy), which airs at 8 pm on the 16th (Wednesday), Kim Min-kyung, Shin Gi-ru, Hong Yun-hwa, and Satire get a job at a pig's trotter restaurant to greet customers, while operating a grilled pig's trotter mukbang. appearance is revealed.
On this day, the gang of four receives a mission from their employer, the manager of a pig's trotter shop, "Please do kitchen work, hall serving, and delivery." Later, before work, there is a tasting of pig's feet, and when everyone tries to sit down at the same table, but the seats are narrow and the satire is pushed to the edge, he complains of alienation, saying, "Celebrities are bullying YouTubers (Satire) now." In the meantime, while everyone was bursting with bread at the wrinkled (?) appearance of the satire that had been wielding absolute power in the position of 'work chief', Hong Yun-hwa, the 'work chief' of the day, said, "I ate alone like anyone else, They make fun of food and don't do that," dissing(?) the satire of the former foreman and continuing their 'great chemistry'.
After a while, everyone amicably enters into the pig's feet eating show, and Mirage, the 'pig's feet hater', hesitates for a moment, then gathers up the courage to eat a bite. Then, "It's delicious to eat with glass noodles," causing a 'pupil disaster'. Eventually, he releases a lot of eating tips for 'pork feet haters' and completely overcomes the trauma, receiving applause from the members.
In addition, Hong Yun-hwa, a 'food housewife' and head of the work group, will also show off K-patch pig's feet rice bowl on the spot. Hong Yun-hwa ordered Mirage, who brought an ice box, "Fish sauce, vinegar, soy sauce. Give me minced garlic and sugar," and then started making the sauce. Afterwards, the members who tasted the finished rice bowl made Hong Yun-hwa proud by shouting, "It seems like eating in Thailand, sawadi kap~".
The 10th episode of 'Disguised Employment', which predicted the release of powerful eating tips and pork feet mukbang of Kim Min-kyung x Mirage x Hong Yun-hwa x Satire, can be seen on Channel S and KBS Joy at 8:00 pm on the 16th (Wednesday).
Reporter Ryu Yae-ji and Ten Asia ryuperstar@tenasia.co.kr