TV
'Increased by 10kg' Park Hae-jin → Strong character Naked Lim Ji-yeon, her visual has changed dramatically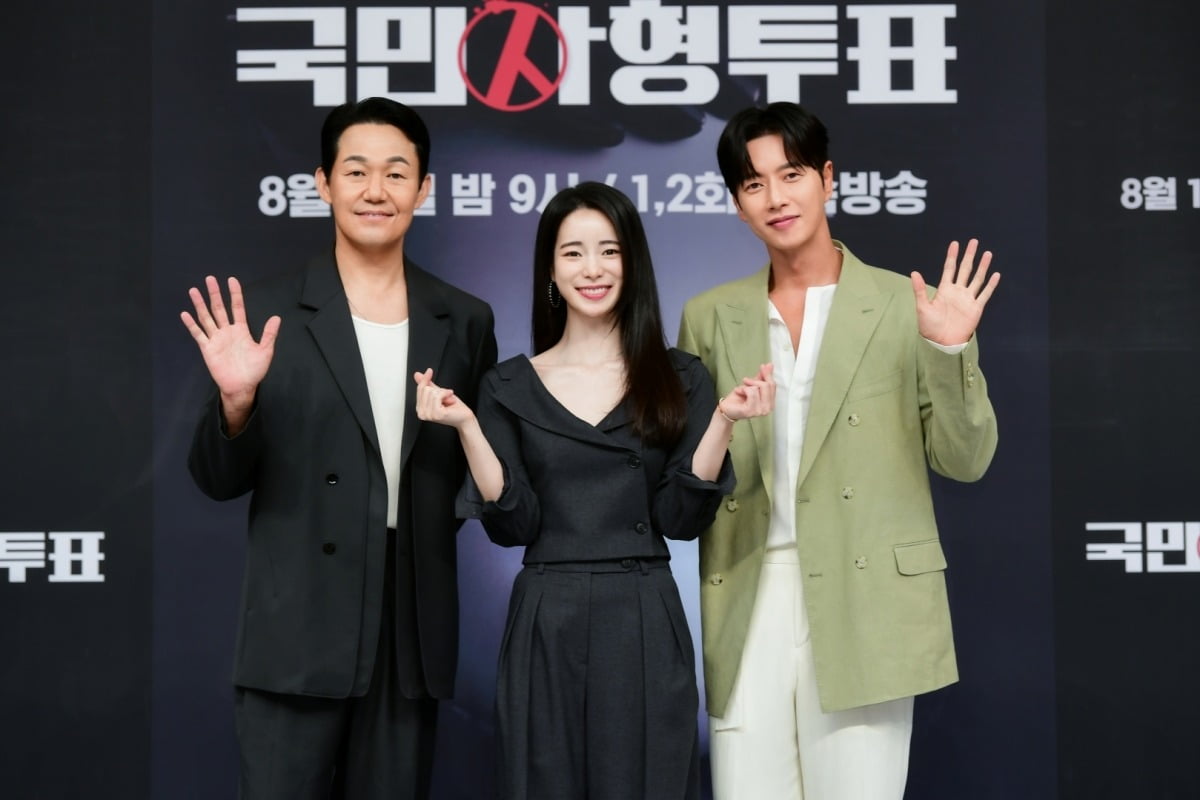 Actors Park Hae-jin, Park Sung-woong, and Lim Ji-yeon visit the home theater with new faces. Park Hae-jin weighed 80kg for the first time since his debut, and Lim Ji-yeon completely erased the strong character seen in her previous works, 'The Glory' and 'House with a Yard'.
On the 10th, SBS' new Thursday drama 'National Death Penalty Vote' production presentation was held online. Actors Park Hae-jin, Park Sung-woong, Lim Ji-yeon and director Park Shin-woo attended the event.
'National Death Penalty Vote' is a public participation judgment drama depicting the story of tracking down an unknown person who carries out a national death penalty vote on vicious criminals and executes them.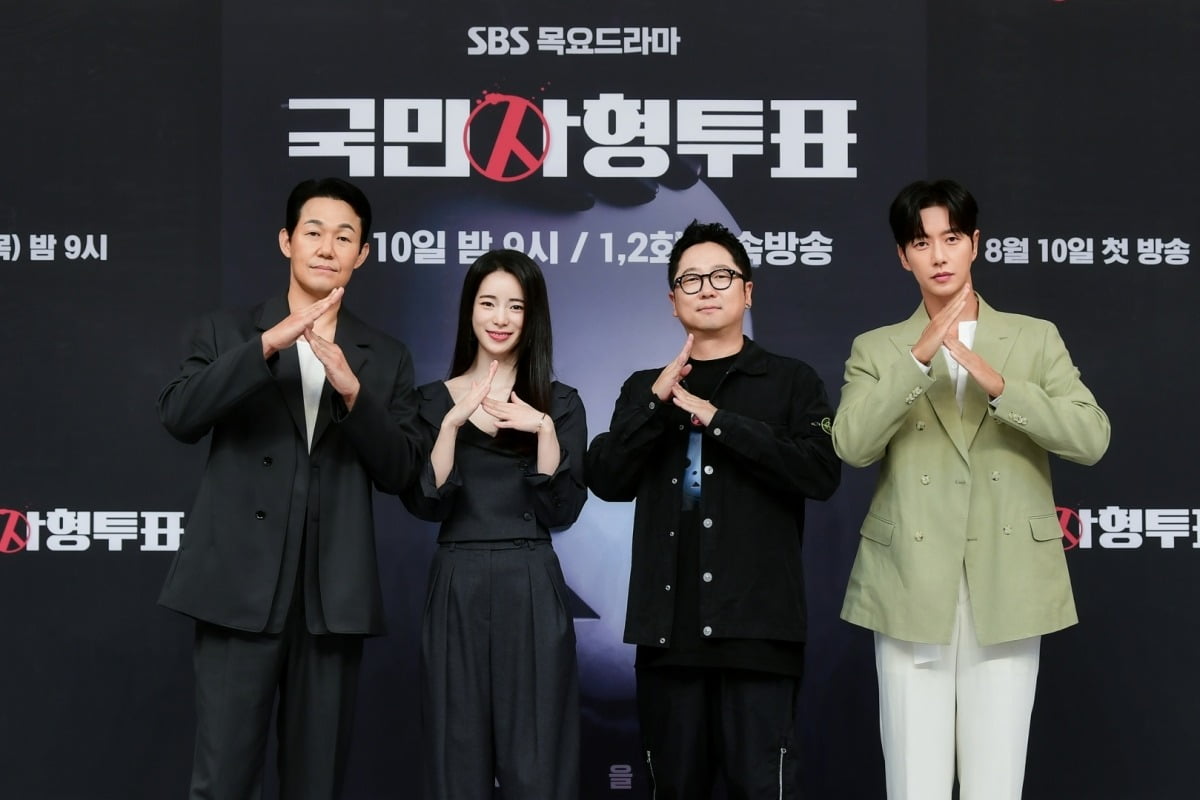 Director Park Shin-woo introduced, "One day, a text message is sent to the entire nation. It is a vote for and against the execution of a vicious criminal. It is the story of detectives at the crossroads of good and evil, who have to save an unscrupulous man who deserves to die." As it is a story that cannot happen in real life, it must have been a deep concern. Director Park Shin-woo said, "I had a lot of worries about the standard of justice for vicious criminals and the level of expression of vicious criminals."
Regarding the difference from the original webtoon, "It is a characteristic of the medium, but we tried to make use of the genre characteristics of tension, suspense, and action. In the process of completing a character by great actors, there seems to be more living and breathing parts than the webtoon." I was confident
Director Park Shin-woo revealed that there were many twists and turns in casting. He said, "It's a relationship that I met suddenly one day with Park Hae-jin. The first meeting came to mind, and I was impressed by the way he was looking forward to being able to play a new character together. Park Seong-woong was an actor I was with when I debuted, so it felt like we were continuing our old relationship. I thought it was important to express the father's image, and he expressed that part very well."
He added, "Actress Lim Ji-yeon has been my one pick since 3 years ago. I started this work 3 years ago. There were many twists and turns, but I am grateful to be able to participate together."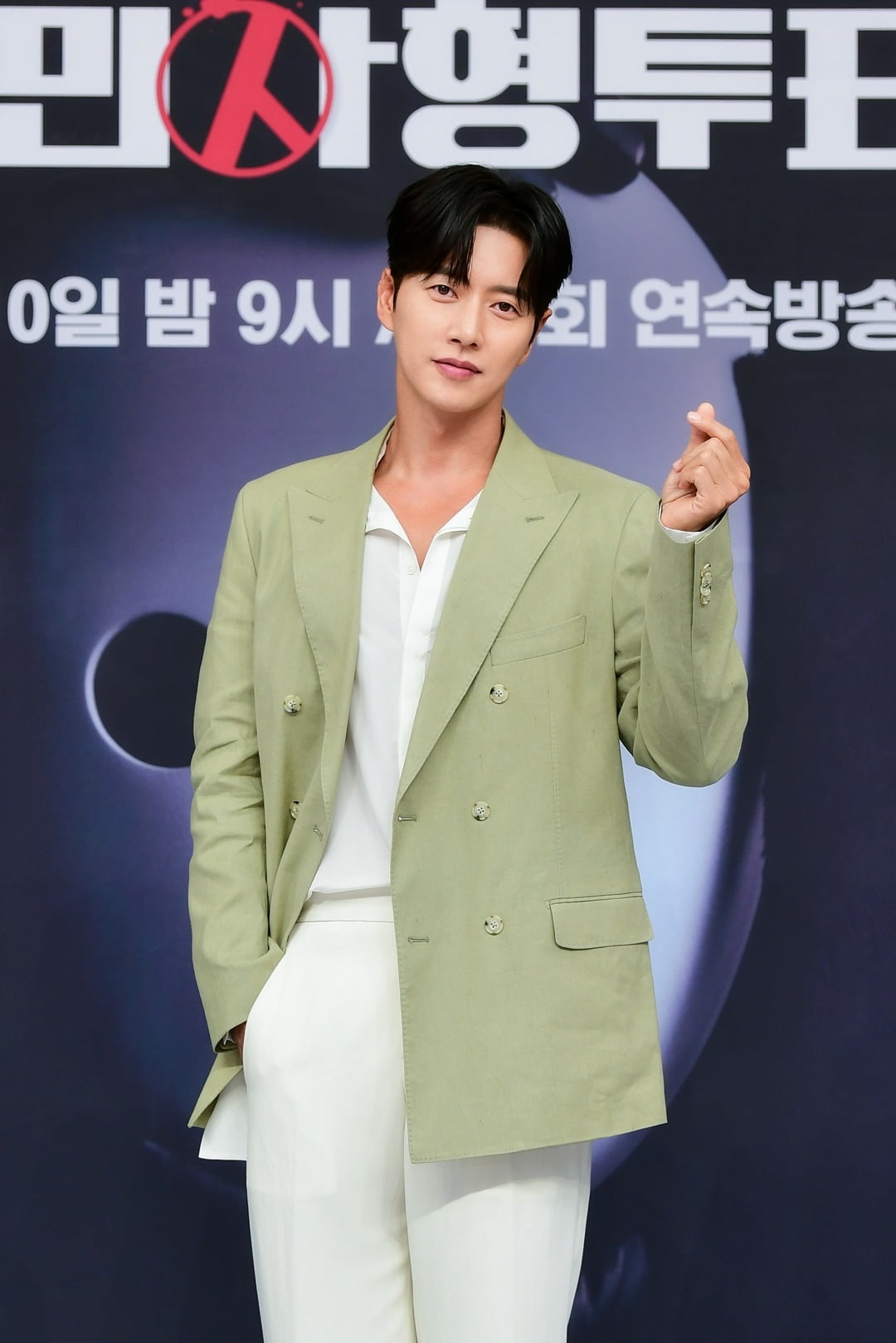 Park Hae-jin plays the tough and reckless detective Kim Moo-chan. Park Hae-jin said about the character's charm, "It's not a very righteous character. The evil side is revealed. In the end, whether he will remain good or go evil will come to him attractively."
Park Hae-jin, who returned to SBS after 9 years of 'Doctor Stranger', said, "It feels like my mother-in-law's house. I feel comfortable, but it's also awkward, and I have a strong desire to look good."
Park Hae-jin was surprised to hear that he gained 10 kg for the character. He said, "I gained from 72kg to 82kg. I had a desire to gain weight. For the first time since my debut, I shot at 80kg."
Then, he explained the styling, "Since incidents of people dying keep happening, there was no time to change clothes. So I wear a suit from start to finish. It seemed awkward to wear clothes that stood out."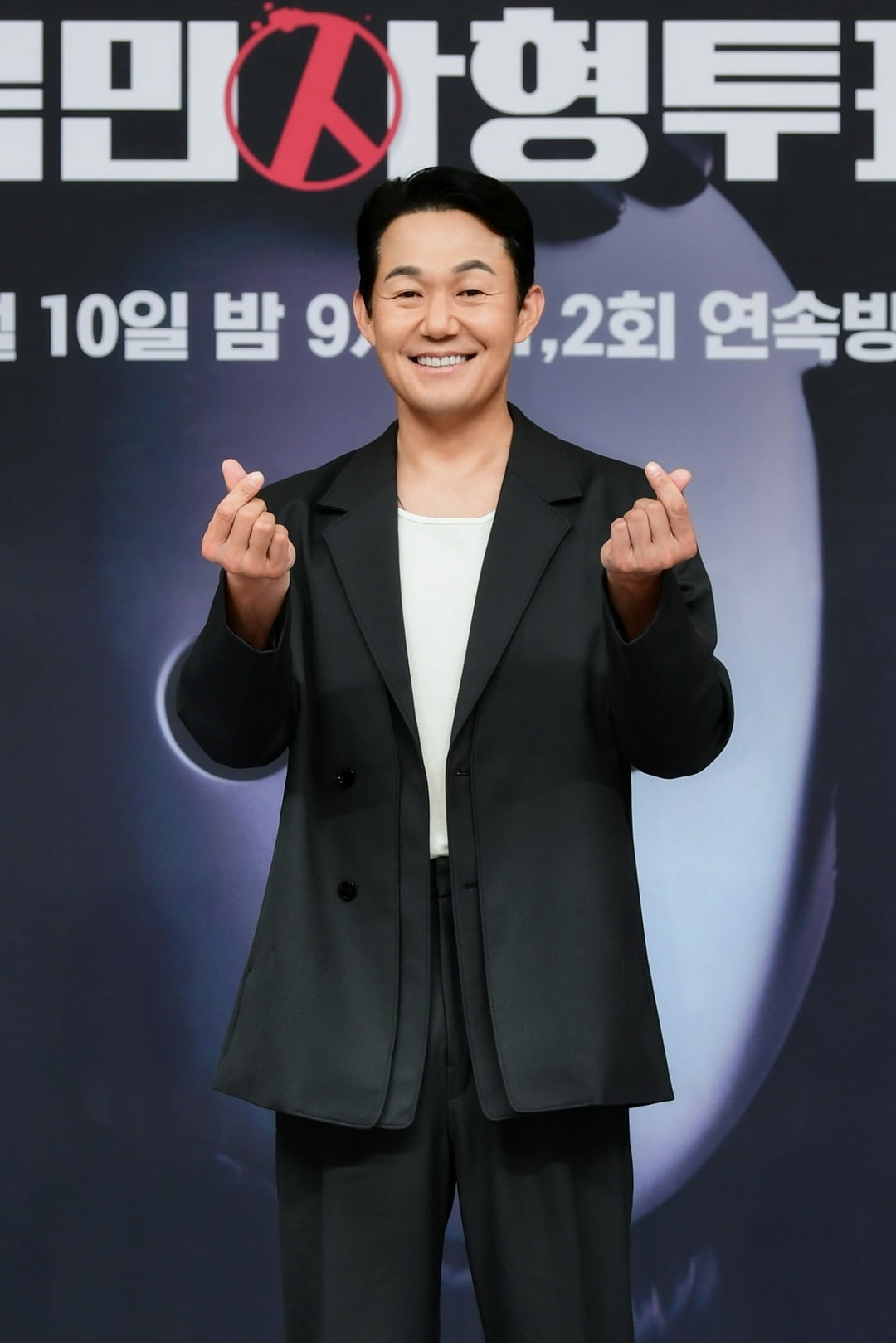 Park Seong-woong plays Kwon Seok-joo, a legal scholar and murderer whose distinction between good and evil is ambiguous. He said, "I'm a father with a daughter, but I only have one son. I saw my daughter's child actor for the first time, and he was so lovely." I wondered if I could do it. With Kim Moo-chan, I was like a sworn brother, but I grew distant and felt betrayed. Lim Ji-yeon coveted the character because there were so many things to express."
Park Sung-woong reunited with Park Hae-jin after 6 years since 'Man to Man'. He said, "I had faith in Park Hae-jin. I received the script, so he said if you do it, you will do it. We confirmed each other's feelings," revealing a strong friendship.
Park Seong-woong said he saw Lim Ji-yeon's 'The Glory' later. He said, "I hate content like 'The Glory' in which Ji-yeon appeared. I feel uncomfortable." "I teased Ji-yeon Lim on the filming set, saying, 'Aren't you the perpetrator of school violence? We agreed to show the best villains with "."
Then, she was surprised, saying, "Lim Ji-yeon has the most lines, but she never got it wrong." Park Hae-jin was also surprised, saying, "When I come to the set, I don't bring a script at all."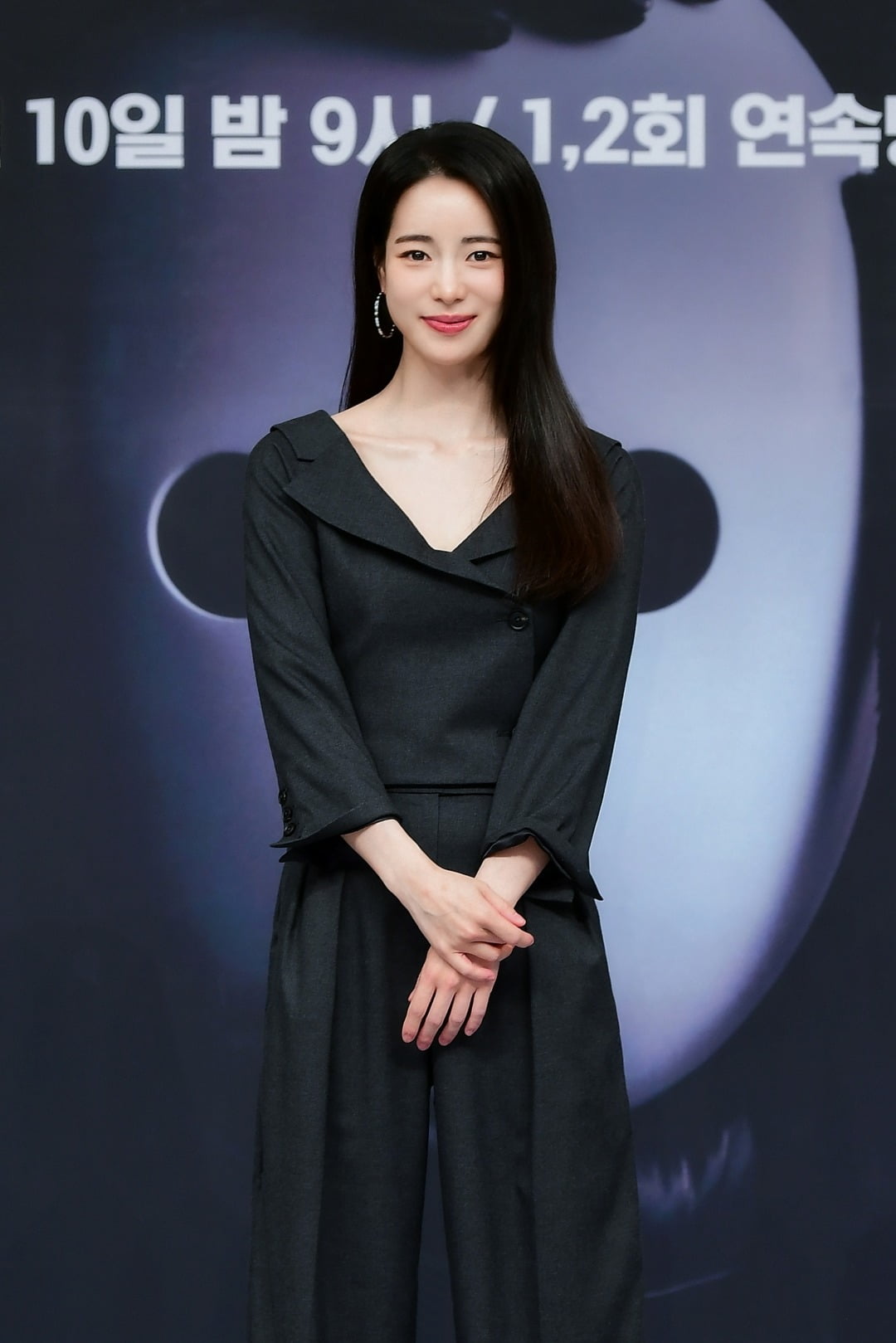 Lim Ji-yeon plays Joo-hyeon, a smart police officer who will do anything to solve a case. Lim Ji-yeon introduced the character, "I was once the ace of the team, but because of my outspoken personality, I became a nerd, but I am an active and bright person."
As for the reason for deciding to appear, "I was interested from the title. The material was interesting, and I usually read a lot of social articles and liked the crime genre, so I wanted to try it at least once. I read the script, the content was interesting, and I saw a lovely character who moved without hesitation. chose," he said.
When asked about the synchro rate with the character, Lim Ji-yeon said, "I thought that the personality that pushes with touch and sense is similar to mine. The most human and friendly character in a drama that can be dark." I thought viewers would naturally see it. I wanted to play a character a little bit like me after I only played characters that were too strong in my previous work. It was so similar to me, so I tried to do my best as myself."
SBS 'National Death Penalty Vote' is broadcast once every Thursday at 9:00 PM, starting with the first and second consecutive broadcasts on the 10th.
Reporter Tae Yuna, Ten Asia youyou@tenasia.co.kr