TV
Hwang Min-hyun and Kim So-hyun became boyfriends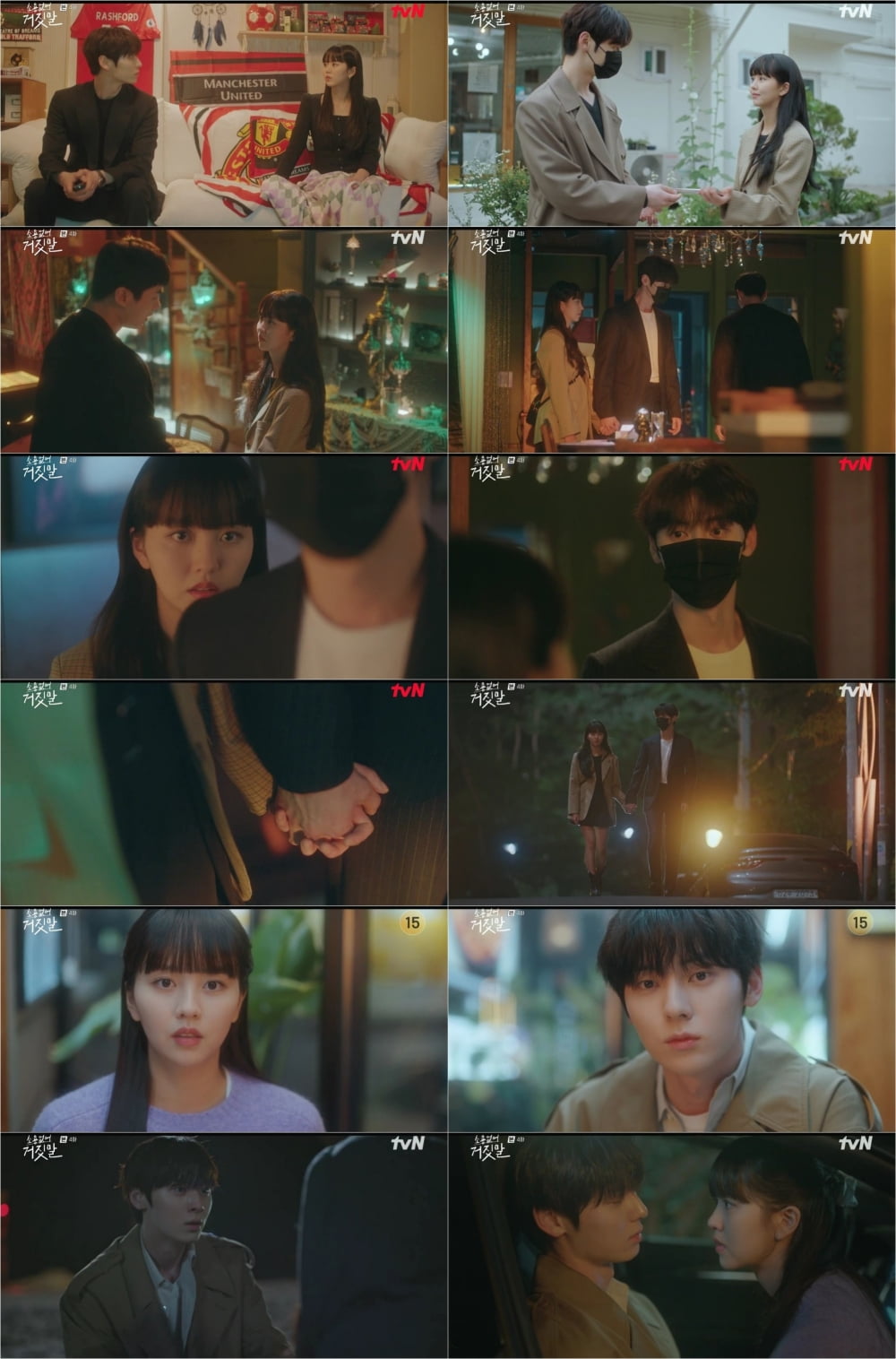 Kim So-hyun finally heard Hwang Min-hyun's first lie.
In the 4th episode of tvN's Monday & Tuesday drama, 'It's Useless Lies', which aired on the 8th, Mok Sol-hee (played by Kim So-hyun) faced with the secret Kim Do-ha (played by Min-hyun Hwang) was hiding.
On this day, Mok Sol-hee and Kim Do-ha disguised themselves as lovers to deceive the eyes of reporters. Because of the reporters who even broke into the common entrance, the two of them ended up together at Mok Sol-hee's house. The TV, which broke the rigid atmosphere, played a drama about a woman with psychic powers like Mok Sol-hee and the only man who does not have that ability.
Mok Sol-hee, who overlapped herself and Kim Do-ha from them. He began to get confused whether Kim Do-ha did not lie or whether his ability did not work. Meanwhile, there was a great commotion outside. A fight broke out between the reporters and the courier driver, and even the police were dispatched.
And Mok Sol-hee faced an unexpected person. One of the cops was Lee Kang-min (played by Seo Ji-hoon), Mok Sol-hee's ex-lover. After an awkward greeting, Lee Kang-min said, "I missed you so much" and left. Knowing that the words were true, Mok Sol-hee felt complicated.
Mok Sol-hee started to care more about Kim Do-ha, the guy next door who couldn't hear lies. Mok Sol-hee's heart was filled with anticipation and curiosity at the same time, wondering if it was really because they were a pair of destiny, so no lies could be heard. Mok Sol-hee launched an operation to extract lies from Kim Do-ha. Mok Sol-hee, who grabbed Kim Do-ha and asked her various questions, actively made an appointment for dinner, and even got her cell phone number.
In the meantime, Lee Kang-min visited him at the Taro Cafe. Mok Sol-hee, who said she wanted to be the first to say that she was sorry when they met again, said, "What are you so sorry about? Did you change your mind within a month after you proposed? Did you move right away after saying goodbye?" However, his sincerity that he was deliberately transferred to Yeonseo-dong where Mok Sol-hee is located was unexpected.
Mok Sol-hee tried to draw a line with him by saying that she had a boyfriend. At that moment, Kim Do-ha entered the Taro Cafe. Kim Do-ha, who noticed Mok Sol-hee's lies, took her hand and said, "I was worried because I was with a guy." From holding hands and sincere worries. The friendly look of Kim Do-ha made Mok Sol-hee's heart beat.
Kim Do-ha's hidden past also surfaced. Shaon (Lee Si-woo) called Kim Do-ha, who was still being baptized with questions by Mok Sol-hee at a dinner party. In response to Kim Do-ha's will not to work together any more, Shaon spat out the meaningful words "I don't want to live anymore". With that word, the terrible memories of the past revived in Kim Do-ha's head.
Even in the midst of panic, Kim Do-ha insisted on going to Sha-on, and Mok Sol-hee eventually came along. Kim Do-ha, who barely found Sha-on on the beach, showed a cold side like never before, but Sha-on saw Mok Sol-hee sitting in the driver's seat and was busy questioning him. What made Kim Do-ha explode was Shaon's words, "I really wanted to die." However, the words that Mok Sol-hee heard were clearly lies.
Kim Do-ha's condition worsened. Sleeping in the passenger seat and suffering from nightmares, he even started talking to himself at some point. Eventually, the moment Kim Do-ha opened her mouth, saying, "I didn't kill him," the first lie detected by Mok Sol-hee sparked curiosity about the secret the suspicious neighbor was hiding.
Mok Sol-hee and Kim Do-ha learned each other's names for the first time. Mok Sol-hee already knows the identity of Kim Do-ha, but has been pretending not to know. However, his words when he unexpectedly introduced himself as Kim Seung-ju were true. The appearance of Kim Do-ha, who is treated as a murderer in front of detectives under the name of Kim Seung-ju in the nightmare, amplified the mystery.
Reporter Kang Min-kyung, Ten Asia kkk39@tenasia.co.kr