TV
Han Ji-min, a 'psychic' who was caught properly by Lee Min-ki, 'Look at that face'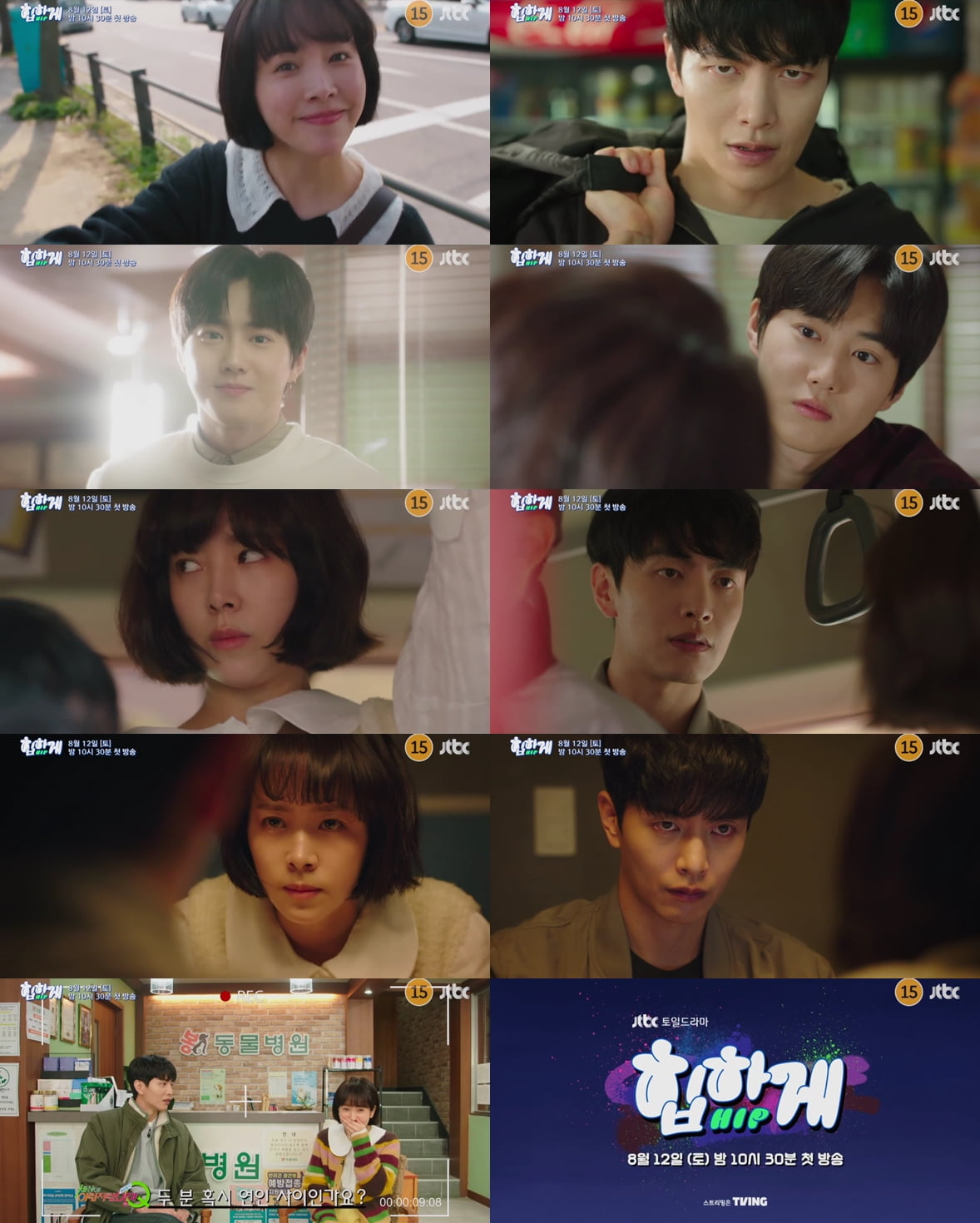 Han Ji-min, Lee Min-ki, and Suho's comic Tiki-Taka is unsealed.
On the 20th, JTBC's new Saturday and Sunday drama 'Hip-Hike' is a three-part drama with an exciting relationship between Bong Ye-bun (Han Ji-min), a supernatural power, Moon Mun-yeol (Lee Min-ki), a hot-blooded detective relegated from Seoul, and Kim Seon-woo (Suho), a part-timer at a mystery convenience store. Teaser video was released.
In the third teaser video released, the first encounter between Bong Ye-bun, Moon Mun-yeol, and Kim Seon-woo stimulates curiosity. Bong Ye-bun, the "Director of Bong Animal Hospital," dreams of becoming a hospital specializing in companion animals, but the reality is that she has to deal with cows and pigs a lot. Ace detective Moon Mun-yeol, who has a burning desire to return to Gwangsu University in Seoul with his performance, saying that he has not seen a place where there are no violent incidents where people live, and Kim Seon-woo, a mysterious convenience store part-time worker who has an angelic personality and visual, but somehow does not know what is going on. Relationships are also interesting.
Bong Ye-bun, who can see the past, whether it's an animal or a person, when he touches his butt, is experimenting with his psychometry ability and is properly hooked by Moon Moon-yeol. In the interrogation room at the police station, Bong Ye-boon confesses with a solemn face, "Actually, I am a psychic." The trustworthy expression of the sentence string that he stares at as if he is absurd brings laughter. The appearance of Kim Seon-woo, who is quite different from the first meeting of Bong Ye-bun and Moon Mun-yeol, is also exciting. The appearance of Bong Ye-bun, who cannot take his eyes off Kim Sun-woo, who entered the animal hospital with his self-luminous visual, stimulates curiosity about the story of the three people.
Above all, the subtle relationship between Bong Ye-bun and Moon Mun-yeol, who sit side by side at the Bong Animal Hospital for an interview, draws attention. When asked if they are lovers, the contrast between Bong Ye-bun, who is dumbfounded, saying, "Look at that face," and Mun Mun-yeol, who tries to nod in the affirmative, but strongly denies it, adds to the laughter.
'Hip-like' is the story of a sincere veterinarian Oji Rapper, who is able to see the past of animals and people with his psychometry ability that happened by chance in Mujin, a clean rural village without crime, and an elite detective who needs her ability to return to Gwangsu University in Seoul. A comic investigative action drama unfolding. The Udangtang duo, who was solving trivial life-related cases among peaceful and naive but somewhat suspicious villagers, is swept away by a serial murder case and cooperates beyond imagination.
'Hip-hope' will be broadcast for the first time at 10:30 pm on August 12, following 'King the Land'.
Reporter Kang Min-kyung, Ten Asia kkk39@tenasia.co.kr