TV
Kim Wan-seon, In "Move by helicopter, digest 11 daily schedules"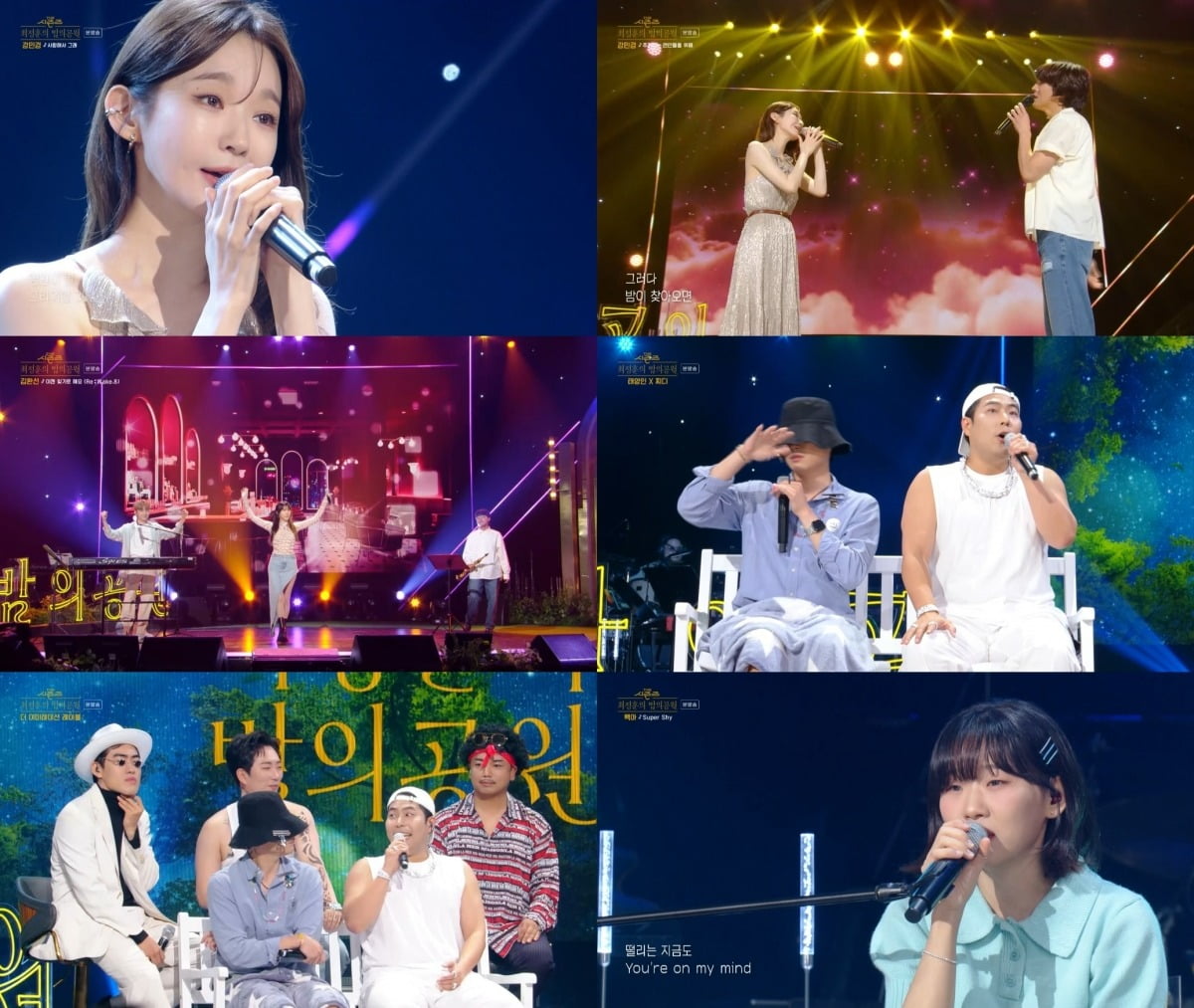 Singer Kim Wan-seon recalled the days when he digested 11 schedules a day.
Davichi Kang Min-kyung, Kim Wan-seon, Baek Ah, Taeyang-in (Kim Hae-joon) X Chi-Dragon (Choi Ji-yong) appeared on the KBS2 music talk show 'The Seasons - Choi Jung-hoon's Park at Night', which aired on the 21st.
On this day, Kang Min-kyung shed tears as she passionately sang 'Because I Love You' and colored 'Night Park' with emotions. Soon, Kang Min-kyung raised the atmosphere by singing "8282" with the audience, but when the video of Lee Hae-ri's wedding was released, she once again shed tears. Kang Min-kyung said, "It's been 20 years with Davichi. It's been about 15 years since I debuted, but I met my sister when I was in the 3rd year of middle school, so I've been with her for more than half of my life. I wanted to" and showed extraordinary affection.
Following the stage of the late Kim Kwang-seok's 'Around 30', Kang Min-kyung presented a duet stage with Choi Jung-hoon for 'For Lovers Who Hesitate'. Kang Min-kyung said, "'Around 30' is a song like a chapter for a singer, and I thought that I had to sing this song to truly reach 30. When I was in my 20s, I didn't dare to sing it because it didn't seem to be my real heart, but now I think I can convey it with sincerity. It's the same," leaving a deep lingering impression with a live performance with a beautiful and deep tone.
Kim Wan-sun appeared in 'Rewake Project – Why Call Me'. Choi Jeong-hoon, who visited the artist's house for the first time in the corner, introduced Kim Wan-seon's house, and had time to cook and dance together. Kim Wan-seon recalled his heyday, saying, "I went to schedules by helicopter. I was too young to feel that 'this is amazing'. There were times when I did 11 schedules in one day." Kim Wan-seon selected 'Let's Forget It Now' as a song to re-wake, and proved her qualification as a 'Legend Diva' by performing on a stage as if she had returned to her 20s.
Then, Taeyangin (Kim Hae-joon) and Chi-Dragon (Choi Ji-yong), who are running the best stocks, appeared. After the stage, Chi-Dragon, who showed a unique swag with Choi Jeong-hoon, made a big laugh by finding a blanket for his knees because he was wearing hot pants. Taeyang-in said, "This is the first stage on a music show. I've only been to Neighborhood Park and Boramae Park. I'm so honored and moved to be on 'Night Park'."
Taeyangin and Chi-Dragon are receiving a lot of love as the 'way of imitation singers'. The YouTube shorts video featuring Chi-Dragon recorded a maximum of 3.35 million views. It was also known that G-Dragon shouted out while clicking 'Like' on his video. Thanks to this, Taeyangin and Chi-Dragon performed the medley stage of The Imitation Label, and Bruno Bas (Kwak Beom), Batbum (Lee Chang-ho), and Giant Teok (Cho Jin-se) mobilized and filled the 'Night Park' with excitement. In particular, Chi-Dragon received enthusiastic applause for revealing his face hotly on the stage of 'Park at Night'.
Lastly, singer-songwriter Baek Ah adorned the stage of 'Night Park'. Baekah, who aroused admiration with sophisticated music with a cozy sensibility, said, "My real name is Soyeon, and I got it from the name. Baek Ah, known through word of mouth after the song 'First Love' was inserted in 'Heart Signal Season 4', left a strong impression with a live performance of 'Where shall I take you to?' following New Jeans' 'Super Shy'.
'The Seasons - Choi Jeong-hoon's Park at Night' is broadcast every Friday at 10 PM.
Reporter Tae Yuna, Ten Asia youyou@tenasia.co.kr