TV
'Heart Signal 4' popular girls Kim Ji-young and Shin Min-gyu were not selected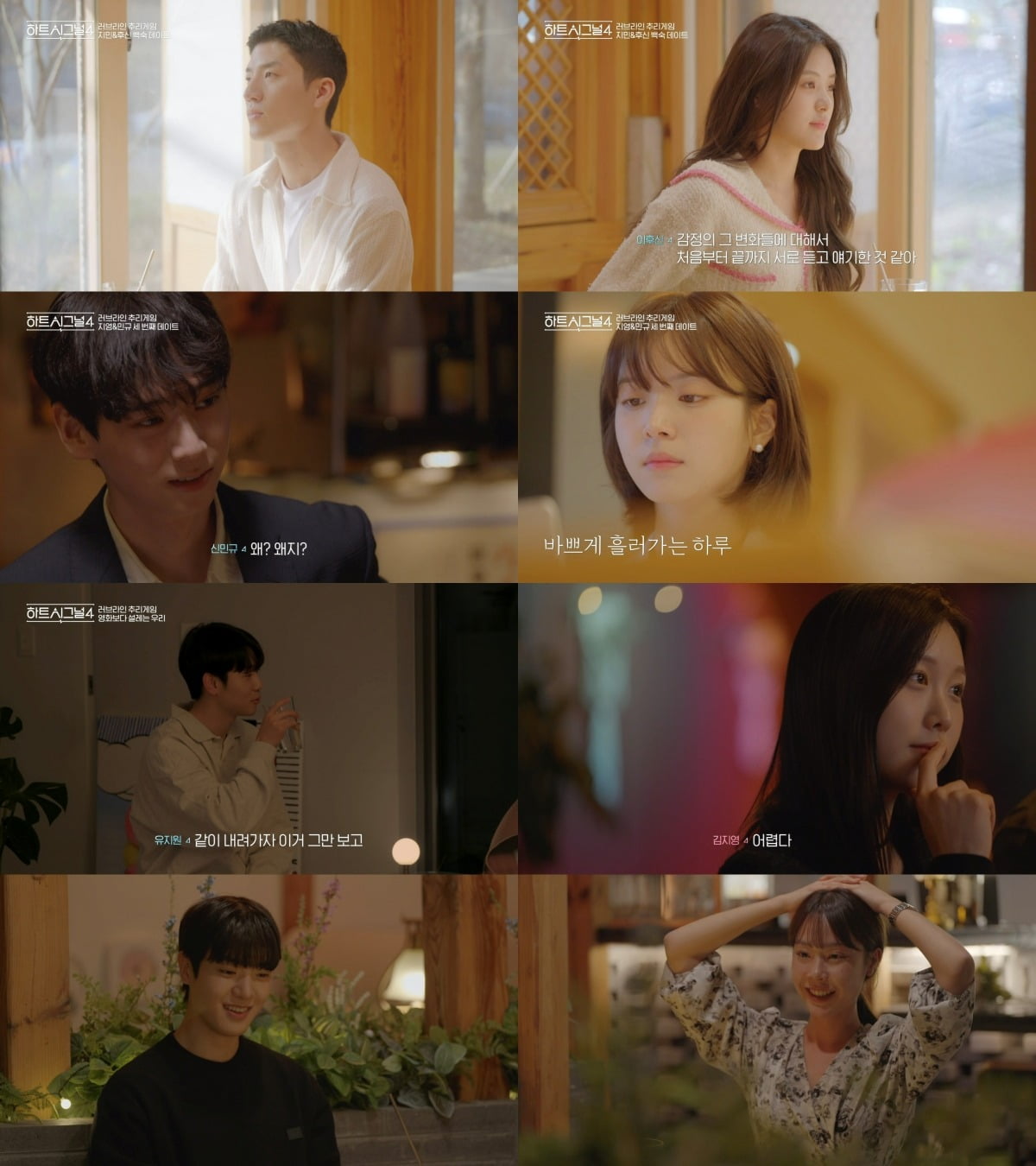 The contours of the confusing love line in 'Heart Signal 4' are gradually being revealed.
In Channel A's 'Heart Signal 4', which aired on the 21st, the residents who went on their own date were drawn.
On this day, Kim Ji-min and Hu-sin Lee spent time together in the valley of Bukhansan Mountain and shared their grievances at the Signal House. In particular, while talking about Kim Ji-young and Lee Hu-shin's date, Kim Ji-min said, "It was late because we talked for so long that day. How much fun was it?" asked, and Hoo-sin Lee remained silent. Kim Chong-gi, who watched this, expressed regret, saying, "I still think that the successor should go to Jimin, but it seems that it is not going well because my heart is filled with Ji-young."
Kim Ji-young and Shin Min-gyu, who work in close proximity, went on a date after work, and the two showed a friendly side while talking about animation. Kim Ji-young said, "I think it was my brother who came back and cared about me even if others were active. There are so many nooks and crannies of my brother that I like." Shin Min-kyu also said, "Honestly, whenever I met Ji-young, I liked it. He left open the possibility between the two, saying, "I'm not alone in feeling the feelings that Jiyoung felt."
The two exuded a pink atmosphere as they made an appointment after the end of their life at the Signal House. Returning home, Shin Min-kyu promised Kim Ji-young, who had bought him a meal, that he would "buy me something delicious", and Kim Ji-young responded, "Please buy it before it is over." Then, to Shin Min-gyu, who asked, "When it's over?" Kim Ji-young answered, "I'll meet you when it's over," and was surprised. At the distance between the two, Yoon Jong-shin suggested that the wall between the two had collapsed, saying, "In the end, it must have been a wall like glass, not a wall like a fortress."
A subtle tension flowed between Shin Min-kyu, Lee Hu-shin, Kim Ji-young, and Yu Yi-soo, who went on a date at an amusement park. After sitting in the front seat, Shin and Kim Ji-young glanced at Shin Min-gyu and Yoo Yi-su, who were sitting close together in the back seat, and seemed to be paying attention. Even after arriving at the amusement park, Yoo Yi-soo sent a signal to Shin Min-gyu and widened the distance between the two, and Hu-shin was also conscious of Shin Min-gyu and Kim Ji-young together, creating a completely different atmosphere even though they were in the same space. When Mimi, who watched their date, said, "Husin-ssi is a real fantasy character," Eana Kim sympathized with her, saying, "It's a fantasy unrequited love."
Lee Joo-mi and the Hankyoreh went on a date and opened their hearts to each other. The Hankyoreh revealed their firm heart toward Kim Ji-young by talking about a memorable moment. The two moved to the whiskey bar and continued their candid conversation. To Lee Joo-mi, who said, "Oppa, he usually takes care of other people, but when I'm with him, I don't take care of him too much." The Hankyoreh said, "Of course I feel it. But since I couldn't fully accept it, I felt sorry. I didn't show it, but I worried a lot about this and that." In response, Lee Joo-mi added regret by saying, "Was the end of that conclusion 'I'm sorry'?"
On this day, the love line reasoning was held as an individual exhibition, not a group exhibition. The prediction team showed mixed opinions in inferring the minds of Kim Ji-young, Hankyoreh, Lee Hu-shin, and Shin Min-gyu. In the end, Yoo Yi-soo and Kim Ji-young chose Shin Min-gyu, Lee Joo-mi chose Hankyoreh, Kim Ji-min chose Lee Hu-shin, Yu Ji-won and Han Gyo-re, Lee Hu-shin chose Kim Ji-young, and Shin Min-gyu chose Yu Yi-soo, and Kim In-na and Kim Chong-gi succeeded in acquiring the raw stone.
Reporter Tae Yuna, Ten Asia youyou@tenasia.co.kr