TV
Park Joo-mi and Kim Min-joon start an affair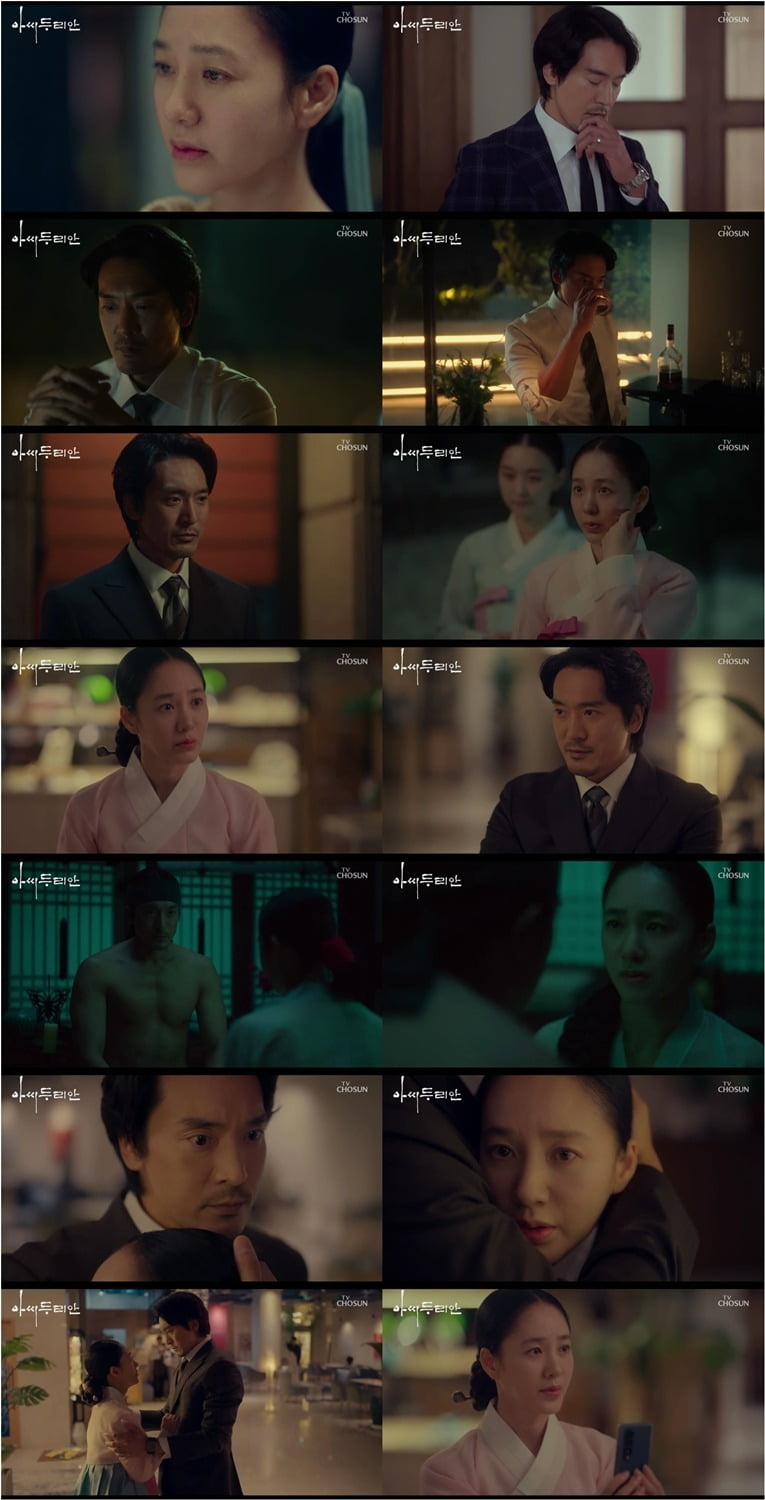 The romance in the previous life and the affair in the present life were exquisitely connected by a hug that ignited the 'romance of destiny'.
The 10th episode of TV CHOSUN's weekend mini-series 'Missy Durian', which aired on the 23rd, recorded a nationwide rating of 6.3% and the highest rating of 6.6% in Bundang based on Nielsen Korea.
On this day's broadcast, Durian (played by Park Joo-mi) and Dan Chi-gam (played by Kim Min-joon) fell in love with each other after deepening their affection towards each other. First of all, Durian recalled Dolsoe (Kim Min-jun) and Dolsoe, who expressed his sincere feelings to him, before entering the merging room in his previous life. Dolsoe untied Durian's clothes and took off his jacket, then said, "Do you guess my feelings? My life is not mine. This is my life for Mr. Aeggi," he confessed, and remembering this time, Durian slowly wiped away his sweat with a towel as if to wash away his longing for Dolsoe. At that very moment, the sense of Danchi watched Durian blankly, as if possessed, and soon came to his senses and panicked himself and came out.
Afterwards, while working hard at work late at night, Danchi suddenly recalled the alluring backside of Durian without realizing it, and took out whiskey and drank it as if to shake it off. However, Dan Chi-gam, who visited Baek Do-i's house to check the health of her mother Baek Do-i (Choi Myung-gil), was curious about the current situation of Durian and Kim So-jeo (Lee Da-yeon), and when he heard from Baek Do-i that Durian was not alone, he looked disappointed. seemed to build Danchigam, who was coming out to go home, ran into Durian and Kim So-jeo, who were walking while eating ice cream, and headed to the cafe, asking the two of them to have a hot drink.
And while Kim So-jeo was away, the sense of sweetness was concerned about the pregnancy, saying to Durian, "You shouldn't eat something cold like that." gave relief In the meantime, when Kim So-jeo, who went to the bathroom, didn't come, Durian, who was worried, went out to find Kim So-jeo.
At this time, the men were fighting each other and fell as if they were about to collide with Durian. Durian, who is embraced in the arms of a sense of Danchi, said, "Mr. look at me It's embarrassing, but this is me." The sense of sweetness grabbed and patted Durian's shoulder after waking up from his flashback, and Durian, embarrassed, confessed about Kim So-jeo's moon distance.
Next, Dan Chi-gam ordered Chief Han (Kang Seong-hwa) to ask for sanitary products for Kim So-jeo, and in the meantime, Dan Chi-gam, who confirmed that Lee Eun-seong (Hana-gam) had missed calls and text messages, put it back into airplane mode and ignored it. Suddenly, Danchi asked Durian if he had taken a picture with his cell phone, and when Durian shyly turned away, he suggested taking a picture of himself first. Putting a good-looking and stylish sense of unity on the screen of the cell phone, Durian said, "How did the constitutional charter become so breathtaking. It's not a retirement dream. I can see it in front of my eyes, but I can't believe it. That elegance" and burst into praise, raising expectations for the passionate melodrama that will unfold in the future.
At the end of the broadcast, Lee Eun-seong's housekeeper (Kim Nam-jin), who slipped and was hospitalized, was shown talking to Lee Eun-seong on the phone in the middle of the night. The housekeeper asked Lee Eun-seong coldly if he was worried at this hour, and then the housekeeper immediately asked, "A bird makes a sad sound when it dies, and a person is kind when he dies... Who said that?" As the 'meaningful question ending' unfolded, it aroused curiosity about the next episode.
Episode 11 of 'Assi Durian' will be broadcast on the 29th at 9:10 pm.
Reporter Tae Yuna, Ten Asia youyou@tenasia.co.kr