TV
"I dug in the family register" Kim Soo-mi, the reason why she separated from her adoptive son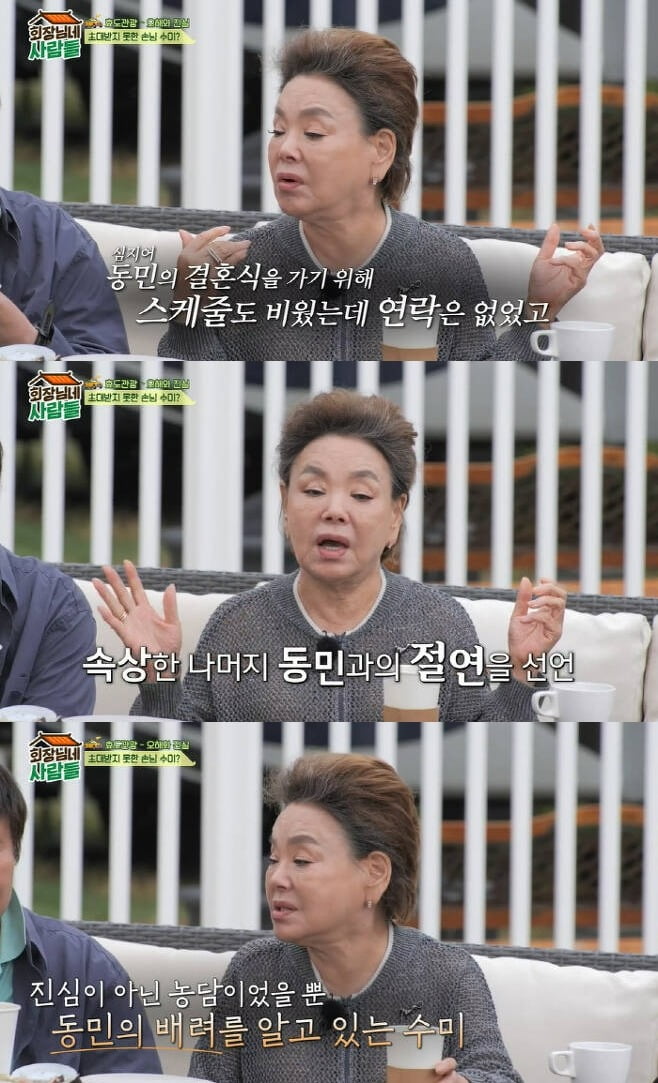 Kim Soo-mi revealed that she regretted the declaration of separation from her 'adoptive son' Jang Dong-min.
In the tvN STORY 'Chairman's People', which aired on the 24th, when Kim Su-mi was asked about the moment she regretted the most while living her life, she said, "I went on a variety show and said I dug Dong-min Jang out of the family register."
Kim Soo-mi said, "I was very fond of Jang Dong-min, so we did a lot of programs together. But when we got married, I said, 'Mom, I'm getting married. I'll go to greet you with the bride-to-be.' There was something I left, but I was really disappointed," he confessed.
Then, he said, "The article said when they were going to have a wedding in Jeju Island, so I emptied my schedule, but there was no contact. So I went on a variety show and said, '(Jang Dong-min) is completely out' and he kept calling me, as if he was hurt."
Kim Soo-mi said, "As I found out, no celebrities were invited to the wedding, only family members", and Kim Yong-gun understood, "It could have been because my mother would come running even though she was busy."
In response, Kim Soo-mi explained, "I said to have fun in entertainment. If I really don't like it, I won't say that. I meant to have fun."
Reporter Tae Yuna, Ten Asia youyou@tenasia.co.kr