TV
Protest against the allegation of Joo Hyun-moo Jeon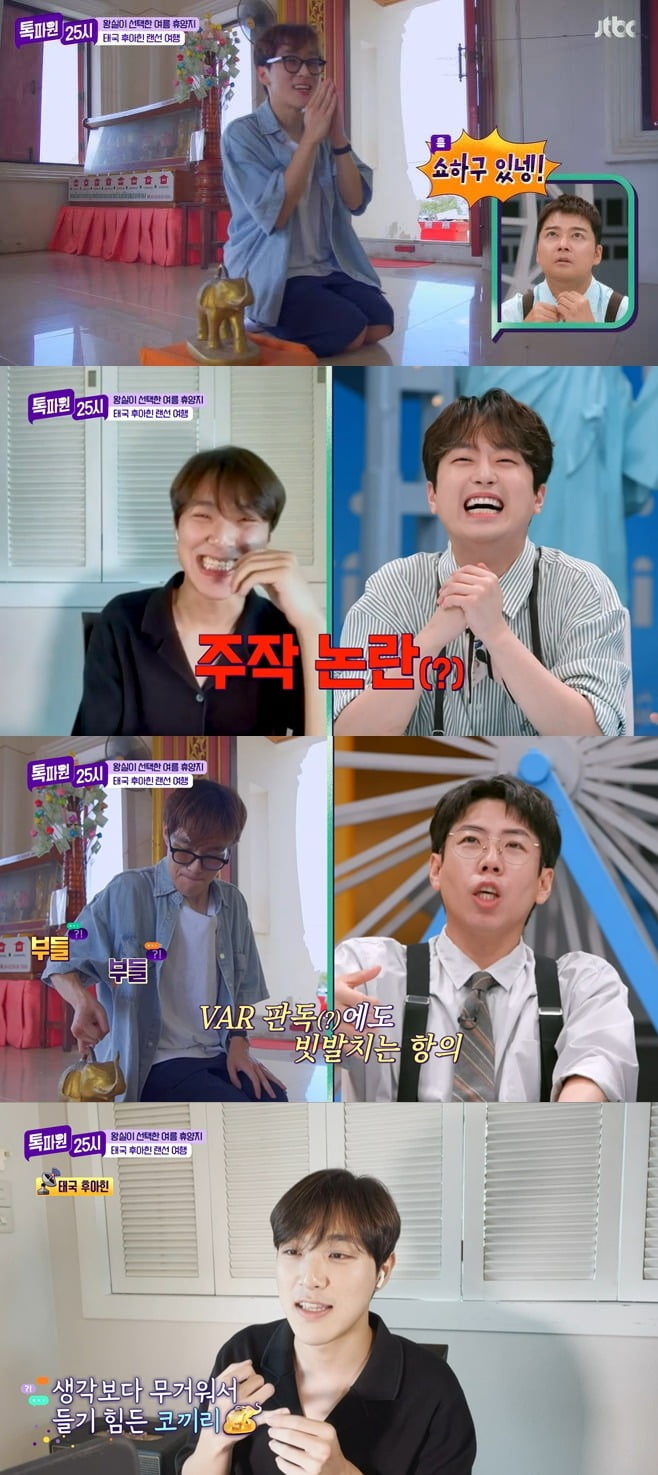 Jeon Hyun-moo insisted on suspicion of being the master of Tokpawon in Thailand.
In the JTBC entertainment show 'Tokpawon 25:00', which aired on the 24th, a LAN line trip to Hua Hin, Thailand was included. On this day, Hong Dong-gyun, Thailand's Tokpawon, headed to Hua Hin's most popular attraction, 'Takiap Temple'.
Khao Tagiap, which means chopsticks mountain, is also famous as a habitat for wild monkeys. The temple is perched on top of a rocky mountain, and Hong Tok Phawon struggles to climb some 120 steps.
Jeon Hyun-moo, who saw this, refused, saying, "Not a single (local person) is going up," and "Let's take a good look and let's go in the fall."
The open interior of the temple caught the eye with its pious atmosphere. The golden Buddha statue and prayer space in the center also attracted attention.
Above all, there is a golden elephant inside the temple, which aroused admiration. Hong Tokpawon explained, "This elephant is said to tell whether or not a wish can come true. If you make a wish to the Buddha and lift the elephant with your little finger and don't lift it, your wish will be fulfilled."
Hong Tokpawon made a wish and tried to lift the elephant with his little finger after raising the triple bow. elephant did not hear Jeon Hyun-moo, who saw this, doubted Ju-jak, saying, "They're doing a show." Yang Se-chan also said, "I don't give strength. I have to give strength to the lower body and raise my shoulders."
Tokpa Hong explained, "It looks light, but it may seem like you can't lift it. For those whose little fingers are not trained, it seems to be quite heavy to lift," eliciting laughter.
On this day's broadcast, the exotic scenery of Granada, Spain, where Europe and Arab coexist, and the resort area 'Cornwall' at the southwestern end of England were included.
Reporter Tae Yuna, Ten Asia youyou@tenasia.co.kr