TV
Kim Jun-ho "Please stop leaving 'Doll Sing For Man' even if I marry Kim Ji-min"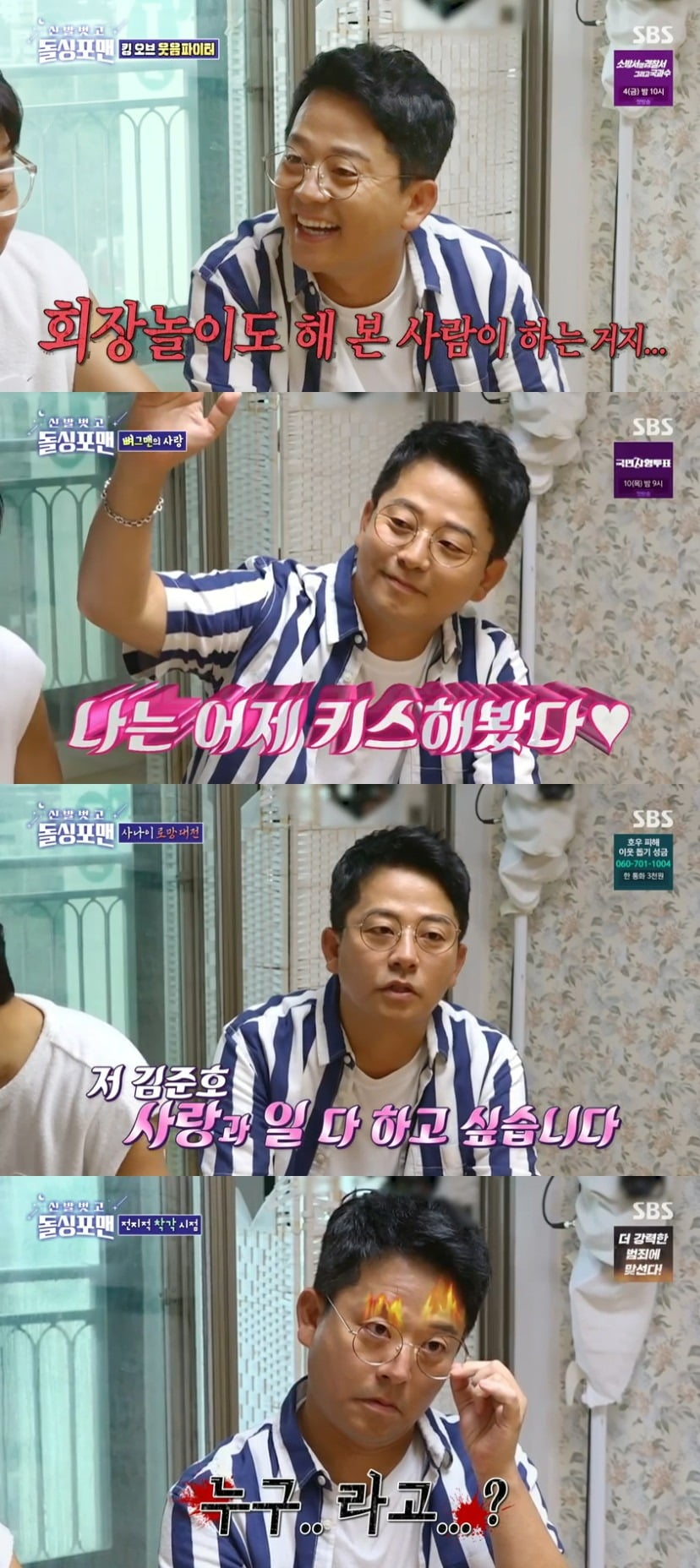 Kim Jun-ho showed his jealousy toward Yang Se-hyung.
Kim Jun-ho laughed with comedian juniors Yoo Se-yoon and Yang Se-hyung with steamed tikitaka without a filter in the SBS entertainment show 'Shoes off and Dolsing for Man' (hereinafter referred to as 'Dolsing for Man'), which aired on the 25th.
On this day, Kim Jun-ho started the chairman's contest while noblely slicing watermelon. When Lee Sang-min mentioned the real names of the presidents of large companies and became overly immersed, Kim Jun-ho was reluctant to mention them, thinking about future advertisements, and soon realized the reality, leading the atmosphere cheerfully from the start.
While the conversation was blossoming on the subject of 'Raise your hand from someone who has never kissed', Kim Jun-ho raised his hand and said, "I did it yesterday" with a confident smile and made a bombastic confession. Yang Se-hyeong resolutely predicted her girlfriend's feelings, saying that her girlfriend wouldn't like this, and Kim Jun-ho's nervous appearance caused a feeling of saltiness.
Kim Jun-ho and Lee Sang-min started the first round of the brother's fight. To Lee Sang-min, who said having a great asset is a romance, Kim Jun-ho threw a punch, saying, "Hyung, even if you spend a little bit, the front seat changes." Later, Lee Sang-min provoked him, but Kim Jun-ho countered with a strong comment and boasted of his iron talk.
Kim Jun-ho, who revealed that he wanted to go to a top 100 golf course, even when his romance was attacked, said, "Let's go with Jimin."
Kim Jun-ho also expressed deep concern, saying that if he married Kim Ji-min, he would have to leave 'Doll Sing For Man'. It is also revealed that another romance of Kim Jun-ho is to tell the writers and the entire staff not to quit.
At the end of the broadcast, it was revealed that Se-hyeong had an imaginary relationship with Kim Ji-min in the past. Accordingly, Kim Jun-ho suddenly began to pursue Yang Se-hyeong with burning eyes. Hearing Yang Se-hyung's imagination, he said, "It's your sister-in-law, dude!" He groaned with jealous, flaming eyes.
'Doll Sing For Man' airs every Tuesday at 9:00 PM.
Reporter Tae Yuna, Ten Asia youyou@tenasia.co.kr