TV
Park Gyu-young "'Squid Game 2', having fun filming"
Actor Park Kyu-young cautiously mentioned his next work, the Netflix series 'Squid Game 2'.
Park Kyu-young appeared on JTBC's 'News Room', which aired on the 6th. He told various stories about the Netflix series 'Squid Game 2', which he recently started filming, from the Netflix series 'Celebrity', his first solo lead role after 7 years of debut.
On this day, Park Gyu-young said about 'Celebrity', "I had a sense of responsibility and a lot of pressure. I think I concentrated a lot throughout the filming. The director was very happy when the result came out. I was a bit proud to see those parts. Personally, I was a bit proud of the poster. It was an exciting part because he had a big face."
'Celebrity' is a story depicting the glamorous yet intense bare faces of celebrities faced by Ari (played by Park Kyu-young), who jumped into the world where becoming famous makes money. The story of SNS, which is very close to our daily life, and the influencers who reign there as emerging aristocrats are excitingly unraveled. It was released in 190 countries around the world through Netflix.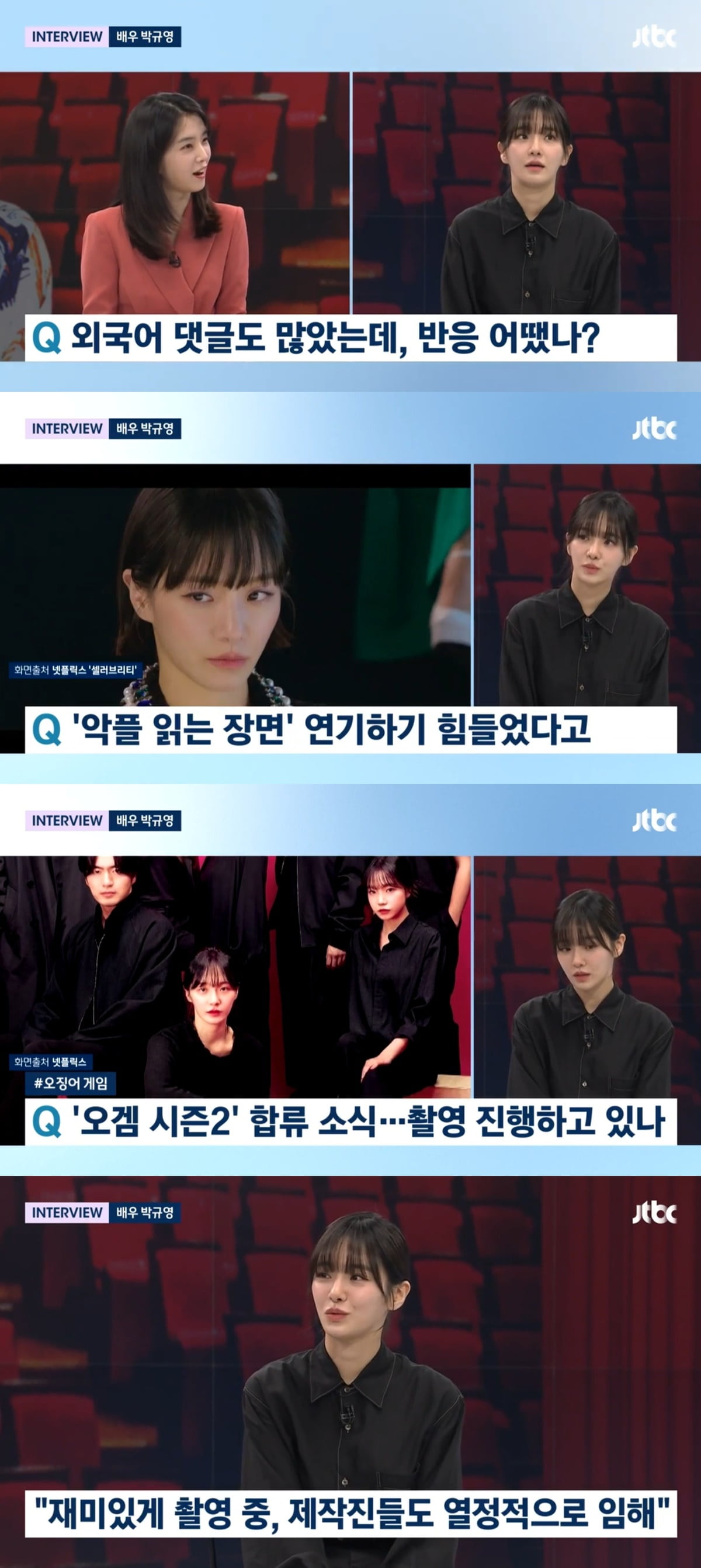 Regarding the global response, Park Gyu-young said, "It was amazing to see responses in various languages. It felt good. Well, it was memorable that he said things like, 'This kind of clothes were so pretty' and 'I really wanted to wear these kinds of clothes'."
He said that the most difficult scene while filming was the scene where he directly read the malicious comments. Park Kyu-young said, "In reality, there are parts that I ignore a little bit, and there are parts that I acknowledge if I need to acknowledge them. But as that character, I've never faced such a huge amount of malicious comments. So that part was really difficult to film." said.
Recently, Netflix drew attention by announcing the lineup of 'Squid Game 2'. According to this, Park Kyu-young's name was also included. Park Gyu-young said, "It's a bit difficult to tell you specifically, but I'm having fun filming." He added, "The staff and production team also seem to have a great sense of responsibility and work very passionately. I will do my best to show them in a good way so as not to be a nuisance to their passion and responsibility."
Park Gyu-young said, "I think it would be very fun to have a character that shows a strong image in a certain genre. It's just a story about a person who smells like a person. Any person who lives in that space really wants to play a character like this."
Reporter Kang Min-kyung, Ten Asia kkk39@tenasia.co.kr